SiBoost Smart 1 HELIX VE410
SiBoost Smart 1 HELIX VE410
Data sheet
Approved field of application
Max. fluid temperature T

50 °C

Max. ambient temperature T

40 °C

Control

With frequency converter

Max. operating pressure p

16 bar

Pipe connection on the pressure side DNd

R 1¼

Pipe connection on the suction side DNs

Rp 1¼

Number of stages

10

Number of standby pumps

0

Number of operating pumps

1
Motor data
Mains connection

3~400 V, 50 Hz

Voltage tolerance

400/50:+/-10%_380/60:+/-10%_460/60:+/-10% %

Insulation class

F

Protection class

IP55

Rated power P2

2.20 kW

Rated current IN

5.10 A

Motor efficiency ηM 50%

88.5

Motor efficiency ηM 75%

88.5

Motor efficiency ηM 100%

88.5
Materials
Pump housing

1.4301, X5CrNi18-10

Shaft

1.4301, X5CrNi18-10

Impeller

1.4307, X2CrNi18-9

Gasket material

EPDM

Mechanical seal

Q1BE3GG
Information for order placements
Net weight, approx. m

89 kg

Article number

2537627

Brand

Wilo
Pump curves
SiBoost Smart1 Helix VE 410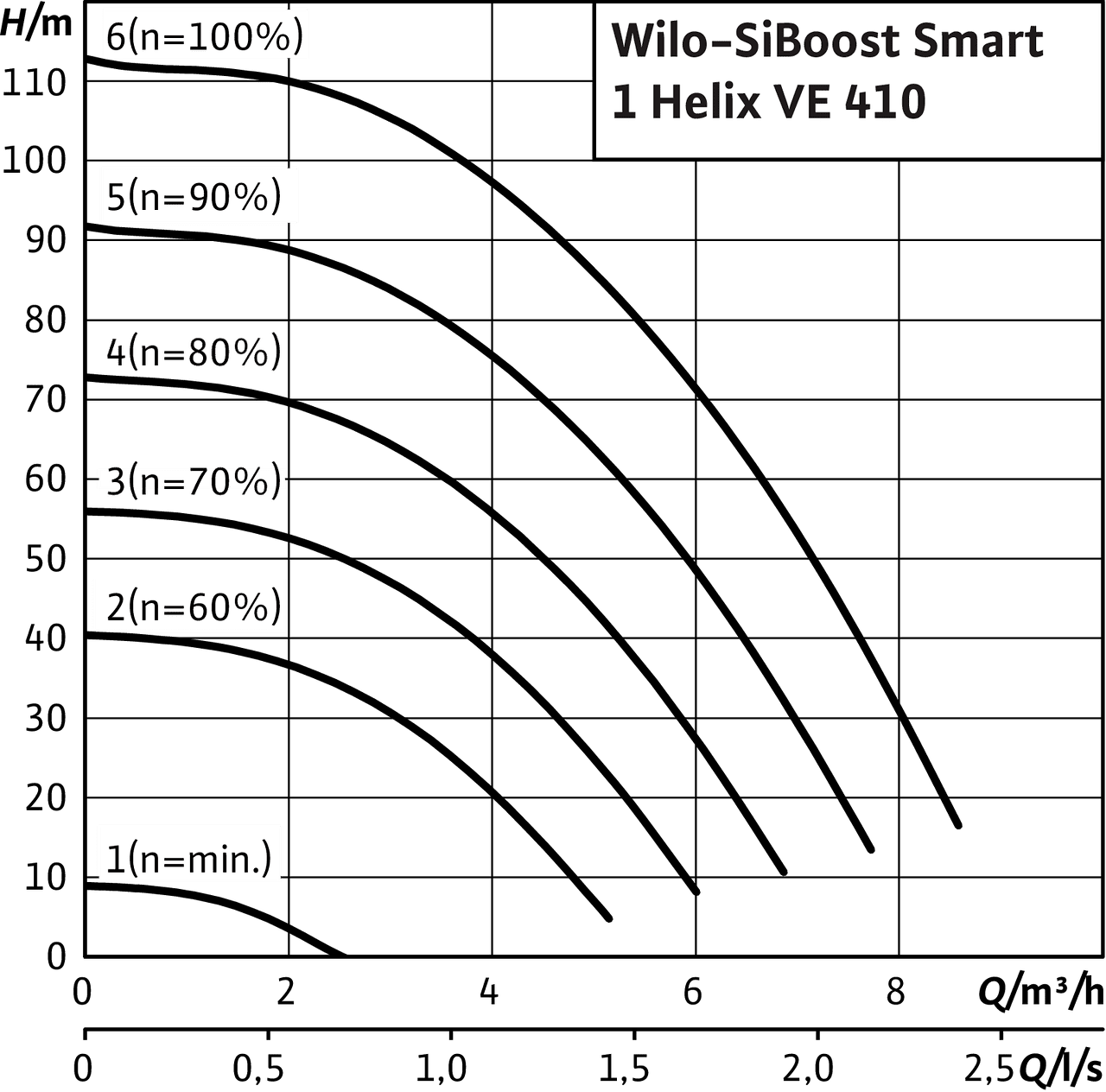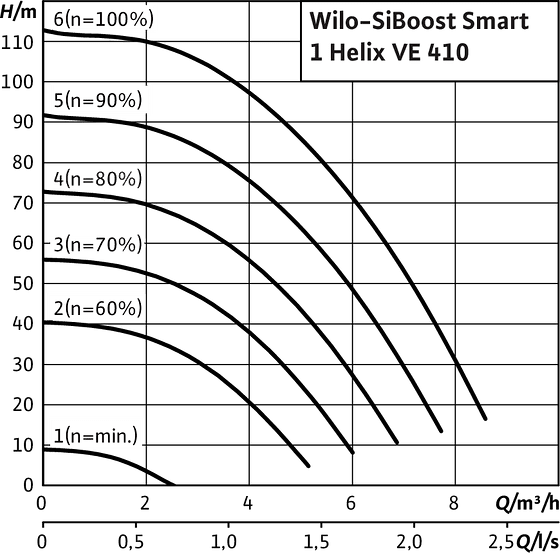 Wiring diagram
CCe System

x0: Mains connection
x1: Power supply, pumps 1-3, pump 1; 4-6, pump 2
x2: Pump control 1-4, pump 1; 5-8, pump 2; etc.
x3: Potential-free contacts1-3, SBM (collective run signal); 4-6, SSM (collective fault signal)
x4: Connection for sensor 1-2, External On/Off; 3-4, Dry-running protection; 5, Sensor (+); 6, Sensor (In); 7, GND; 8, Analogue In (+); 9, Analogue In (In); 10-11, Setpoint 2; 12-13, Setpoint 3
x5: Analogue outputs 1-2, actual pressure (0...10 V)

Ordering information
Information for order placements
Brand

Wilo

Product description

SiBoost Smart 1 HELIX VE410

EAN number

4048482264097

Article number

2537627

Gross weight, approx. m

89.0 kg

Net weight, approx. m

89 kg

Overall length L

650.0 mm

Height without packaging H

955 mm

Colour

Green/black/silver

Packaging property

Transport packaging

Packaging type

One-way pallet

Number per layer

1

Width without packaging L

375.0 mm

Minimum order quantity

1

Pieces per pallet

1
Tender text
High-efficiency connection-ready water-supply unit (non-self-priming) with one vertically arranged stainless steel high-pressure multi-stage centrifugal pump in glanded version of the Helix VE series.
For fully automatic water supply in inlet mode from the public water supply network or from a reservoir.
For pumping drinking water, process water, cooling water, fire water (apart from fire-extinguishing systems in accordance with DIN 14462 and with the approval of the local fire safety authorities) or other types of industrial water that do not attack the materials either chemically or mechanically and do not contain abrasive or long-fibre constituents.
Special features/product advantages
Heavy-duty system with Helix VE series stainless-steel high-pressure multistage centrifugal pumps and air-cooled integrated frequency converter
High-efficiency pump hydraulics in conjunction with IE4-equivalent standard motors
Superproportionally large frequency converter control range from 25 Hz up to a maximum of 60 Hz (version dependent)
Integrated full motor protection via PTC
Integrated dry-running detection with automatic cut-out in event of low water via performance characteristics of the motor control electronics
Customized systems on request
Equipment/function
One pump of the Helix VE series with IE4-equivalent standard motor and infinitely variable auto control with integrated frequency converter
Base frame made of galvanised steel, with height-adjustable vibration absorbers for insulation against structure-borne noise
Parts that come in contact with the fluid are corrosion-resistant
Stainless steel 1.4301
Shutting gate, pressure side
Non-return valve, pressure side
Diaphragm pressure vessel 8 l, PN16, pressure side
Pressure gauge, pressure side
Optional low-water cut-out switchgear and pressure gauge, suction side
Wired and ready for connection and piped with shut-off valve on the pressure side mounted to the base frame.
Materials
Pump housing

1.4301, X5CrNi18-10

Impeller

1.4307, X2CrNi18-9

Shaft

1.4301, X5CrNi18-10

Gasket material

EPDM

Pipework material

1.4307, X2CrNi18-9
Operating data
Fluid media

Water

Maximum operating pressure p

16 bar

Pressure port

G 1

Max. fluid temperature T

50 °C

Min. fluid temperature T

3 °C

Max. ambient temperature T

40 °C
Motor data
Mains connection

3~400 V, 50 Hz

Shaft power P2(Q=max.) of selected impeller * number of pumps

2200 W

Rated current IN

5.10 A

Rated speed n

3530 rpm

Protection class motor

IP55

Protection class control panel

IP55
Installation dimensions
Pipe connection on the pressure side DNd

R 1¼

Pipe connection on the suction side DNs

Rp 1¼
Information for order placements
Net weight, approx. m

89 kg

Brand

Wilo

Product description

SiBoost Smart 1 HELIX VE410

Article number

2537627