Wilo-Atmos TERA-SCH
Series description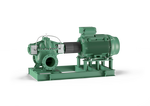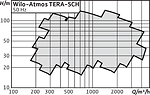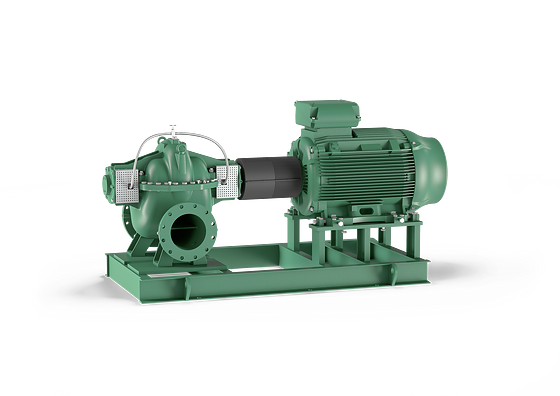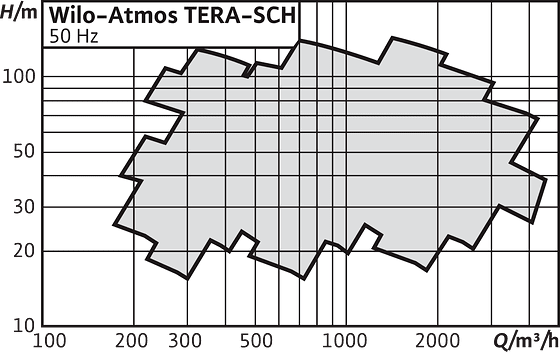 Your advantages
Reliable continuous duty for an efficient drinking water supply over extensive piping networks – can be tailored to suit your exact requirements
Reduced energy costs through high overall efficiency
Simplified and shorter alignment process thanks to tolerant coupling and motor adjusting device
Increased operational reliability thanks to quiet-running hydraulics with lower vibrations and reduced noise level
Reduced cavitation tendency through optimised NPSH-performances
Lower space requirements due to compact design
Also available as certified drinking water version – optionally with Ceram CT coating which is also approved for drinking water
Optionally with Ceram CT coating – for an efficiency increase of up to 3 %
Standard volume flow of up to 4500 m³/h
Axially split case pump for reliable operation and energy-efficient transport of large volume flows through extensive distribution networks.
The Wilo-Atmos TERA-SCH axially split case pump provides a reliable water supply 365 days a year at low operating costs. The pump's easy maintenance design and high efficiency across the entire characteristic curve ensure low-wearing and energy-efficient operation and contribute to the consistent water supply.
Construction
Pump with axially split housing mounted on a base frame
Application
Raw water intake, pressure boosting and general transport in power plants, waterworks and municipal drinking water supply networks
Cooling water and industrial water supply in power plants and industrial facilities
Irrigation in professional irrigation/agriculture
Pumping of heating water (in accordance with VDI 2035 Germany) and water glycol mixtures
Scope of delivery
Bare shaft pump or with coupling or as complete unit
Installation and operating instructions
Type key
| | |
| --- | --- |
| Example | Atmos TERA-SCH 250/360-75/4-L1 |
| Atmos | Product family |
| TERA | Series designation |
| SCH | Axially split case pump, horizontal |
| 250 | DN for the pressure flange |
| 360 | Impeller nominal diameter [mm] |
| 75 | Rated power P2 [kW] |
| 4 | Number of poles |
| L1 | Variant code (L1 = bronze impeller) |
Technical data
Fluid temperature -20 °C to +120 °C
Mains connection 3~400 V, 50 Hz
Nominal diameters

on the suction side: DN 150 to DN 600
on the pressure side: DN 125 to DN 450

Max. operating pressure: PN 10, PN 16
Materials
Pump housing: EN-GJL-250
Impeller: EN-GJL-250 / G-CuSn10 / GX5CrNiMo19-11-2
Shaft: X12cr13
Description/construction
Centrifugal pump with axially split housing, available in single-stage design
Delivered as complete unit (pump with coupling, coupling guard, motor and baseplate) or without motor or only pump hydraulics
Shaft sealing with mechanical seal or stuffing box packing
2-, 4- and 6-pole motors; IE3-standard to 1000 kW (IE4 on request)
Welded steel frame
Downloads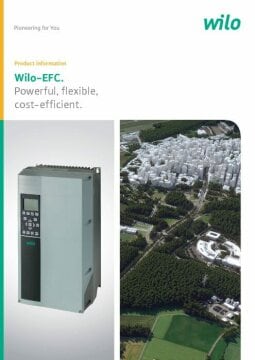 Product information Wilo-EFC. Powerful, flexible, cost-efficient.
| | |
| --- | --- |
| Page format | 209.9 x 297.0 mm |
| Number of pages | 8 |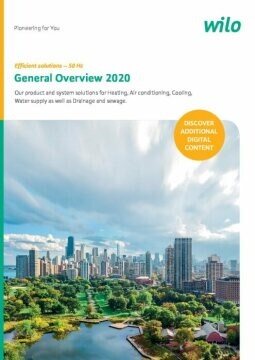 General overview 2020 International version
| | |
| --- | --- |
| Edition | 2020 |
| Version number | 1 |
| Page format | 209.9 x 297.0 mm |
| Number of pages | 78 |