Wilo-Star-Z
Series description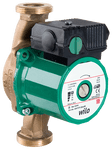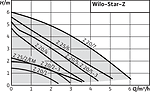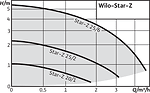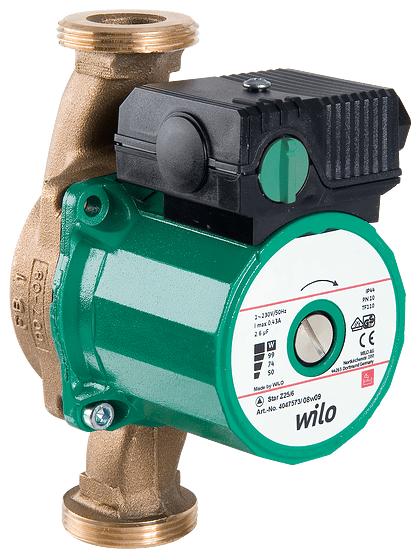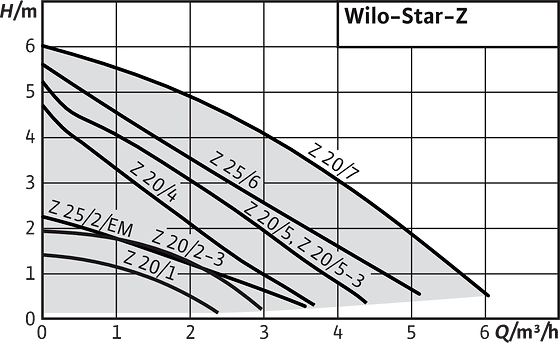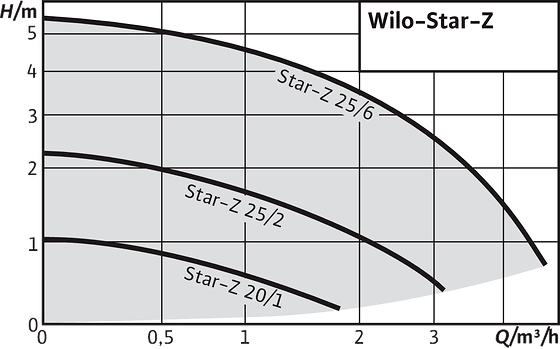 Special features/product advantages
AC pumps with electrical quick connection
All plastic parts that come into contact with the fluid fulfil KTW recommendations
Thermal insulation as standard for Star-Z 15 TT.
Star-Z 15 TT with integrated timer and thermostat, LC display with symbolic language, Green Button Technology and automatic detection of the thermal disinfection of the domestic hot water tank, as well as ball shut-off valve on suction side and non-return valve on pressure side.
Design type
Glandless circulation pump with threaded connection
Application
Domestic hot water circulation systems in industry and building services.
Equipment/function
Operating modes
Speed stage switching (Star-Z -3 only)
Manual functions
Setting of the speed stages (1 speed stage, 3 speed stages with Star-Z...-3 pumps)
Automatic functions
Time switching function for programming of 3 switch-on or switch-off times (Z 15 TT only)
Temperature control for maintaining a constant return temperature in the domestic hot water circulation system (Z 15 TT only)
Thermal disinfection routine (detection and support of thermal disinfection of the domestic hot water tank) (only Z 15 TT)
Blocking protection (Z 15 TT only)
Signal and display functions
LCD screen for display of pump data and fault codes (Z 15 TT only)
Equipment
Wrench attachment point on the pump body (Star-Z 25 only)
Cable inlet possible from both sides (Star-Z 20/..., Star-Z 25/... only)
quick connection with spring clips
Blocking-current proof motor
Integrated non-return valve on the pressure side (only Star-Z 15 TT)
Integrated ball shut-off valve on suction side (only Star-Z 15 TT)
Including time switch (only Z 15 TT)
Scope of delivery
Pump
Gaskets for threaded connection
Installation and operating instructions
Thermal insulation (Star-Z 15 TT only)
Type key
| | |
| --- | --- |
| Example: | Wilo-Star-Z 20/1Wilo-Star-Z 15 TT |
| Star | Standard pump |
| Z | Circulation pump |
| 20/ | Nominal connection diameter |
| 1 | Nominal delivery head [m] |
| TT | with built-in time switch and temperature control (only Z 15 TT) |
| EM | AC motor (1~) |
| DM | Three phase motor (3~) |
| -3 | 3 speed stages |
Technical data
Constant speed or, for Star-Z...-3, three selectable speed stages
Fluid temperature:

Drinking water up to 3.21 mmol/l (18 °dH): max. +65°C, in short-time duty (2 h) up to +70°C

Mains connection 1~230 V, 50 Hz or, for Star-Z 25/2 DM, 3~400 V, 50 Hz
Protection class IP 44 (IP 42 for Star-Z 15 TT)
Nominal diameter Rp ½, Rp 1
Max. operating pressure 10 bar
Materials
Pump housing:

Brass: Star-Z 15
Bronze: Star-Z 20, -Z 25

Impeller: Plastic
Shaft:

Stainless steel: Star-Z 15
Oxide ceramic: Star-Z 20, -Z 25

Bearing: Carbon, synthetic resin impregnated
Duty chart
Star-Z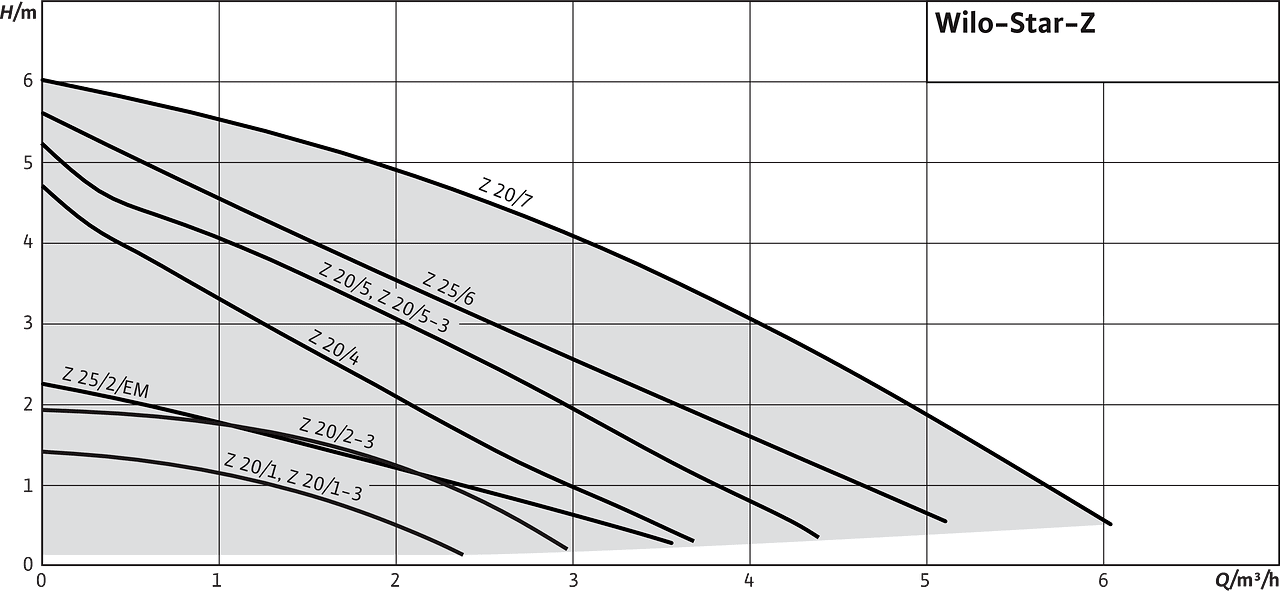 Star-Z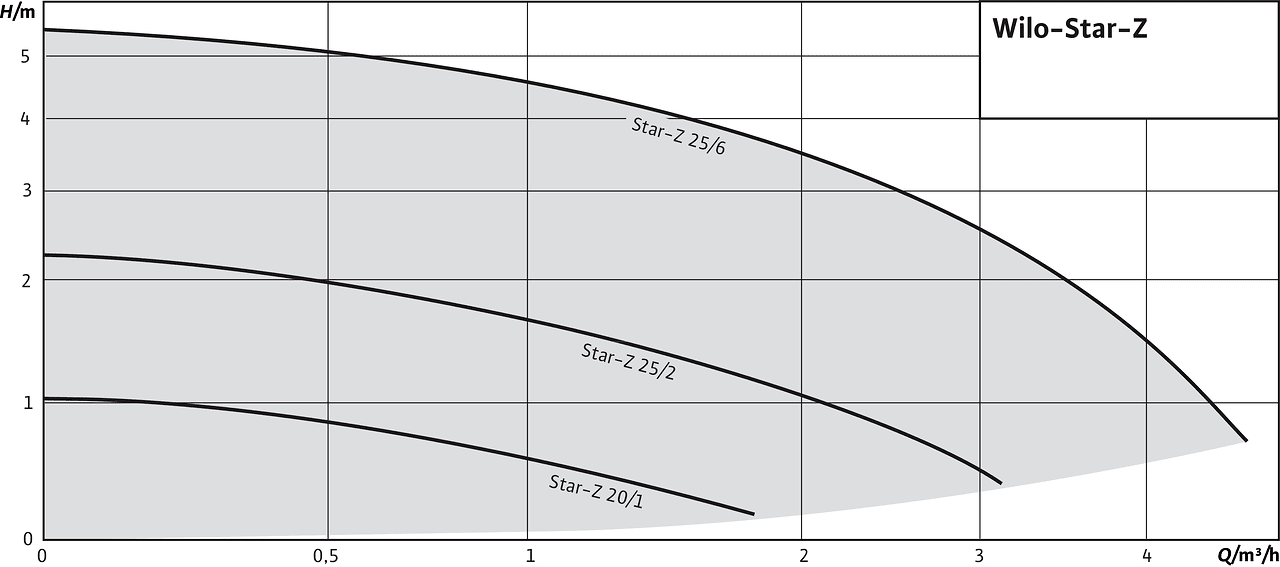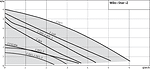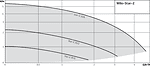 Downloads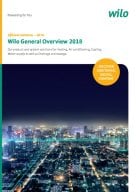 General overview 2018 International version
| | |
| --- | --- |
| Article Number | 2200591 |
| Edition | 2018 |
| Version number | 1 |
| Page format | 209.9 x 297.0 mm |
| Number of pages | 72 |