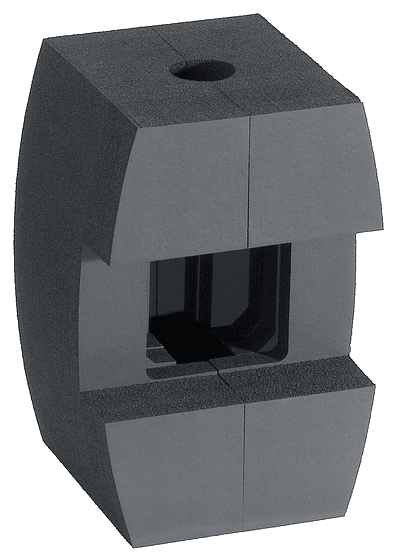 Wilo-ClimaForm
Your advantages
Industrially prefabricated standard solution for the fast insulation of pump housings and secure connection with on-site diffusion-proof pipe insulation manufactured by Armacell GmbH.
Dimensionally precise adjustment to the housing geometry reduces the hollow space between insulation and the pump housing and thus the inclusion of air and moisture.
---
Application
Diffusion-proof cold water insulation shell for on-site insulation of pump housings in air-conditioning systems and cooling systems.
Suitable for single pumps of the series:
Wilo-Stratos MAXO
Wilo-Stratos MAXO-Z
For avoiding condensation formation on the surface of the pump housing and consequential damage caused by drips and corrosion on the pump housing and on the rest of the system.
Technical data
Material: Elastomer material (AF/Armaflex)
Colour: black
Fluid temperature range: -10 °C to +110 °C
Ambient temperature range: -10 °C to + 40 °C
Steam diffusion resistance μ: ≥ 10000
Fire resistance classification: flame-retardant, B-s3, d0 (as per EN 13501-1)
Thermal conductivity: 0.033 W/(m·K)
Complies with RoHS and REACH
Free from flame-retardant agent (HBCD)
Delivery state
Cold water insulation shell including Armaflex band for form-fitting sealing between insulation and motor flange, installation instructions and packaging.
The processing materials required for the Armacell system (e.g. special cleaners, AF adhesives) are to be provided by the customer.