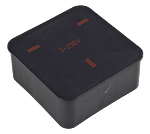 For uncontrolled TOP three-phase pumps (2 required for double pumps). For conversion in terminal boxes to existing mains voltage 3~230 V/50 Hz.
Equipment/function
The simple conversion for connecting the pump to 3~230 V is achieved by replacing the standard 400 V speed switching plug in the terminal box of the pump with the 230 V switching plug.
No further wiring work is required.
Manual variable speed switching with the plug is retained for 3 stages.
Note
This retrofitting does not permit the connection of the pump to 1~230 V.
Not allowed in conjunction with Protect-Module C.
Scope of delivery
Switching plug "N" 3~230 V
Technical data
Mains connection
Min. ambient temperature
Max. ambient temperature
Length L
Width W
Height H
Net weight, approx.
Make
Item no.
Certificate REACH (Documents)