Wilo-Flumen EXCEL-TRE 20 … 40
Wilo-Flumen EXCEL-TRE 20 … 40
Series description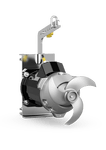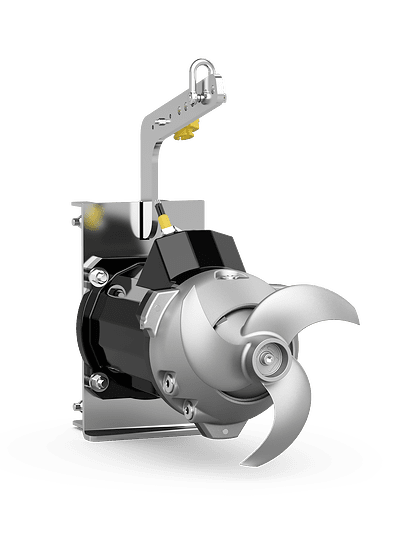 Your advantages
Low cleaning effort: due to installation close to the ground, deposits are prevented during emptying of basins
Low clogging rate and reliable operation thanks to optimised hydraulics
Low-wearing, due to the use of stainless steel investment-cast propellers with the lowest cavitation tendency
A wide range of possible uses in diverse applications, even at high-interval running times
Reduction of the energy and operating costs due to the standard use of IE3 motors for the best possible thrust coefficient
High flexibility thanks to the most diverse installation options and accessories
The most effective solution for draining stormwater retention tanks and pump sumps.
The Wilo-Flumen EXCEL is the operationally reliable solution for draining stormwater retention tanks and pump sumps. It impresses with high-speed submersible mixers that are made of high quality stainless steel and installed close to the ground. They constantly generate sufficient turbulence and therefore reliably prevent solids from settling. This also minimises cleaning work when draining stormwater retention tanks and pump sumps. Even during periods of high rainfall and longer running times, the Wilo-Flumen EXCEL has a low clogging rate and is extremely reliable in operation. The new precision-cast stainless steel propellers prevent almost all cavitation, so that low-wearing operation is guaranteed at all times.
Construction
Fast running and compact submersible mixer, directly driven
Application
Solids turbulence to prevent deposits in the stormwater retention tank and pump sump
Destruction of floating sludge layers
Equipment/function
Thermal motor monitoring
Sealing chamber control (optional)
Ex rating (optional)
Scope of delivery
Submersible mixer with mounted propeller hub and cable
Cable length as per customer request
Fitted accessories depending on the installation type
Operating and maintenance manual
Type key
E.g.:

Wilo-Flumen EXCEL-TRE30.145-4/12REx S17

Flumen

Submersible mixer, horizontal

EXCEL

Mixer with high efficiency motors

TRE

Mixer with asynchronous motors of motor efficiency class IE3/IE4

30

x10 = nominal propeller diameter in mm

145

x 10 = propeller speed in rpm

4

Number of poles

12

x 10 = stator length in mm

R

Motor version:

R = mixer version
V = mixer version with reduced power

Ex

Ex-rated

S17

Propeller code for special propeller (omitted for standard propeller)
Technical data
Mains connection: 3~400 V, 50 Hz
Submerged operating mode: S1
Protection class: IP68
Max. fluid temperature: 40 °C
Max. immersion depth: 20 m
Materials
Motor housing:

TRE 20: 1.4408
TRE 30, TRE 40: EN-GJL-250

Seal housing: 1.4408
Propellers: 1.4408
Seal:

On motor side: SiC/SiC (TRE 20), NBR (TRE 30, TRE 40)
Fluid side: SiC/SiC

Screwed connections: Stainless steel 1.4301 or 1.4571
Description/construction
Propeller
3-bladed propeller with a nominal propeller diameter of 200 mm to 400 mm. Clogging-free design made possible by backward-curved incoming flow edge.
Motor
Submersible motor of the TE-series (surface-cooled high efficiency motor) with standard connection for an easy and efficient adaptation of the motor power. The motor heat is given off directly to the fluid via the housing. The winding is equipped with a temperature monitor. Large grooved ball bearings ensure long service life of the motor bearings. The motors comply with the IE3/IE4 classification (derived from IEC 60034-30).
Seal
Double shaft sealing with large-volume sealing chamber to collect leakage from the mechanical seal; available with external pencil electrode on request. A corrosion- and wear-resistant mechanical seal is used on the fluid side. The seal on the motor side depends on the type:
TRE 20: corrosion-resistant and wear-resistant mechanical seal
TRE 30, TRE 40: Rotary shaft seal
Cable
Longitudinally watertight connection cable for strong mechanical loads. The connection cable enters the motor housing through a water pressure-tight cable inlet with strain relief and bend protection.