Wilo-Atmos GIGA-N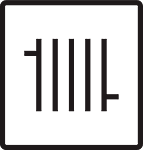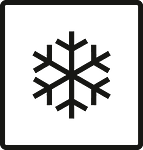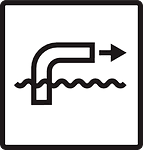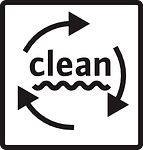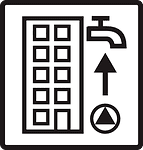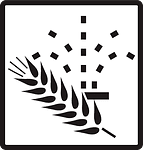 The standard pump for universal applications and a long service life.
Wilo-Atmos GIGA-N
The standard pump for universal applications and a long service life.
The Wilo-Atmos GIGA-N is the entry-level model for glanded pumps. The wide range of motors and materials to choose from plus its wide temperature range from -20 to +140 °C make it a real all-rounder for a whole host of different applications.
Designed specifically for continuous operation, the pump also boasts a long service life thanks to its corrosion-resistant coatings and maintenance-free roller bearings. If maintenance is required, the spacer coupling ensures the mechanical seal can be replaced as quickly as possible. The speed of the Wilo-Atmos GIGA-N is controlled by a Wilo-EFC converter. It can be fitted with temperature and vibration monitoring for the pump bearing so that impending breakdowns can be recognised in good time.
With that in mind, Wilo also offers additional, complementary services ranging from commissioning through to maintenance, and the comprehensive full-service WiloCare package is designed to ensure optimal operational reliability via Wilo remote monitoring.
---
Your advantages
Energy-saving thanks to increased overall efficiency through improved hydraulics and the use of IE3 motors - IE4-motor as option
Suitable for drinking water supply (ACS-, UBA- compliant)
Cataphoretic coating of all cast components for high corrosion resistance and long service life (not available for the drinking water version)
Universally usable thanks to standardised dimensions, a range of motor options and impellers made of different materials
Easy maintenance thanks to user-friendly spacer coupling in back pull-out design
High operational reliability thanks to improved impeller construction for pressure reduction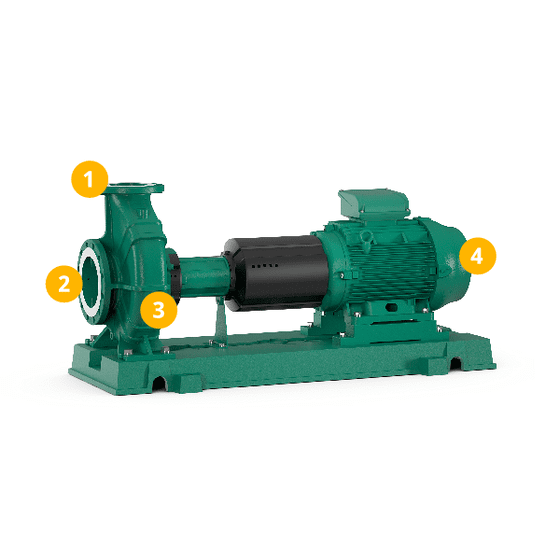 Product features
Dimensions in accordance with EN 733
Cataphoretic coating
Impeller made of grey cast iron, bronze or stainless steel
Various IE-motor variants
Wilo-Atmos GIGA-N (2pl)
---
Design
Single-stage, low-pressure centrifugal pump with axial suction, mounted on a baseplate. Standard version with spacer coupling.
Application
The pumping of heating water (in accordance with VDI 2035), chilled water and water-glycol mixtures without abrasive substances in heating, chilled water and cooling systems.
Applications for irrigation, building services, general industry, power stations, etc.
Equipment/function
Single-stage low-pressure centrifugal pump in end suction design with coupling, coupling guard, motor and baseplate
Typekey
| | |
| --- | --- |
| Example | Atmos GIGA-N 40/200-11/2 |
| Atmos | Product family |
| GIGA | Series designation |
| N | Standard pump with axial suction |
| 40 | DN for the pressure flange |
| 200 | Impeller nominal diameter [mm] |
| 11 | Rated power P2 [kW] |
| 2 | Number of poles |
Technical data
Permissible temperature range: -20 °C ... +140 °C
Mains connection 3~400 V, 50 Hz
Protection class IP55
Nominal diameter DN 32 ... DN 150
Max. operating pressure 16 bar
Materials
Pump housing and lantern. Standard: EN-GJL-250
Impeller: Standard: EN-GJL-200; others on request
Shaft: 1.4021
Mechanical seal: AQEGG; other mechanical seals on request
Construction
Single-stage low-pressure centrifugal pump as baseplate pump with axial suction ports with flanged bearing brackets and axle fastening for flexibly coupled drives
Spacer coupling (sleeve coupling) is standard; this provides the option of leaving the motor in position when dismantling the rotor unit
Variant ...-P5 without spacer coupling (at reduced price, see price list)
Scope of delivery
Pump
Installation and operating instructions
Bare shaft pump or
Pump on baseplate with coupling and coupling guard, without motor or
Completely mounted pump on baseplate with electric motor