Wilo-Medana CH1-L
Efficient system integration.
Wilo-Medana CH1-L
Efficient system integration.
Thanks to its drinking water certificate, the Wilo-Medana CH1-L is also suitable for drinking water applications. The non self-priming, multistage pump reaches maximum hydraulic output. Its compact and robust design with corrosion-resistant components and suitability for use in ambient temperatures up to 50 °C offer a large field of application for pump integration in larger systems.
---
Your advantages
High efficiency thanks to high hydraulic output
Quick and easy commissioning/maintenance thanks to large openings for filling and draining pumps
Highly reliable and robust with low noise emissions thanks to neck ring and corrosion-resistant lantern with cataphoretic coating
Suitable for use in ambient temperatures of up to 50 °C and expanded field of application especially for system integration
Suitable for drinking water applications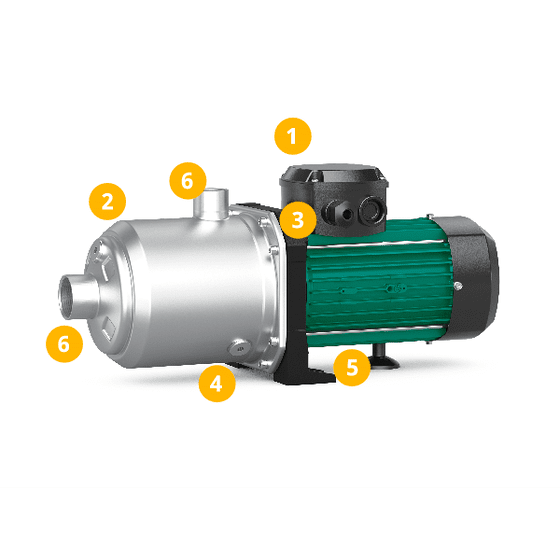 Product features
Compact design
Material with media contact in stainless steel
Cataphoretic lantern
Big diameter for filling and emptying
Reinforced pump feet with direct access for screw fixing
Option: quick connection hydraulics interfaces
Wilo-Medana CH1-L, Wilo-Medana CH1-LC
---
Design
Non-self-priming horizontal multistage pump
Application
Water distribution and boosting
Irrigation
Industrial process
Equipment/function
Stainless steel in monobloc design
Threaded connection
Single-phase or three-phase AC motor
Single-phase AC motor equipped with built-in thermal motor protection (with automatic restart)
Typekey
| | |
| --- | --- |
| Example: | Wilo-MEDANA CH1-L.202-1/E/A/10T |
| MEDANA | Product designation surface pump |
| CH | Commercial horizontal |
| 1 | Series level (1 = entry, 3 = standard, 5 = premium) |
| L | Long shaft |
| 2 | Nominal volume flow [m3/h] of the single pump |
| 02 | Number of single pump stages |
| 1 | 1 = AISI 304 |
| | 2 = AISI 316L |
| E | E = EPDM gasket |
| A | A = frequency 50 Hz/single-phase/230 V |
| | B = frequency 60 Hz/single-phase/220 V |
| | C = frequency 60 Hz/single-phase/230 V |
| | D = frequency 50 Hz/three-phase/400 V |
| | E = frequency 50 Hz/three-phase/230 – 400 V |
| | F = frequency 60 Hz/three-phase/220 – 380 V |
| | G = frequency 60 Hz/three-phase/265 – 460 V |
| | I = frequency 60 Hz/three-phase/460 V |
| 10 | Rated pressure (bar) |
| T | T = threaded connections |
| | P = Victaulic connections |
Technical data
Mains connection: 1~230 V (±10 %), 50Hz
Mains connection: 3~230 V-400 V (±10 %), 50 Hz; 265-460 V (±10 %), 60 Hz
Fluid temperature: -20 to +120 °C (EPDM), -20 to +90°C (FKM)
Max. operating pressure: 10 bar
Max. inlet pressure: 6 bar
Protection class: IPX5
Nominal diameters of pipe connections: from G1" to G2"depending on typ
Materials
Impellers, stage chambers and pump housing made of 1.4301/1.4404 stainless steel
Shaft 1.4301 or 1.4404 stainless steel
Seal EPDM/FKM (Viton)
Mechanical seal: EPDM version: B-carbon/silicon carbide; FKM version: B-carbon/silicon carbide
Bearing tungsten carbide/aluminum oxide
Pump base aluminum
Delivery state
Pump
Installation and operating instructions
Installation and operating instructions
---
General overview (Documents)
---
Certificate REACH (Documents)