Screwed connection R 1/∅ 28 i x G 1½, 1 Set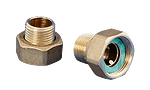 Screwed connection R 1/∅ 28 i x G 1½, 1 Set
Screwed connections for drinking water pumps and solar heating pumps with threaded connection
Brass screw connections, special inserts with Whitworth male thread (DIN EN 10226-1) and female thread for choice between threaded connections and solder joints on copper pipes (DIN EN 1057).
Scope of delivery
1 set of brass screwed connections consisting of:
2 union nuts
2 inserts (screwed/soldered connection)
2 flat gaskets
Technical data
Connection input
Connection output
Material
Packaging
Net weight, approx.
Make
Item no.
Certificate REACH (Documents)