Wilo-Savus OPTI-DECA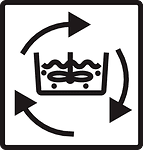 Wilo-Savus OPTI-DECA
Your advantages
Effective and safe clear water removal to ensure the sewage is cleaned to a high quality
High process reliability owing to permanently installed system which is decoupled from the fluid
Universally customisable and modifiable decanting technology owing to individually system-tailored design
No contamination thanks to process-related cycling of the decanting process
---
Design
A positive control discharge unit that is decoupled from the fluid
Application
Unit to effectively discharge clear water in SBR systems
Equipment/function
The clear water discharge phase at the end of a process cycle is a crucial process step in ensuring the quality of the treated sewage. Only the cleaned sewage may pass into the outflow, floating matter must be safely held back.
During the previous treatment phases (infeed, aeration, stirring and sedimentation) the discharge unit has been positioned at a safety distance above the maximum possible water level. Upon starting the discharge process the discharge unit is gradually lowered using an electrically operated winch and the discharge pipe is immersed in the clear water zone. As a rule, the clear water is fed in below the dropping water level to retain floating sludge. Draining is done by gravity.
The discharge process has been completed upon reaching the minimum surfacing height as well as the bottom end position and the discharge unit is moved up to its initial position.
Technical data
Drainage quantity: 200 … 1000 m³/h
Discharge pipe: DN 200 … DN 300
Drain pipe: DN 200 ... DN 400
Drainage quantities greater than 1000 m³/h upon request.
Materials
Discharge unit: A2/A4 stainless steel
Drainage unit: A2/A4 stainless steel
Wall bracket: A2/A4 stainless steel
Supports: A2/A4 stainless steel
Construction
The discharge device consists of a horizontally arranged discharge unit and a drainage unit. The discharge unit features a rigid floating sludge barrier. The drainage unit is connected to the on-site drain pipe by a joint.
An electric winch is used to raise and lower the decanter. The electric winch consists of a geared brake motor and a cable drum. The upper and lower switch-off points are set using the limit switches. The discharge device can be supported on supports installed in the basin for maintenance and installation.
Scope of delivery
Discharge and drainage unit, joint, wall bracket and supports
Electric winch
Operating and maintenance manual