Yonos PICO HU 25/1-7
Yonos PICO HU 25/1-7
Data sheet
Hydraulic data
Max. volume flow Q

3.3 m³/h

Energy efficiency index (EEI)

0.20
Product data
Maximum operating pressure PN

10 bar

Max. ambient temperature T

55 °C

Min. ambient temperature T

0 °C

Max. fluid temperature T

95 °C

Min. fluid temperature T

-10 °C
Motor data
Mains connection

1~230 V ±10%, 50/60 Hz

Power consumption P1 max

45 W

Power consumption P1 min

4 W

Max. speed nmax

4640 rpm

Min. speed nmin

800 rpm

Insulation class

F

Protection class

IPX4D

Electromagnetic compatibility

EN 61800-3

Emitted interference

EN 61000-6-3

Interference resistance

EN 61000-6-2
Installation dimensions
Pipe connection on the pressure side

Ø24.9mm

Pipe connection on the suction side

Ø24.9mm
Materials
Bearing

Carbon, metal impregnated

Impeller

PP-GF40

Pump housing

PA66-GF30

Shaft

1.4003, X2CrNi12
Information for order placements
Brand

Wilo

Product description

Yonos PICO HU 25/1-7

Article number

4526201

Net weight, approx. m

2 kg
Dimensions and dimensions drawings
Yonos PICO-HU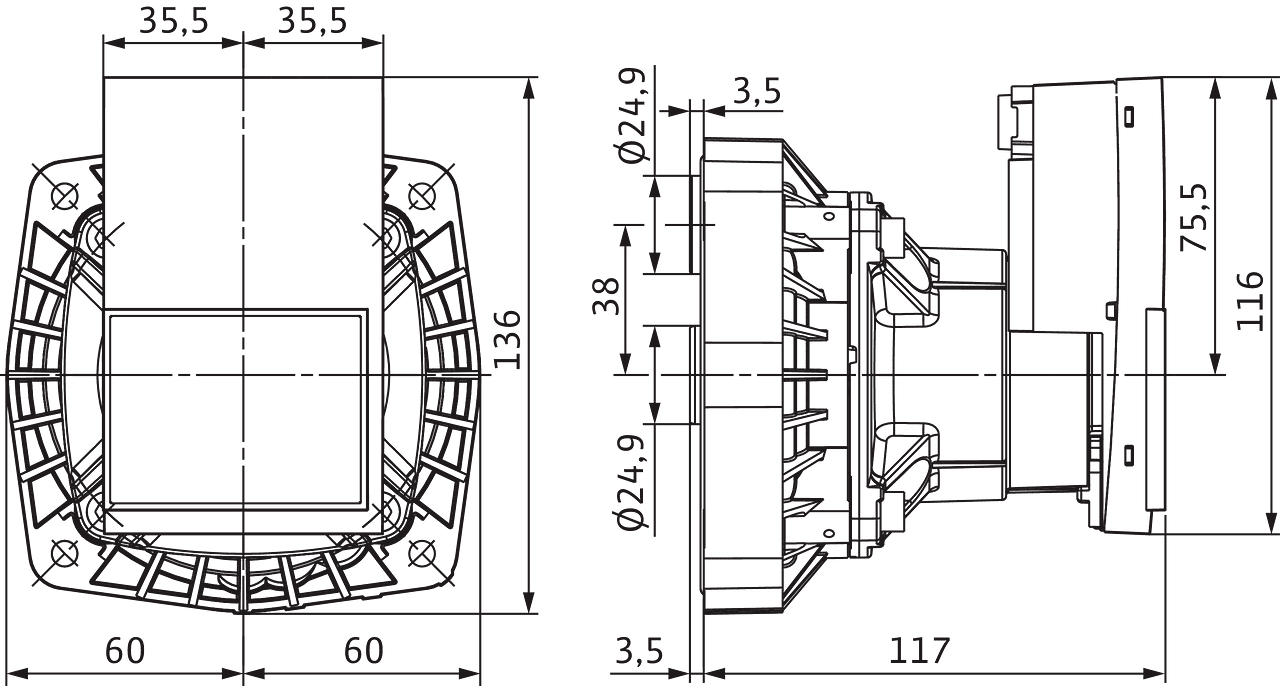 Yonos PICO-HU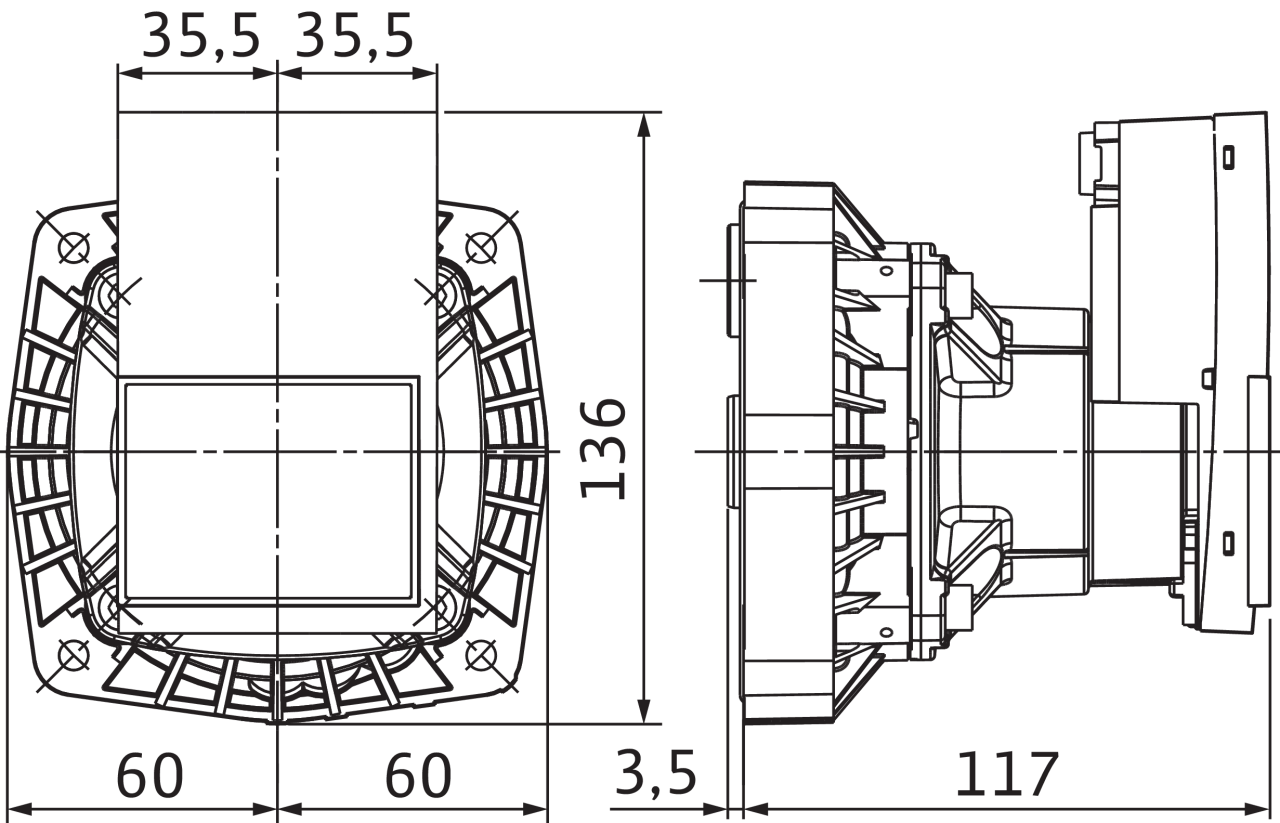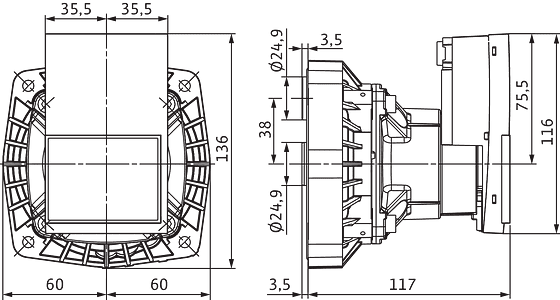 Pump curves
Yonos PICO-HU 25/1-7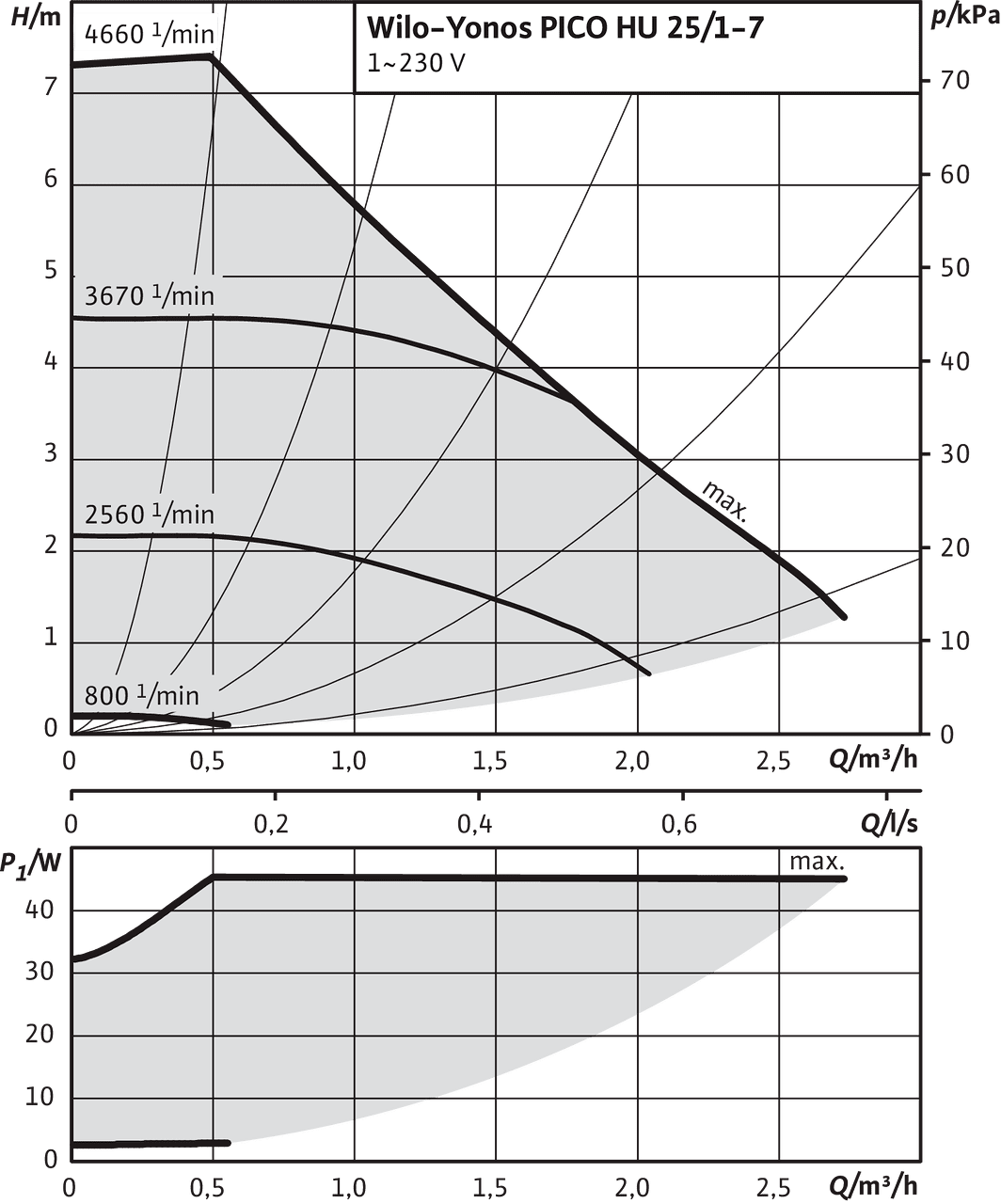 Yonos PICO-HU 25/1-7, Δp-v (variable)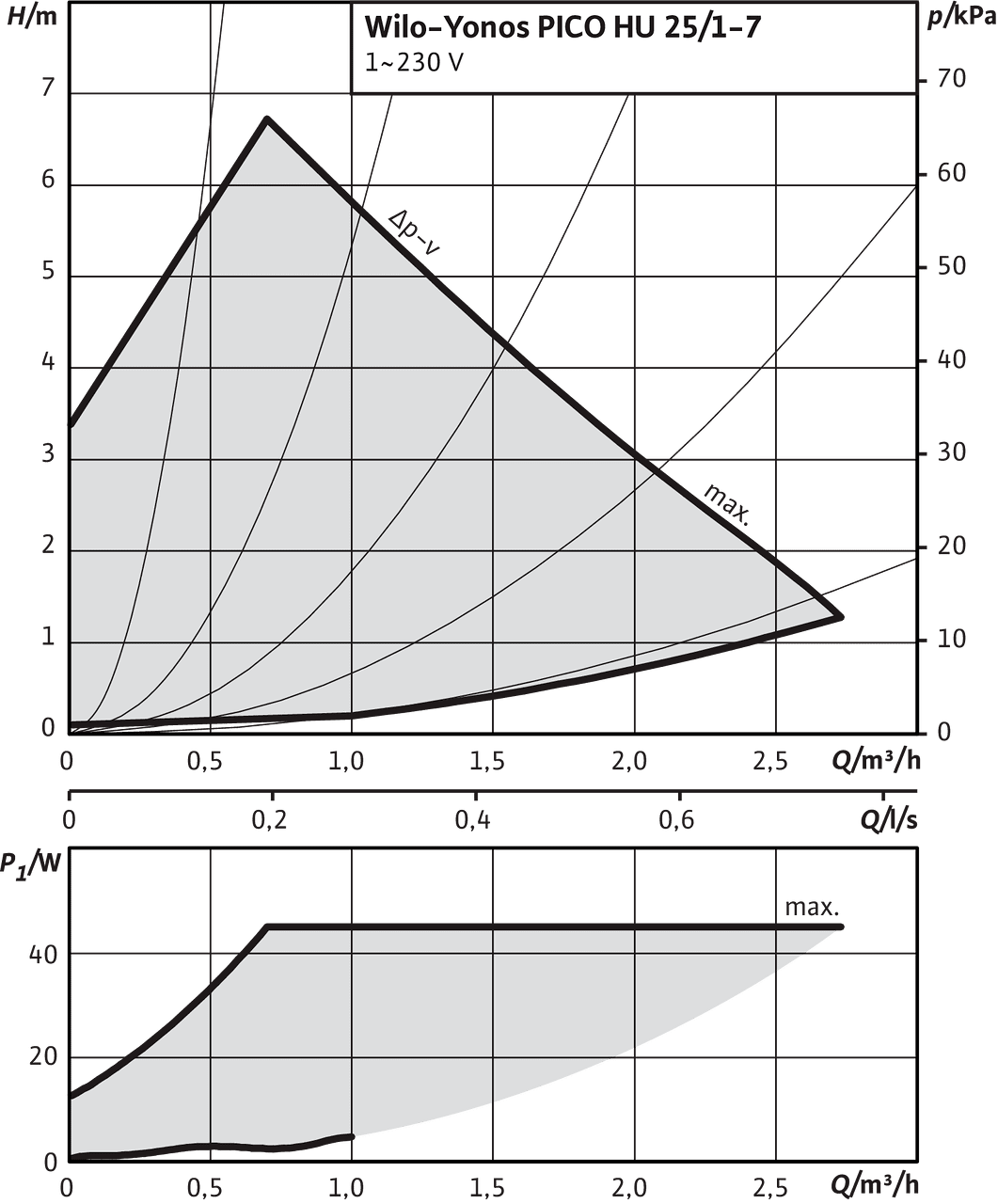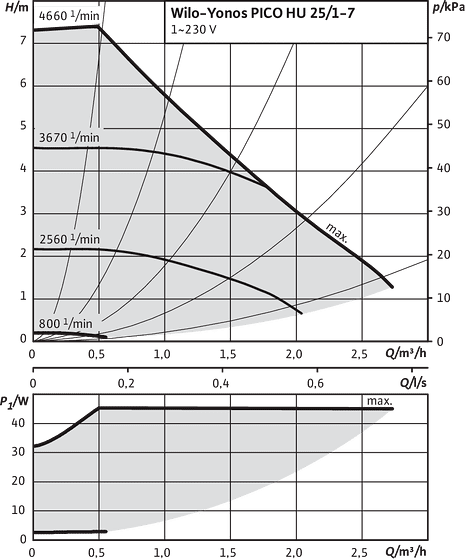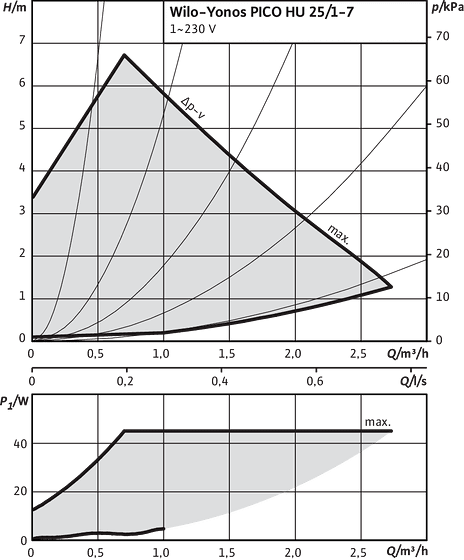 Wiring diagram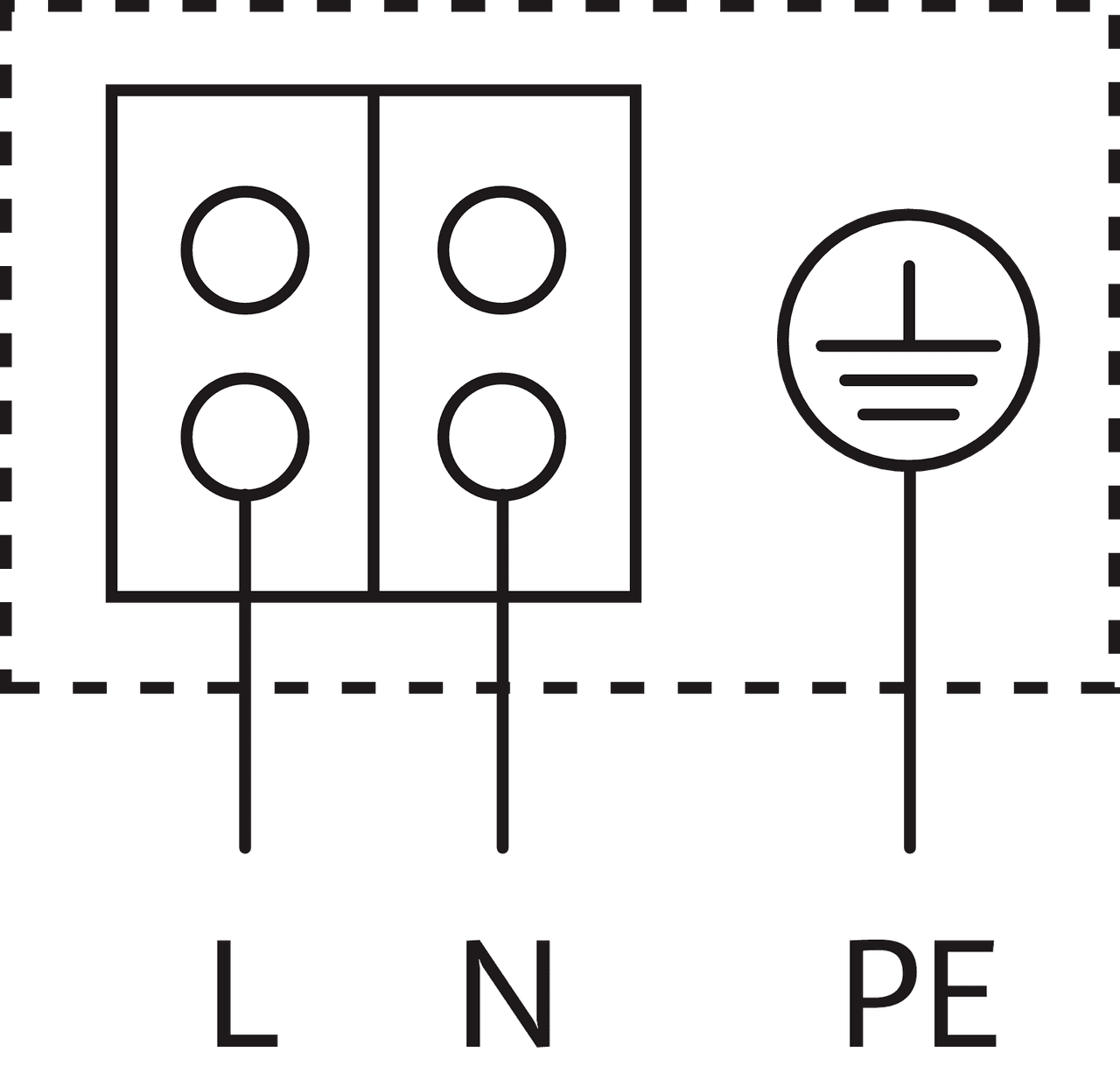 Blocking current-proof motor
Single-phase motor (EM) 2‐pole ‐ 1~230 V, 50 Hz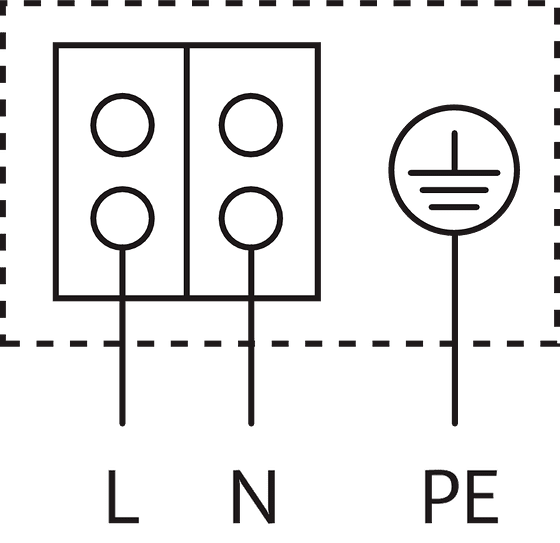 Ordering information
Information for order placements
Brand

Wilo

Product description

Yonos PICO HU 25/1-7

EAN number

4048482389530

Article number

4526201

Gross weight, approx. m

1.9 kg

Net weight, approx. m

2 kg

Overall length L

117.0 mm

Height without packaging H

121 mm

Colour

Green

Packaging property

Sales packaging

Packaging type

Cardboard box

Number per layer

24

Width without packaging L

120.5 mm

Minimum order quantity

1

Pieces per pallet

120
Tender text
High-efficiency pump Wilo-Yonos PICO HU, electronically controlled. Maintenance-free glandless circulation pump with HU 25 flange connection, blocking-current proof synchronous motor according to ECM technology and built-in electronic power control for continuous differential pressure control. Can be used for all heating and air-conditioning applications. Control mode can be selected in accordance with the radiator/underfloor heating application.
Standard-equipped with:
Durable plastic hydraulic system suitable for the HU 25 interface
Preselectable control modes for optimum load adjustment: Fixed speed, Δp-v (differential pressure variable)
Integrated motor protection
Ring LED for operation and malfunction display
Flexible connection cable with Wilo-Connector
Large hydraulic duty chart (up to 7 m pumping head)
Automatic deblocking function
High starting torque
Plastic hydraulic system, impeller made of polypropylene, stainless steel shaft with metal-impregnated carbon friction bearings.
Materials
Pump housing

PA66-GF30

Impeller

PP-GF40

Shaft

1.4003, X2CrNi12

Bearing

Carbon, metal impregnated
Operating data
Fluid media

Water

Min. fluid temperature T

-10 °C

Max. fluid temperature T

95 °C

Maximum operating pressure PN

10 bar

Minimum suction head at 50 °C

0.5

Minimum suction head at 95 °C

4.5

Minimum suction head at 110 °C

10

Max. ambient temperature T

55 °C
Motor data
Energy efficiency index (EEI)

0.20

Emitted interference

EN 61000-6-3

Interference resistance

EN 61000-6-2

Mains connection

1~230 V, 50/60 Hz

Power consumption P1 max

45 W

Min. speed nmin

800 rpm

Max. speed nmax

4640 rpm

Protection class motor

IPX4D
Installation dimensions
Pipe connection on the suction side

Ø24.9mm
Information for order placements
Net weight, approx. m

2 kg

Brand

Wilo

Product description

Yonos PICO HU 25/1-7

Article number

4526201
Downloads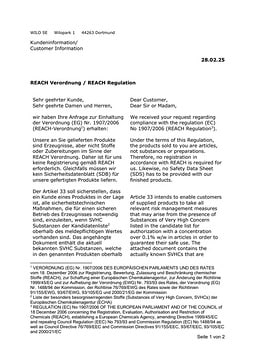 REACH Regulation
| | |
| --- | --- |
| Edition | 2018-10 |
| Page format | 209.9 x 296.7 mm |
| Number of pages | 4 |