Wilo-Stratos MAXO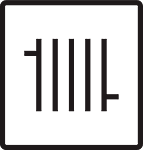 The smart-pump for commercial buildings with building management system.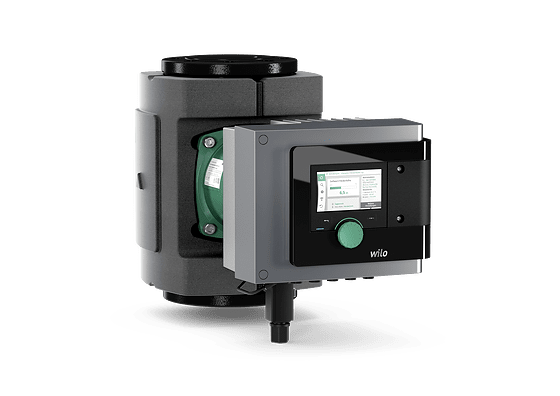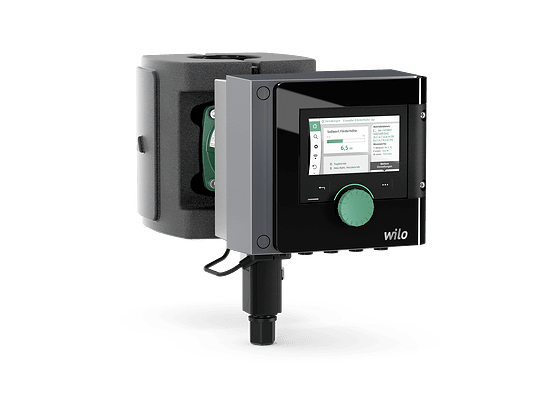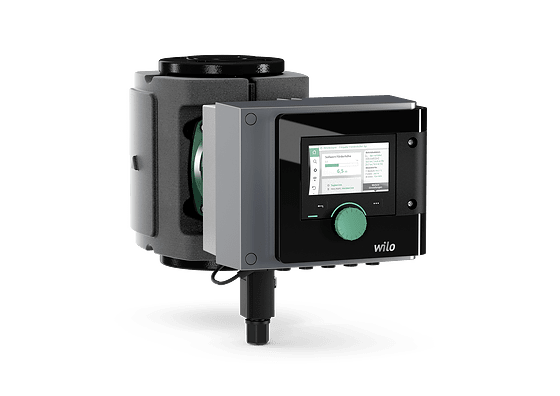 Wilo-Stratos MAXO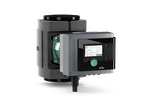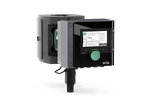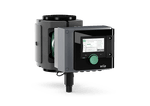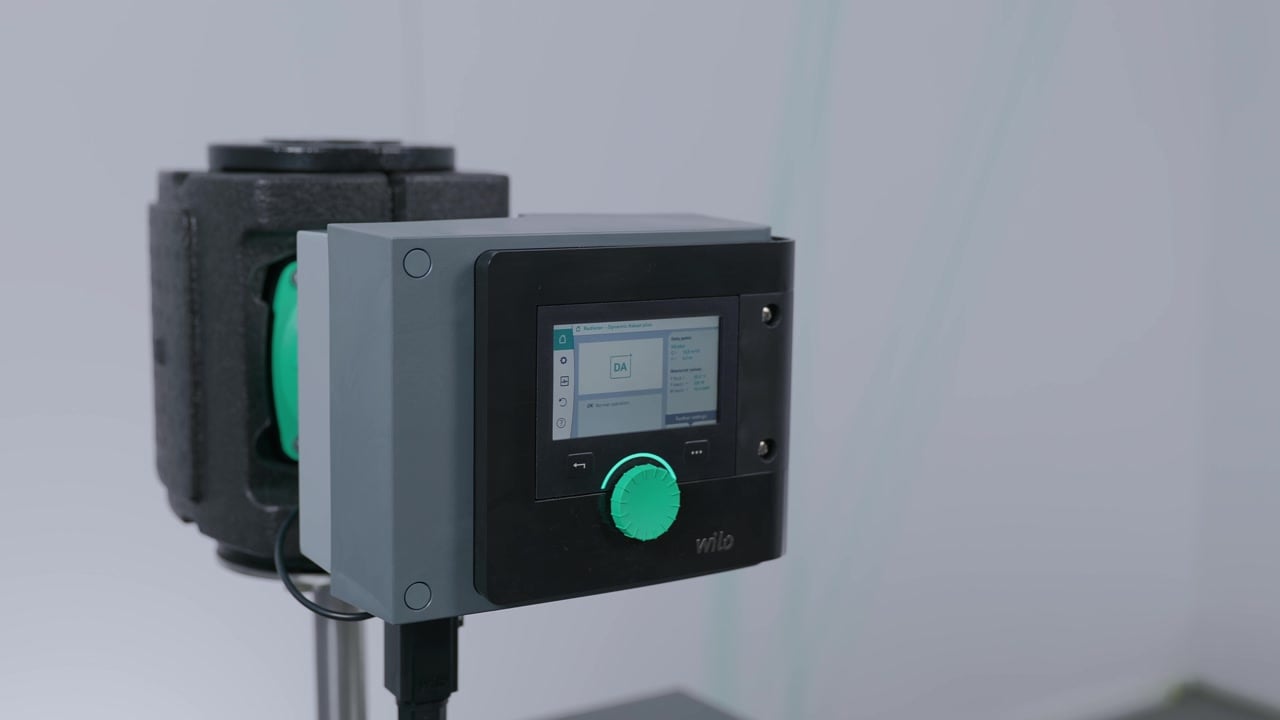 The smart-pump for commercial buildings with building management system.
With optimised and innovative energy-saving features, the Wilo-Stratos MAXO sets new standards for commercial HVAC and drinking water applications in terms of energy efficiency. Its outstanding user-friendliness makes operating the pump easier than ever before.
---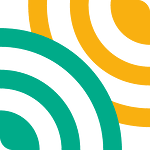 ---
Your advantages
Various options for integration into the building management system
Intuitive operation by application-guided settings with the Setup Guide plus the combination of a new display and operating button using Green Button Technology.
Maximum energy efficiency thanks to the combination of optimised and innovative energy-saving functions (e.g. No-Flow Stop).
Optimum system efficiency thanks to new and innovative intelligent control functions such as Dynamic Adapt plus, Multi-Flow Adaptation, T-const. and ΔT-const.
State-of-the-art communication interfaces (e.g. Bluetooth) for connection to mobile devices, including direct pump networking for multi-pump control via the Wilo Net.
Maximum convenience for electric installation with the spacious and clearly arranged terminal room and optimised Wilo-Connector.
---
Tomorrow's technology for today's systems.



Head start in the future: the Wilo-Stratos MAXO family.
The world's first smart-pump* features tomorrow's innovations that make your life easier today: The Wilo-Stratos MAXO offers you greater efficiency, connectivity and comfort than ever before. It is the first pump which has an intuitive user interface – and makes installation and operation as easier than ever before. The Wilo-Stratos MAXO also redefines system efficiency: By featuring innovative energy-saving functions and new control modes it attains maximum system efficiency.
The highest level of compatibility with existing systems is also a matter of course for our smart-pump.In 2017, the Wilo-Stratos MAXO has already been awarded the "Design Plus powered by ISH" seal of approval for its sustainability, innovative design and energy-efficient technology.
In addition, the Wilo-Stratos MAXO has won "GOLD" in the "Technology" category of the "BLUE INNOVATION AWARD 2018" exhibitor's innovation prize, which was awarded for the first time at the expoEnergy 2018 in Wels. Put your faith in the pump technology of the future; you and your customers will profit from the outstanding features of the Wilo-Stratos MAXO.
* We understand a smart-pump as a new category of pumps, which goes far beyond our high-efficiency pumps or pumps with pump intelligence. Only the combination of the latest sensor technology and innovative control functions (e.g. Dynamic Adapt plus and Multi-Flow Adaptation), bidirectional connectivity (e.g. Bluetooth, integrated analogue inputs, binary inputs and outputs, Wilo Net interface), software updates and excellent usability (e.g. thanks to the Setup Guide, the preview principle for predictive navigation and the tried and tested Green Button Technology) make this pump a smart-pump.
Highest efficiency for heating, air conditioning and cooling.
Powerful, easy maintenance, reliable and a long service life are properties which you can naturally expect from Wilo pumps. Our high-efficiency pumps deliver top-rate performances for applications in heating, air conditioning and cooling.
Supplying a property with water and heat at all times puts high demands on the pumps with regard to energy efficiency and resource conservation. Wilo meets these challenges with customised solutions and highly efficient technology; our heating systems achieve maximum efficiencies. This way, landlords and business owners can noticeably lower their operating costs and increase the value of their property long-term.
Installation in no time.
More user-friendliness than ever before: The Wilo-Stratos MAXO offers maximum convenience for installation and configuration – and therefore saving time in your day-to-day work. The control panel, terminal box and power board have been fitted one behind the other to avoid the problem of too small terminal spaces. The power supply unit and the pump electronics are located one level behind the terminal space and are supplied with the same optimised Wilo-Connector for all sizes. Thanks to spring clips for an easy connection, no additional tool is necessary.
Your installation advantages in detail:
Easily-accessible, clearly arranged and uniform cable braid
Up to five cable bushings
Separate input for power and for Wilo Net
Coloured labelling of terminals and a clear separation of electrical and communication connections (SELV) for a safe and easy assignment of the terminals
One click commissioning (factory settings: Heating, Dynamic Adapt plus, date and time)
Settings assistant: application-based setting of pump function (automatic selection of correct control function)
Optimised Wilo-Connector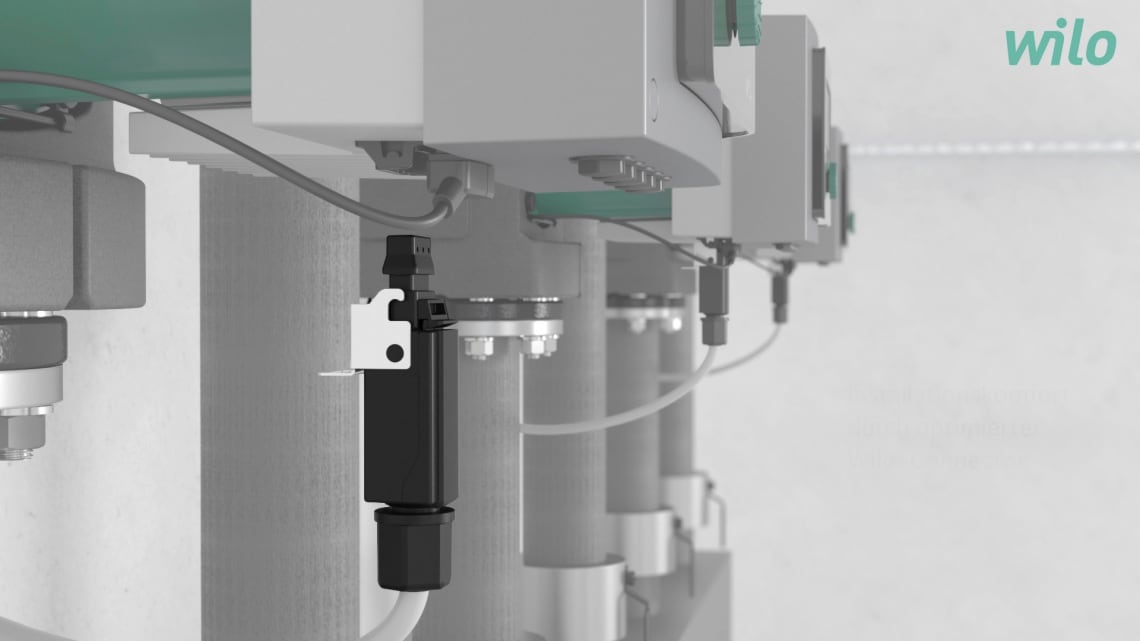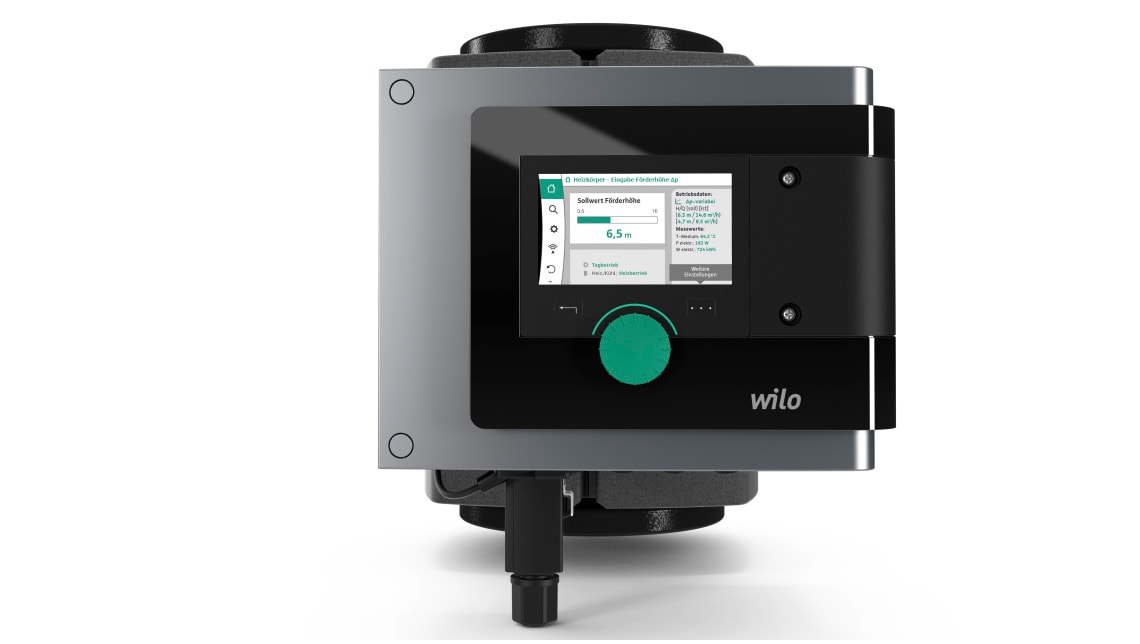 One click commissioning.
Intuitive operation: Wilo-Stratos MAXO impresses with the application-guided configuration with the help of the settings assistant, a new display and the operating button using the Green Button Technology. This provides outstanding user-friendliness on commissioning.
Your advantages on commissioning in detail:
One click commissioning with factory settings (Heating – Radiator – Dynamic Adapt plus)
Settings assistant: application-based setting of pump function (guided selection of correct control function)
Intuitive user interface with preview function and application-based presettings
Large display with high resolution and very good legibility
Innovative technologies for more efficient systems.
The new intelligent control modes are in Focus for higher efficiency. The Wilo-Stratos MAXO is the pump with the highest system efficiency on the market. It achieves its maximum efficiency thanks to optimised and innovative energy-saving functions such as Multi-Flow Adaptation and No-Flow Stop as well as its excellent EEI ≤ 0.17 to ≤ 0.19. The combination of additional sophisticated control functions such as Dynamic Adapt plus allows for highest energy efficiency of the Wilo-Stratos MAXO – with easiest operation.
Dynamic adapt plus
The new control function automatically adjusts the delivery head to the hydraulic demand without the need to specify a setpoint. After initial commissioning, the Wilo-Stratos MAXO selects a duty point in the middle of the pump duty chart. New operating points are identified after each change in volume flow. The aim of this control method is to select the operating point so that the valves are open as wide as possible. This allows the system to operate with the lowest possible pressure loss. The adaptation to variable pressure conditions is performed automatically and independently. Up to 20 % energy savings compared to control mode Δp-v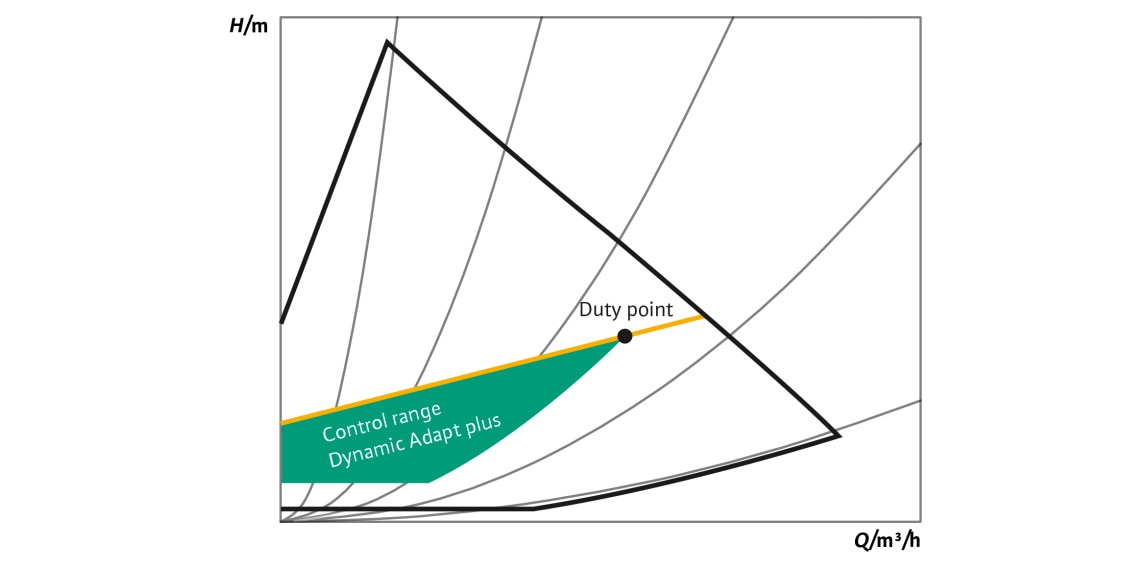 Multi-flow adaption
The new innovative energy-saving function enables the feeder pump to adjust its output to the precise demand of the connected consumer circuit pumps. The feeder pump continuously receives the respective required volume flow from each individual secondary pump in short intervals. The sum of the required volume flows from all secondary pumps results from the target volume flow of the feeder pump, so that the feeder pump only pumps the precise volume flow that the secondary pump requires. It has the advantage that electrical pumping energy is saved in comparison to Δp-c control. In addition, a lower return temperature optimises the heat generator's degree of utilisation which, in turn, has a positive fuel saving effect. For local and district heating transfer stations, the lower return temperature also leads to higher operational reliability, as it avoids activation of the return temperature limiter as well as overflows.
No-flow stop
The energy-saving function automatically deactivates the pump at zero-flow-detection. The Wilo-Stratos MAXO recognises when, despite its speed, the volume flow supplied is too low. This means that the valves in the consumer circuit are closed. Thanks to the intelligent function the pump stops the motor if the volume flow falls below a specified minimum level. At regular intervals, it checks whether the minimum volume flow has been exceeded again, then continues in its set control mode in auto control mode. The Wilo-Stratos MAXO thus avoids unnecessary running time and saves electrical pumping energy.

From the integration in building automation to control by app, Wilo ensures comprehensive communication capability with intelligent and smart technologies. We connect you smartly to your pumps and pump systems and give you an overview of installation sites and operating conditions whilst you are on the go.
Wilo-Smart Connect
Our app for the remote control of Wilo-Smart products:
Connection of the pump to smartphone or tablet via Bluetooth interface
No dongle required
Configuration, control and fine tuning
The capture of operating information for storing, transfer and creating documentation
Software updates for Wilo-Stratos MAXO
Particularly convenient for pumps that are hard to access
The app can be downloaded from the Apple App Store or Google Play free of charge.
Download the Wilo-Assistant
Wilo-Smart Cloud:
Our cloud service for remote control over great distances:

Access via the internet
Option for pump monitoring and control worldwide
Collecting and forwarding pump data
Sending information, fault messages and warnings
Visualisation and storage of the data via Wilo-Smart Connect app
Wilo-Smart Gateway
The module for connectivity to our Wilo-Smart Cloud remote access infrastructure:

Connection (via Wilo Net) to the Wilo-Smart Cloud, the new Wilo online platform
Simple and safe data transfer from the Wilo pump
Enables remote monitoring and control of the pump via smartphone or tablet
Wilo-CIF-Modul: for integration into building automation
Convenient installation: special slot in the terminal room and simple cabling
Different BUS protocols: Modbus RTU, BACnet MS/TP, CANopen, LON TP/FT-10, PLR
For Wilo-Stratos MAXO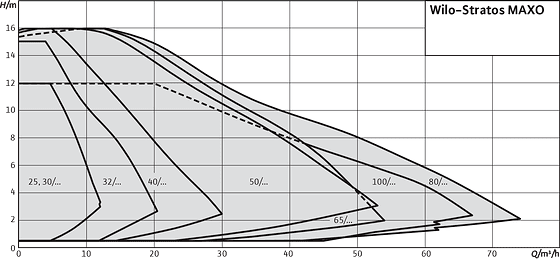 Wilo-Stratos MAXO
---
Construction
Smart glandless circulator with screwed connection or flange connection, EC motor with integrated electronic power adjustment.
Application
Hot-water heating systems of all kinds, air-conditioning systems, closed cooling circuits, industrial circulation systems.
Equipment/function
Field of application
The pump facilitates an operation with highest system efficiency via precise setting of the control mode for the system-specific application (e.g. radiator, underfloor heating, ceiling cooling).
Heating
Radiator
Underfloor heating
Ceiling heating
Fan heater
Hydraulic shunt
Heat exchanger
Cooling
Ceiling cooling
Underfloor cooling
Air-conditioning devices
Hydraulic shunt
Heat exchanger
Heating and cooling combined
The following control modes are available depending on the selected application:
Control modes
Constant speed (control mode)
Δp-c for constant differential pressure
Δp-v for variable differential pressure
Dynamic Adapt plus for continuous (dynamic) adjustment of the delivery rate to the current requirement
T-const. for constant temperature regulation
ΔT for differential temperature control
Constant Q for constant volume flow control
Multi-Flow Adaptation: Total volume flow determination through the feeder pump for the needs-based supply of secondary pumps in the heating circuit distributors
User-defined PID controller
Optional functions
Q-limitmax. for limiting the maximum volume flow
Q-limitmin. for limiting the minimum volume flow
No-Flow Stop (zero-flow-deactivation)
Automatic setback operation
Index circuit evaluator (Δp-c control with external actual value sensor)
Variable pitch of Δp-v pump curve
Manual settings
Selection of the field of application in the setting assistant
Setting the related operating parameters
Nominal duty point: direct input of calculated duty point at Δp-v
Status display
Setting and resetting the energy meters (heating and cooling)
Pump venting function
Key lock for disabling the settings
Function for resetting the factory settings or the saved restoration points (parameter sets)
Parameterising the analogue inputs
Parameterising the binary inputs
Parameterising the relay outputs
Dual pump function (for 2 single pumps, which should be operated as twin-head pump)
Automatic functions
Power adjustment according to requirements for energy-efficient operation depending on the operating mode
Setback operation
Deactivation at zero flow (No-Flow Stop)
Soft start
Automatic troubleshooting routines (e.g. deblocking function)
Switchover heating/cooling mode
Full motor protection with integrated trip electronics
External control inputs and their functions
2 x analogue inputs:
Signal types: 0 – 10 V, 2 – 10 V, 0 – 20 mA, 4 – 20 mA, PT1000
Applications: Remote adjustment of the setpoints in every control mode (except Multi-Flow Adaptation), sensor inputs for temperature, differential pressure or free sensor in user-defined PID-operating mode
2 x digital inputs:
For potential-free control outputs or switch
Parametrisable functions:

Ext. Off
Ext. Min
Ext. Max
MANUAL (BMS-OFF)
Key lock
Switchover between heating/cooling mode
Wilo Net for dual pump management of 2 single pumps, communication of several pumps with each other and pump-remote adjustment via gateway
Signal and display functions
Display status operation display:

Setpoint
Actual delivery head
Actual volume flow
Power consumption
Electric consumption
Temperatures

Status display LED: Faultless operation (green LED), pump communication (blue LED)
Display status of display fault (display red):

Error codes and error description in full text
Remedial measures

Display status of display warning (display yellow):

Warning codes and description of the warning in full text
Remedial measures

Display status process indicator (display blue):

Pump venting
Update procedure

Display BMS communication (display blue):
Summary of the active BMS parameters (baud rate, address,...)
Collective fault signal SSM (potential-free changeover contact)
Collective run signal SBM (potential-free normally open contact)
Data exchange
Bluetooth interface for wireless data exchange and remote operation of the pump using a smartphone or tablet.
Remote monitoring of the pump via the Internet with the Wilo-Smart Gateway.
Digital Modbus TCP interface for connection to building automation (BA) (possible with Wilo-CIF module Ethernet [multi-protocol]).
Serial digital interface Modbus RTU for connecting building automation (BA) via RS485 bus system (possible with Wilo-CIF module Modbus RTU).
Digital BACnet IP interface for connection to building automation (BA) (possible with Wilo-CIF module Ethernet [multi-protocol]).
Serial digital interface BACnet MS/TP for connecting building automation (BA) via RS485 bus system (possible with Wilo-CIF module BACnet MS/TP).
Serial digital interface LON for connecting building automation (BA) via bus system LONWorks (possible with Wilo-CIF module LON).
Serial digital interface CANopen for connecting building automation (BA) via bus system CANopen (possible with Wilo-CIF module CANopen).
Serial digital interface PLR for connecting BA via company-specific coupling module (possible with Wilo-CIF module PLR).
Dual pump management (twin-head pump or 2 x single pumps)
Main/standby operation (automatic fault-actuated switchover/time-sensitive pump alteration)
Parallel operation (efficiency-optimised peak load cut-in and out)
Equipment
For flange-end pumps: Flange versions

Standard version for DN 32 to DN 65 pumps: PN 6/10 combination flange (PN 16 flange according to EN 1092-2) for PN 6 and PN 16 counter flanges
Standard version for DN 80/DN 100 pumps: PN 6 flange (designed for PN 16 according to EN 1092-2) for PN 6 counter flange
Special version for DN 32 to DN 100 pumps: PN 16 flange (according to EN 1092-2) for PN 16 counter flange

Various integrated communication interfaces and optionally usable CIF module plug-in position
5 cable inlets for connecting the communication interfaces
Bluetooth interface
High resolution graphic display with green button and 2 additional buttons
User-friendly terminal room
Integrated temperature sensor
Thermal insulation as standard for heating applications
Quick electrical connection with optimised Wilo-Connector for the power supply
Scope of delivery
Pump
Optimised Wilo-Connector
2x threaded cable connection M16 x 1.5
Washers for flange screws (for nominal connection diameters DN 32 - DN 65)
Gaskets for threaded connection
Thermal insulation
Installation and operating instructions
Type key
| | |
| --- | --- |
| Example: | Wilo-Stratos MAXO 30/0,5-12 |
| Stratos MAXO | High-efficiency pump (screw-end or flange-end pump), electronically controlled |
| 30/ | Nominal connection diameter |
| 0,5-12 | Nominal delivery head range [m] |
Technical data
Permissible temperature range -10 °C to +110 °C
Mains connection 1~230 V, 50/60 Hz
Protection class IPX4D
Screwed connection or flange connection (depending on type) Rp 1 to DN 100
Max. operating pressure of standard version: 6/10 bar or 6 bar (special version: 10 bar or 16 bar)
Insulation class: F
Emitted interference in acc. with: EN 61800-3:2004+A1:2012 / residential environment (C1)
Interference resistance in acc. with: EN 61800-3:2004+A1:2012 / industrial environment (C2)
Materials
Pump housing: grey cast iron with cataphoretic-coated
Thermal insulation: polypropylene
Shaft: Stainless steel
Bearing: carbon
Impeller: Plastic
Description/construction
Smart glandless circulator with EC motor and integrated electronic power adjustment
Green Button Technology and graphic display
Motor protection with trip electronics
Plug connection for functional extension with optional CIF module for building automation (BA)
Impeller with three-dimensionally curved blades and plastic sealing tube made of carbon fibre composite material