Playmaker in the Arena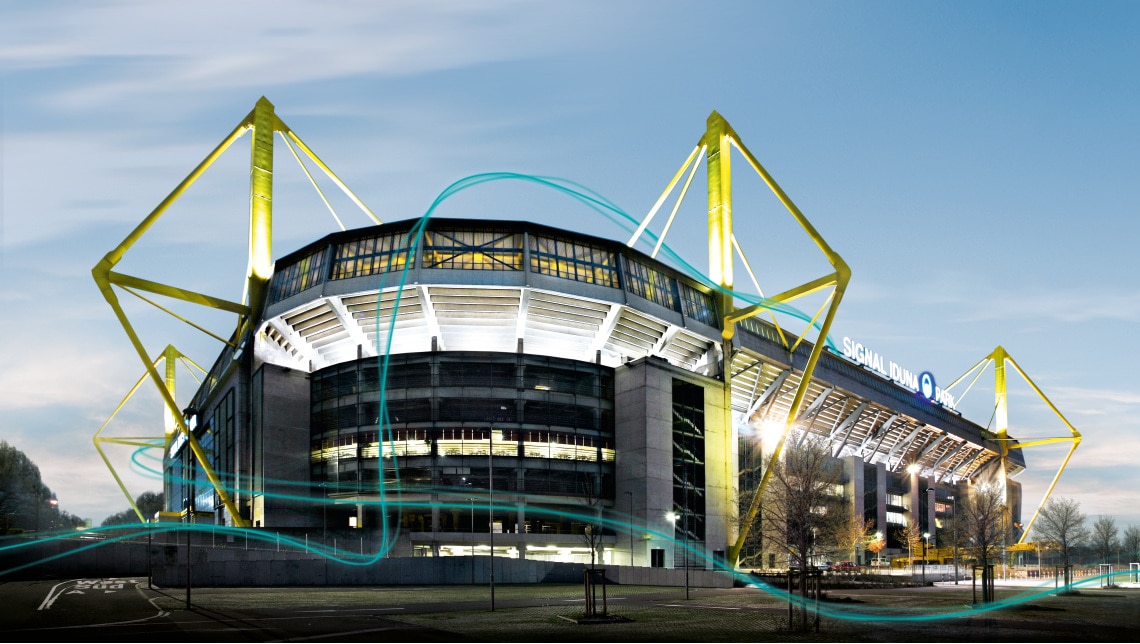 Wilo-Stratos MAXO – the world's first smart-pump*
"Pioneering for You" – the driver behind everything we do. The newest example is our Wilo-Stratos MAXO smart-pump. It defines a new category of pump: outstanding ease of use and simple to connect. Its unique characteristic is the large and easy-to-read colour display, which comes as standard for all series. Combined with Green Button Technology, it offers intuitive operation thanks to application-guided settings with the Setup Guide.
Product information
*We understand a smart-pump to be a new category of pump, going far beyond our high-efficiency pumps or intelligent pumps. The combination of the latest sensor technology and innovative control functions (e.g. Dynamic Adapt plus and Multi-Flow Adaptation), bi-directional connectivity (e.g. Bluetooth, integrated analogue inputs, binary inputs/outputs, Wilo Net interface), software updates and outstanding user-friendliness (e.g. Setup Guide, preview principle for anticipatory navigation and the tried and tested Green Button Technology) are what make this pump a smart-pump.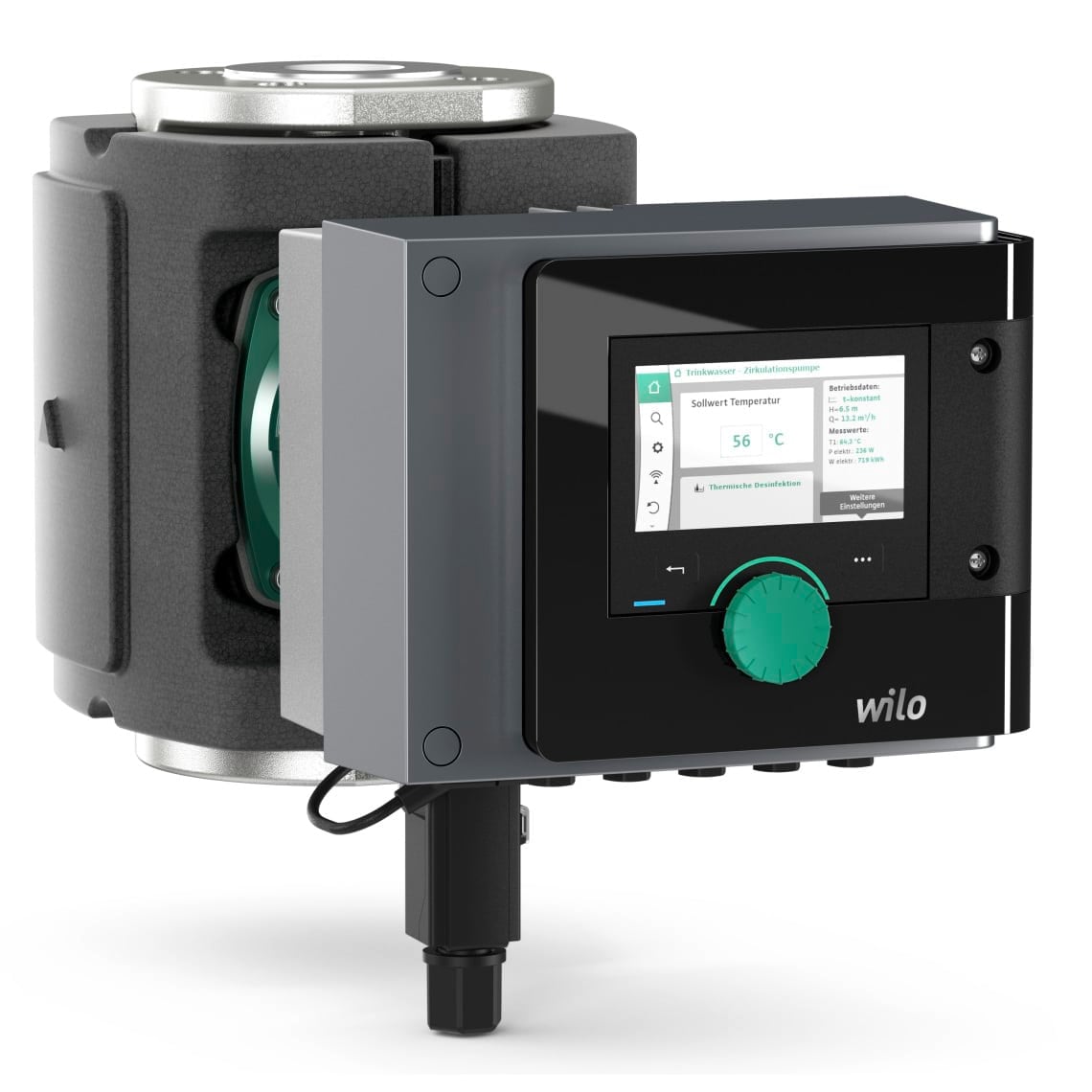 Wilo-Stratos MAXO-Z
Superior intelligence, unparalleled quality.
The Wilo-Stratos MAXO-Z has specifically been developed for drinking water applications and combines the innovative characteristics of the Wilo-Stratos MAXO with a stainless steel housing. The durable and hygienic material sets it apart from other domestic hot water circulators on the market.
Your advantages
Intuitive operation by means of application-guided settings with the Setup Guide plus the combination of a new display and operating button using Green Button Technology.
Highest standard of drinking water hygiene and energy efficiency with the new, innovative, intelligent T-const. control function.
Optimum hygiene promotion through thermal disinfection detection.
Latest communication interfaces (e.g. Bluetooth) for connection to mobile devices and direct pump networking for multiple pump control via Wilo Net.
Maximum convenience in electrical installation thanks to a clearly arranged and spacious terminal room and the optimised Wilo-Connector.
Product information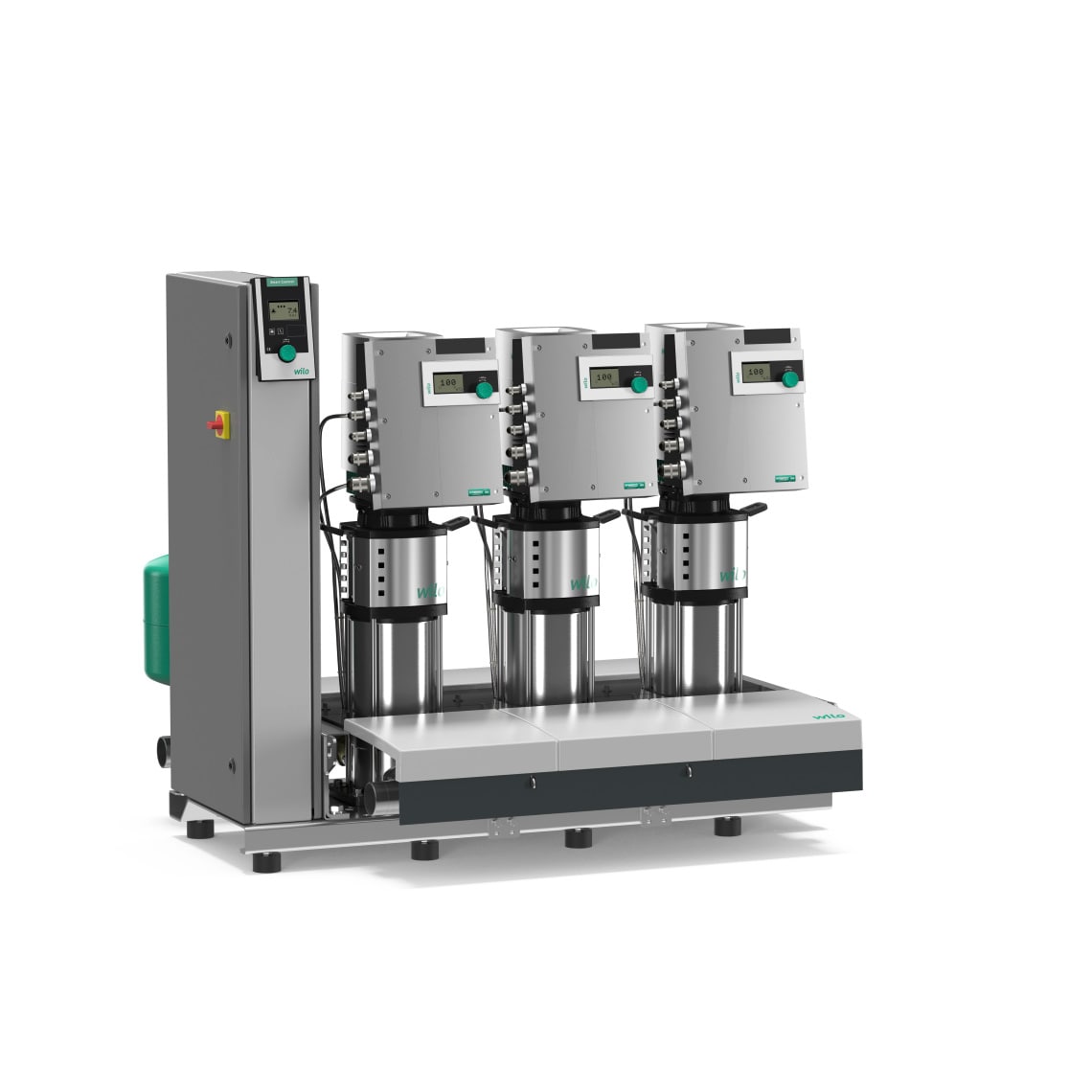 Wilo-SiBoost Smart Helix EXCEL - The smart pressure-boosting system with low overall energy consumption
In densely populated rural areas, the transportation of water is often associated with leakage risks. This results in high operating costs. Our solution: the Wilo-SiBoostSmart Helix EXCEL significantly reduces overall power consumption thanks to its top-quality components (hydraulics and motors) as well as a switchgear which supports leakage detection via an optional communication interface.
Construction
Highly efficient water-supply unit ready for connection with 2 to 4 vertically arranged non-self-priming stainless steel high-pressure centrifugal pumps of the Helix EXCEL series switched in parallel. Each pump is equipped with EC motor driven by integrated air-cooled, high-efficiency frequency inverter. Valves and sensors are protected for safe and reliable operation. The system features a Smart Controller SCe.
Product information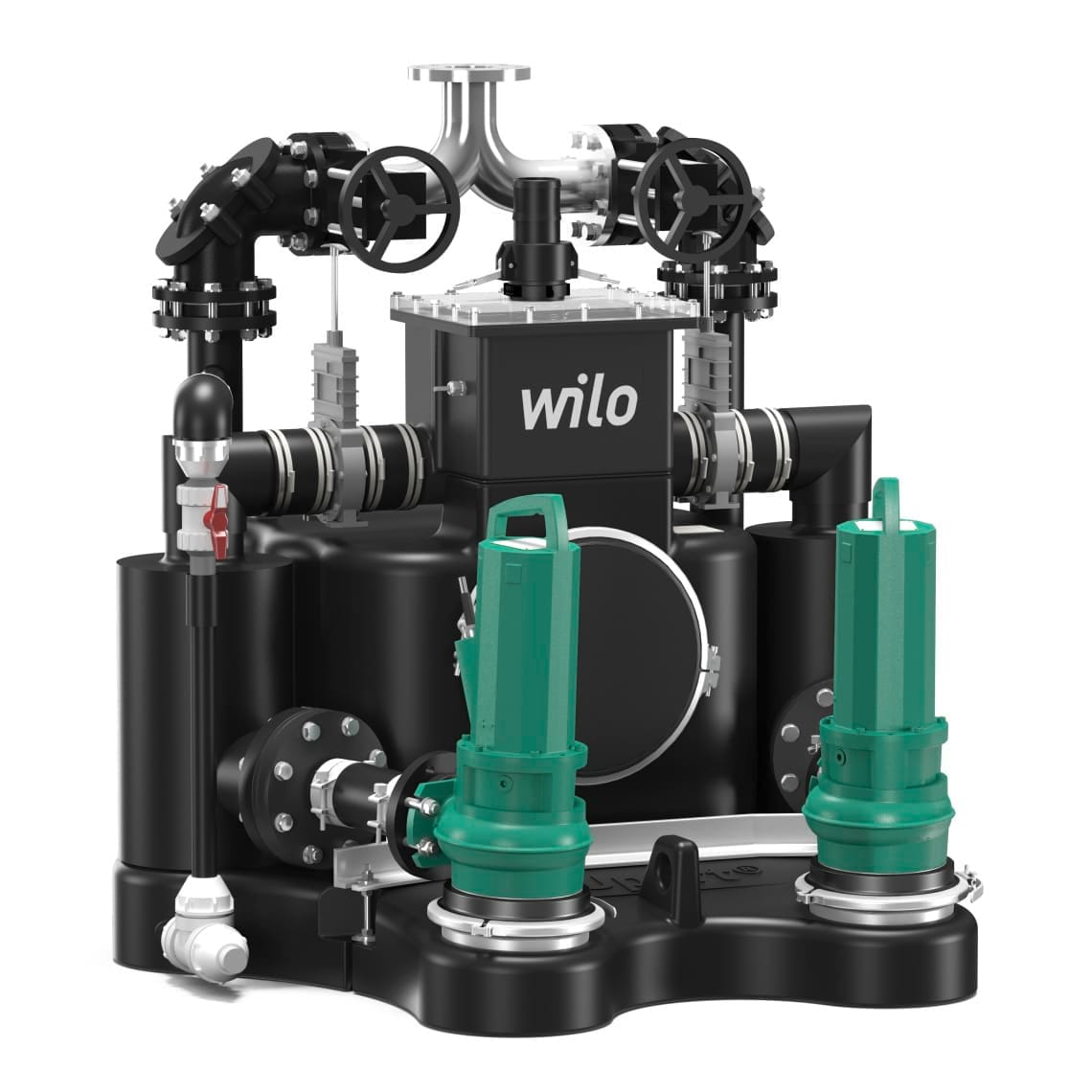 Wilo-EMUport CORE
Separate and transport solid substances. Clean, safe and reliable.
Coarse solids can clog the sewage transport system especially around buildings and real estate development. The consequence: breakdowns and increased service costs. Wilo's durable solution: the solids separation system Wilo-EMUport CORE. It provides the best operational reliability for clog-free transport. Moreover, it provides easy maintenance thanks to its hygienic dry well installation and easy access from outside. The complete system including a corrosion-free pump chamber and switching systems is also available for larger Wilo units. Tailored exactly to your requirements.
Your advantages
Maximum operational safety with separation of solids from the sewage: Large solids do not have to pass through the pump - no clogging
Cost-effective thanks to retrofit system for simple renovation of old pumping stations
Durable and corrosion-free due to the use of PE and PUR material
Easy maintenance, even during operation – thanks to hygienic dry well installation and easy access from outside and individual blocking
Future-proof even with increasing solid content in sewage
Flexible installation in buildings or in chambers from 1,500 mm diameter
Easy to integrate and ready-for-connection Plug&Pump system
Energy savings due to efficient submersible sewage pumps optionally with IE3 motors
Product information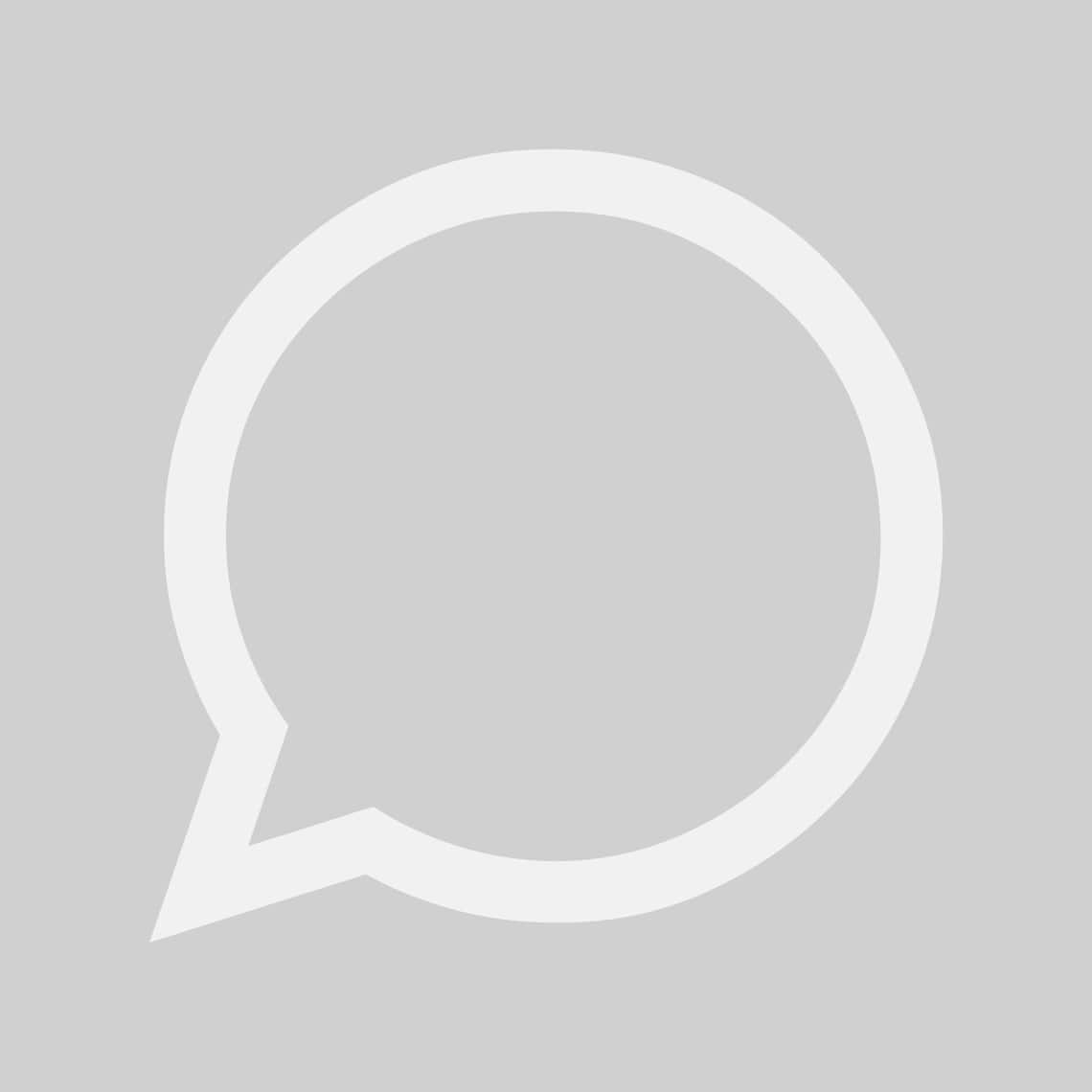 We have answers to your questions
Our products and services have aroused your interest? Then we are happy to help!
Whether it's creating an offer or editing service specifications, designing different types of equipment, advising on the selection of pumps and switchgear, or just helping with hydraulic and control issues.
Feel free to contact your nearest sales office and make an appointment. We look forward to you!
Find the right contact for your question.