The Wilo fleet on the road to success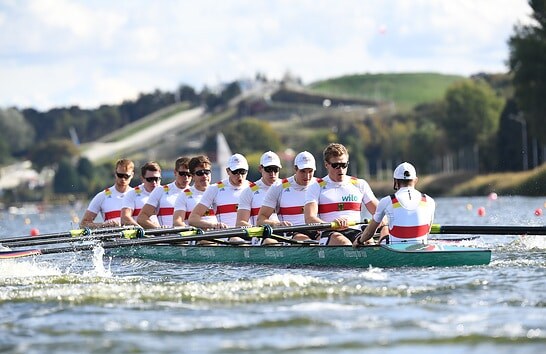 Wilo has been the main sponsor of the German Men's Eight since 2010. This partnership has proven to be a great success story for both parties. It is easy to understand why the Team German Men's Eight and Wilo are perfect partners in many respects: the 8,000 Wilo colleagues around the world also give their best every day to secure success. Giving their best for them means peak performance at all times, outstanding technology, full dedication and exemplary teamwork.
In addition to the Dortmund Rowing Centre's flagship, Wilo also supports the Men's Four and the Coxless Pair.
ROAD TO TOKIO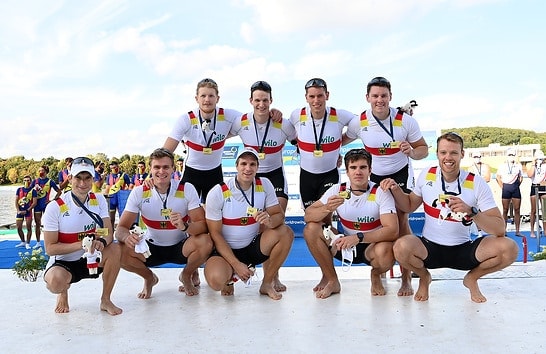 Thousands of kilometres of training, week-long training camps, emotional competitions, the balancing act between studies and competitive sport, painful setbacks - the athletes are willing to put up with all of this and much more in order to live their dream.
This year's big goal: Tokyo. Despite many setbacks caused by the coronavirus pandemic, the Team German Men's Eight is preparing professionally and with a clear focus on this highlight.
For more than 10 years the flagship of German sport has been swimming on a unique wave of success. In addition to the victory in London in 2012, the German Men's Eight has won a total of 6 World Championship and 9 European Championship titles since 2009.
Let Tokyo come!
CURRENT DATES
01.-17.03.2021:
Training camp in Lago Azul (Portugal)
09.-11.04.2021:
European Championships in Varese (Italy)
30.04.-02.05.2021:
World Cup in Zagreb (Croatia)
15.-17.05.2021:
Olympic Qualification in Lucerne (Switzerland, Men's Four and Coxless Pair)
21.-23.05.2021:
World Cup in Lucerne (Switzerland)
04.-06.06.2021:
World Cup in Sabaudia (Italy)
08.-24.06.2021:
Training camp in Völkermarkt (Austria)
30.06.-16.07.2021:
Training camp in Kinosaki (Japan)
23.-30.07.2021:
Olympic Rowing Regatta in Tokyo (Japan)
27.-29.08.2021:
SH Netz Cup in Rendsburg