STRONG PARTNERS ON WAVELENGTH
Wilo has been the main sponsor of the German Men's Eight since 2010. This partnership has proven to be a great success story for both parties. It is easy to understand why the Team German Men's Eight and Wilo are perfect partners in many respects: the 8,000 Wilo colleagues around the world also give their best every day to secure success. Giving their best for them means peak performance at all times, outstanding technology, full dedication and exemplary teamwork.
In addition to the Dortmund Rowing Centre's flagship, Wilo also supports the Men's Four and the Coxless Pair.
THE WILO FLEET ON THE ROAD TO SUCCESS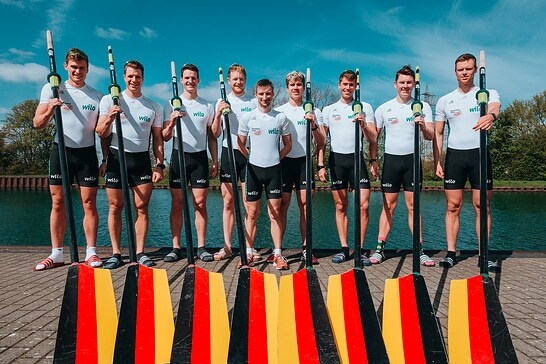 Thousands of kilometres of training, week-long training camps, emotional competitions, the balancing act between studies and competitive sport, painful setbacks - the athletes have put up with all of this and much more in order to live their dream. And with great success: at the 2020 Summer Olympics in Tokyo, the German Men's Eight is racing one of its best races and wins the silver medal thanks to this great performance. For more than 10 years the flagship of German sport has been swimming on a unique wave of success. In addition to the victory in London in 2012, the German Men's Eight has won a total of 6 World Championship and 9 European Championship titles since 2009, as well as the two silver medals at the Summer Olympics in Rio de Janeiro 2016 and Tokyo 2020.