Profile - Multinational technology group, innovative solutions
This page features:
The Wilo Group is a multinational technology group and one of the world's leading premium suppliers of pumps and pump systems for building services, water management and the industrial sector. The last decade has seen us move from a hidden to a visible and connected champion. Wilo currently employs more than 8,457 people around the globe. With innovative solutions, smart products and individual services, we make water move using intelligent, efficient and eco-friendly techniques. We are already digital pioneers in the industry with our products and solutions, processes and business models.

'With our solutions for the emerging technological and social challenges of our time, we provide clean water to millions of people around the world.'
Market segments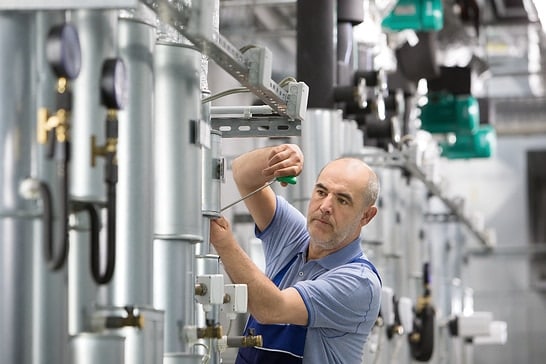 Building services
There is a growing focus on both economic efficiency and sustainability when it comes to commercial and private building use. This increasingly calls for the implementation of innovative systems that incorporate optimally coordinated components. In the market segments Building Services Residential and Building Services Commercial the Wilo portfolio has the energy-efficient concepts it needs to succeed. These involve heating technology and air conditioning as well as water supply and sewage disposal. Our products and system solutions are used in residential and public buildings, industrial or office buildings, hospitals and hotels.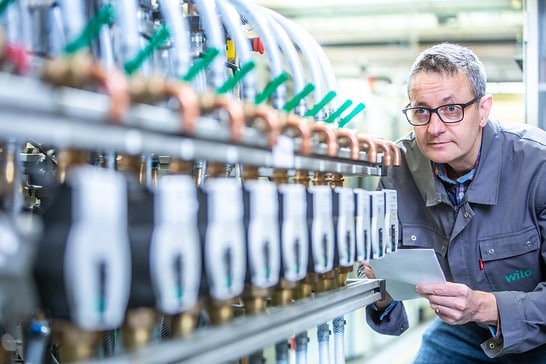 OEM
We work closely with leading OEMs and manufacturers of products such as boilers, heat pumps and air-conditioning systems. The Wilo Group's pumps and hydraulic systems offer the highest degree of reliability, flexibility and efficiency. OEM customers also benefit from our many years of experience, detailed knowledge of the market and extensive application expertise. As a pioneering partner for development, we think ahead and set trends. Taking into account current and future regulatory requirements, we anticipate new developments and evolutions in requirements on the global market. This allows us to develop and offer bespoke solutions. We offer a broad range of established, tried-and-tested integrated products and smart, tailored solutions for our OEM customers.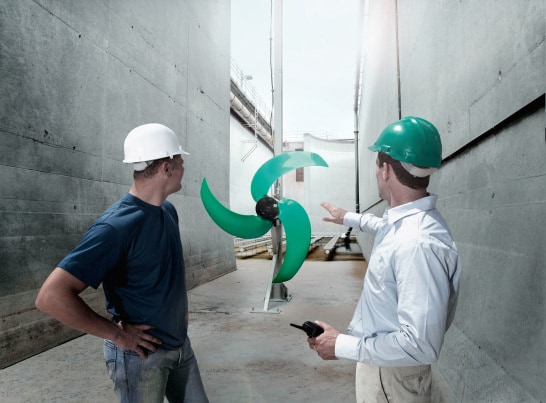 Water Management
Due to the fast pace of urbanisation and climate change as well as growing environmental pollution, water as a raw material is becoming a scarce and precious commodity in more and more regions of the world. Providing the rapidly growing global population with sufficient clean drinking water is a key issue. Demand for water from agriculture and industry is also skyrocketing worldwide. In light of this, safe and sufficient water treatment and supply already pose extensive global challenges. As a partner to the water management industry, we offer professional solutions designed to meet the increasingly complex requirements involved in drinking water extraction, water pumping, and the transportation and processing of sewage. Wilo pumps and Wilo pump systems for water management set standards worldwide in technical performance, efficiency, and sustainability.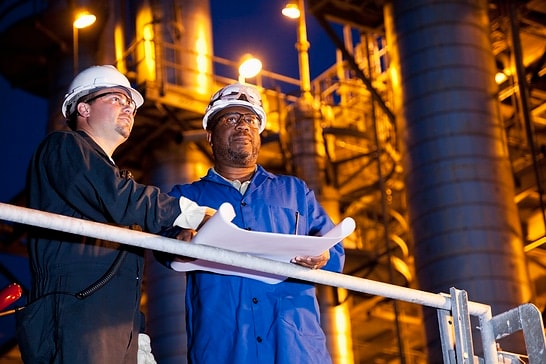 Industry
We develop and manufacture pumps that guarantee the highest level of reliability, flexibility, and efficiency. These are vital and process-critical factors for pumps and pump systems – particularly in industrial use. Our greatest strength in this market segment lies in support applications for processes in various sectors. Because every industrial environment places its own, sometimes extremely specific requirements on pumps and peripherals, we create individual concepts and solutions to suit every need. This approach ensures easy installation, safe operation, and efficient maintenance. Wilo pumps are used worldwide for applications such as for pumping cooling water in power plants. Other important applications include dewatering in the mining industry and food production.
---
Pioneering for You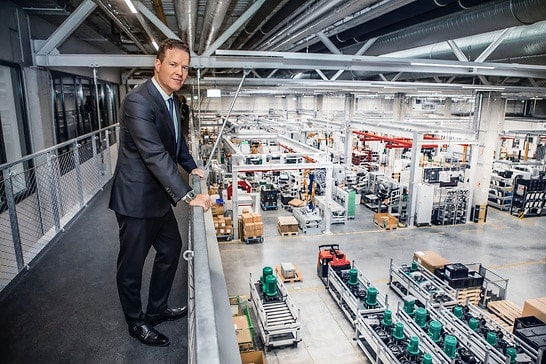 Driving digital transformation
As a trailblazer for real developments and innovations, we leverage the advantages of digitalisation and the Internet of Things (IoT). Whether in Smart Urban Areas or in connected homes, the benefits are manifold: efficiency gains, sustainable use of resources, time savings, reliability, easy maintenance and much more. We harness digital transformation to develop smart solutions that connect people, products, and services as well as production processes and machines.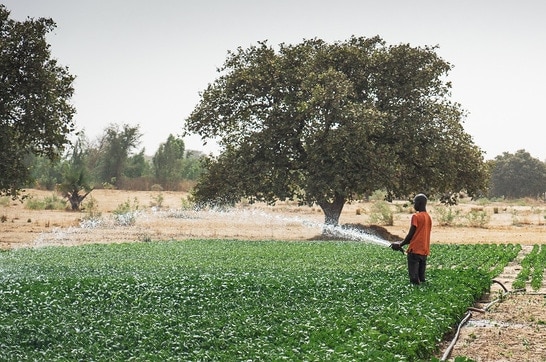 Tackling global challenges with technology
We live in a time of crises and global challenges. This is demanding for all of us – whether as individuals, companies, or states. It takes an enormous effort and at least as much entrepreneurial spirit to find solutions for the challenges of our time. Wilo is taking the initiative with targeted measures and sophisticated technology solutions. Five megatrends guide our actions: urbanisation, water shortage, globalisation 2.0, climate change and energy shortage. 'At Wilo, we always see crises as an opportunity to transform the world we live in and make life easier for people', says President & CEO Oliver Hermes optimistically.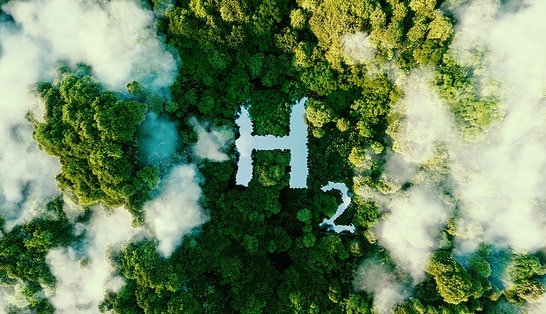 Hydrogen: a key element in energy transition
In order to make climate-neutral energy a reality in all areas of life, we need a CO₂-free solution we can store and transport. As the energy source of the future, hydrogen has vast potential, especially in terms of the megatrend energy shortage. Wilo is leading the way as a pioneer in the development of products, systems and solutions for the hydrogen age. 'As an innovation leader in the industry, Wilo always has been and still is a pioneer in energy efficiency', says President & CEO Oliver Hermes. Green hydrogen in particular is a pivotal technology of the future when it comes to achieving the goals of the Paris Agreement.
'As an innovation leader in the industry, Wilo has always been – and remains – a pioneer in energy efficiency.'
Loving traditions. Living Innovations.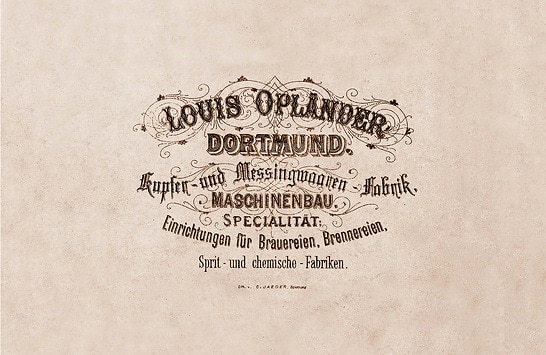 Loyal to our heritage
Founded in Dortmund in 1872 as the Kupfer- und Messingwarenfabrik Louis Opländer (copper- and brassware factory), Wilo has evolved from a local specialist to a global player and multinational technology group. With our long tradition behind us and our history in mind, we shape the future. As the majority shareholder with a stake of approximately 90 per cent, the Wilo-Foundation ensures the company's continuity and independence. An uncompromising customer-driven mindset, immediate market proximity and, in particular, our culture of innovation have made us who we are: one of the worldwide leading manufacturers of high-tech pumps and pump systems. The last decade has seen us move from a hidden to a visible and connected champion. Wilo currently employs more than 8,200 people around the globe.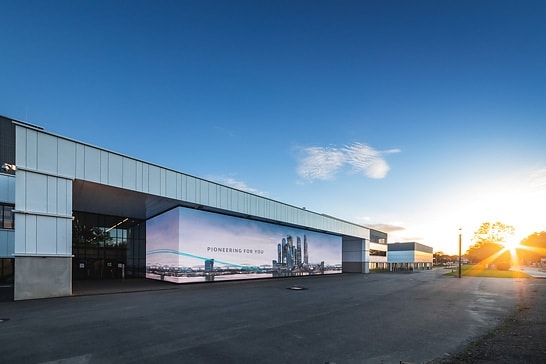 The Wilopark in Dortmund
The Wilopark is located in the south of Dortmund. Opened in February 2021, the new company headquarters combines environmental and economic sustainability with flexibility and space efficiency. The Factory is a bright and innovative production facility on the northern side of the Wilopark. The Pioneer Cube is the administration building located in the southern section. It dominates the Dortmund cityscape as seen from the Herdecke district and represents the new gateway to Dortmund. The Wilo Future Office concept in the Pioneer Cube provides employees with ergonomic and modern workspaces. Here, employees enjoy ideal working conditions for a range of different activities, from quiet individual work to collaborative project work.
---
Management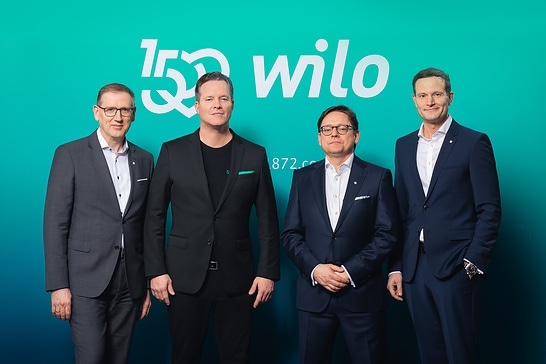 A global player, rich in tradition
Currently, the Wilo Group has over 60 production and distribution companies in addition to WILO SE. In most cases, WILO SE holds a direct majority stake in its subsidiaries. WILO SE holds an indirect majority stake in only seven of its subsidiaries.
We are proud to be both - a global player and rich in tradition, with strong roots in Germany and successful divisions worldwide. Our management mirrors this approach. The Executive Board brings together committed and internationally renowned managers who work in harmony with the Supervisory Board for the long-term benefit of the whole company.

---
Our Guiding Principles
Focusing on the people
---