History - Tradition and innvation since 1872
We are proud of our lasting tradition and eventful history as a family business from the heart of the Ruhr region. Today's WILO SE, a European public company (Societas Europaea), traces its roots back to the Louis Opländer copper- and brassware factory founded in Dortmund in 1872. Discover our company history here.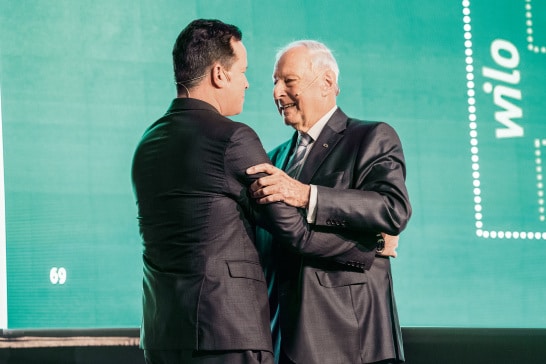 A future based on heritage
Two principles have always guided Wilo: endurance and versatility. They are expressed in our corporate culture, in the responsibility we take for our employees and the environment, in our purposeful pioneering spirit and in our efforts towards constant improvement. Over five generations, Wilo has grown into a multinational technology group. As we have developed, forward-looking decisions have always ensured our lasting success and long-term prospects.
We set the course for a secure future at an early stage. Accordingly, Dr Jochen Opländer, shareholder and Honorary Chairman of the Supervisory Board of WILO SE and founder of the Wilo-Foundation, named WILO SE President & CEO Oliver Hermes as his business successor in 2019. Hermes, a graduate economist, has been systematically driving the Wilo Group's evolution into an industry pioneer in digital climate action since 2006.
Reorientation of the group drove an international approach for the company: Hermes strengthened the position of Wilo as one of the leading global players by entering markets in East, West and Central Africa as well as in Latin American countries, increasing the company's regional presence in Southeast Asia and the Middle East, and by building new plants in Russia, India, China, South Korea, Turkey, the United Arab Emirates, and the USA. This allowed the group to grow into a billion-euro business in recent years.
'The region-for-region approach that we have been followed for years allows us to serve regional and local customer needs with our regionally and locally produced products.' Oliver Hermes, President & CEO of the Wilo Group

'With our region-for-region approach, which we have practised for years, we serve regional or local customer needs with our regionally or locally produced products.'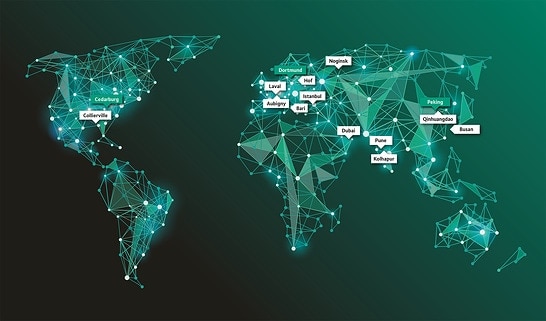 Globally positioned, regionally strong.
Wilo already comprises more than 70 production and sales companies worldwide and continues to grow. The process of internationalisation began with the company's expansion to Belgium in 1967, followed by numerous other countries, including the European heavyweights of France, the UK and Italy in the mid-1980s. In 2000, the company took a big step to gain access to the Asian market: the establishment of the Korean subsidiary Wilo-LG Pumps Ltd marked the beginning of sustainable business growth in Asia. In 2003, the acquisition of the EMU Group expanded the Wilo product portfolio to include submersible pumps. Further acquisitions followed in countries such as India and the UK in 2005 and 2006. Today, we have 15 main production facilities worldwide, and we plan to add further sites in the coming years. In addition to the corporate headquarters in Dortmund, Wilo opened two more headquarters – one in Beijing, China, and one in Cedarburg, USA. Our systematic region-for-region strategy has allowed us to pursue a centralised or decentralised approach wherever it makes sense to do so. This strengthens our resilience and resistance to crises. International, cosmopolitan, yet incredibly grounded: we are now a global company – but we always remain aware of our roots.

Tradition: the foundation for innovation
When it comes to developing pumps, Wilo has always set new standards – from the world's first circulation accelarator in 1928 to today's smart high-efficiency pumps. Today, we are a solutions provider of holistic services revolving around the vital resource of water. This is what drives us every day: Moving Water. With Passion.
We leverage the advantages of the digital transformation so people can use water in a sustainable and responsible manner. This is how we achieve our aspiration of leading innovation in the industry and pioneering energy efficiency.
In all we do, we are guided by one clear goal: to make people's lives easier.
---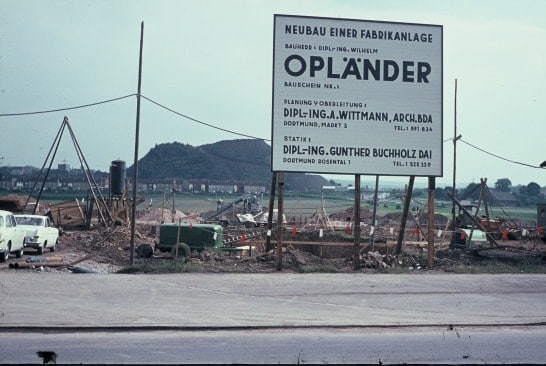 From Dortmund to the world
When Caspar Ludwig Opländer – or 'Louis' for short – founded the company in 1872 as a copper- and brassware factory in Dortmund, the company was still producing distillation equipment for the drinks industry. This formed the foundation that today's Wilo Group is built on. Then followed the company's incredible growth all the way through to the present day, culminating in its current position as a leader of innovation in the industry.
Wilo can now look back on a company history spanning over 150 years. During this time, the company has made its mark all over the world. But one thing has remained the same over the years – our strength in innovation: from steam and water heating systems to smart solutions, from the Louis Opländer copper- and brassware factory to today's Wilo Group, the digital pioneer of the pump industry.
---
The entrepreneurial generations