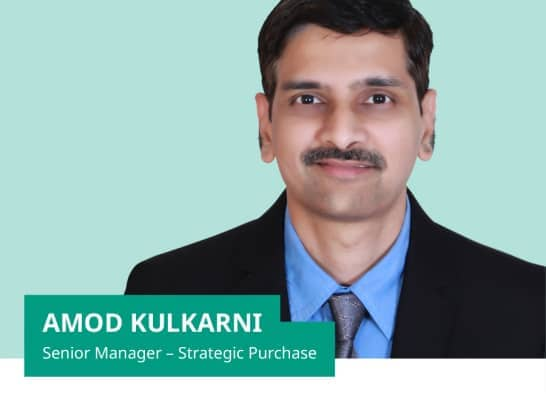 Amod Kulkarni |
Senior Manager Strategic Purchase
"Someone who follows the crowd will generally only travel as far as the crowd does. But someone who travels beyond the crowd will most likely end up somewhere only pioneers have seen before. That's how I feel about Wilo. And we are all happy to join the company on that journey."
My Wilo journey
I have been working for Wilo India for 17 years and I am now Senior Manager – Strategic Purchase. After studying production engineering at the Government College of Engineering in Pune, I had the opportunity to get to know various different departments within Wilo. I then moved to Standard Component & Non-Production Material (NPM) commodities, where I still work today.
What makes my work special
My day starts in the morning with a smile from my colleagues. After that, I make sure that the most urgent work gets done first. Every day I learn new things and gain more experience. My goal is always to ensure that nothing is left until tomorrow. We all share the same vision in our work and are fully committed to achieving our strategy. I love having a high degree of control and freedom in my job. Nevertheless, feedback from others is a very important tool for measuring work quality. I give and receive immediate feedback, which helps us to make our time at work happier and more productive. A smile doesn't cost anything, and our days are improved by being surrounded by friendly colleagues.
Teamwork at Wilo
Wilo promotes a very positive working environment: everyone communicates openly with each other here in order to achieve progress and efficiency. Each one of us feels a sense of belonging to the team and really cares about the success of the company. Wilo teams are often more productive and successful because they are sustainably supported by experienced colleagues as required and have access to all necessary resources.
On Wilo as an employer
Wilo understands its employees' enthusiasm and dedication to achieving their goals. Nevertheless, as in any company, stress, frustration and low productivity can sometimes occur. That's why the company provides its employees with wide-ranging support to help them achieve a good work-life balance. Wilo also has a well-planned and deliverable strategy for the future, about which it always keeps us up to date.
What "Pioneering for you" means to me
Pioneers are prepared to try new things and to push boundaries in order to develop new ideas or break records. They successfully master significant challenges. Similarly, Wilo develops new products to meet forthcoming market demands. Researchers just make discoveries; pioneers open up the new pathways that lie ahead of them. Wilo is doing exactly that; we have decided to be "the pioneer of the future, not the prisoner of the past".
My personal highlight at Wilo
The brain is a muscle that we need to keep active our entire lives. For that reason, Wilo encourages us to constantly pursue further qualifications and development. There's no substitute for hard work when pursuing a successful career. On the other hand, hard work doesn't help you if your efforts go unnoticed. My personal highlight was receiving the Best Performer Award from Wilo in recognition of my efforts.