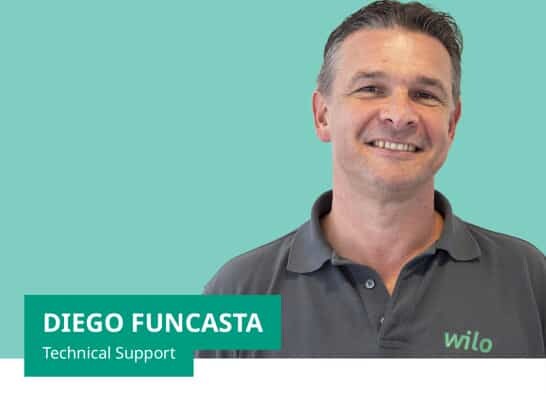 Diego Funcasta |
Technical Support
"What makes my job so special is the excellent relationship I have with my colleagues, the mutual support and the varied work – and also Wilo's actions as a fair employer who rewards reliability and ambition."
My Wilo journey
I've been with Wilo for 11 years now. I had my first interaction with Wilo in 2007, when I acted as the lead electrical supervisor at a Wilo construction site for my former employer. From that point onwards, I was always on the lookout for job postings by Wilo. In 2008 I had the chance to start doing final assembly work for Wilo. I started as an assembly worker and then worked as a picker. Following that, I held a position as a representative for the shift supervisor and I now work in Final Assembly Technical Support in Dortmund.
What makes my work special
My job is very varied and there are always new challenges. Our working atmosphere is very good and everyone in the team supports each other in all matters. Working with friendly colleagues from different departments to find new solutions together again and again is just fun. And no two days are the same, which makes the work exciting. Of course, there are also some recurring work processes, like checking faults from the previous day. In addition to troubleshooting and solving problems, my duties include generating analyses and statistics, as well as supporting other departments.
Teamwork at Wilo
Teamwork at Wilo is so frictionless and personal that we sometimes like to meet up outside of work. There is a very good feeling of camaraderie, which leads to everyone being happy to support one another and find solutions together at any time. Regardless of the hierarchies, we always work on an equal footing.
On Wilo as an employer
I like the way the company looks after the health and needs of its employees. I've worked for other companies before, but none of them can match Wilo on this. It's a big, fair company that offers you a lot of opportunities. Reliability and ambition are valued here.
What "Pioneering for you" means to me
To me, it means planning projects and developing products that meet the needs of our customers completely – alongside colleagues from all departments.
My personal highlight at Wilo
Seeing the way my work bears fruit and the way my colleagues value me is a constant highlight for me.