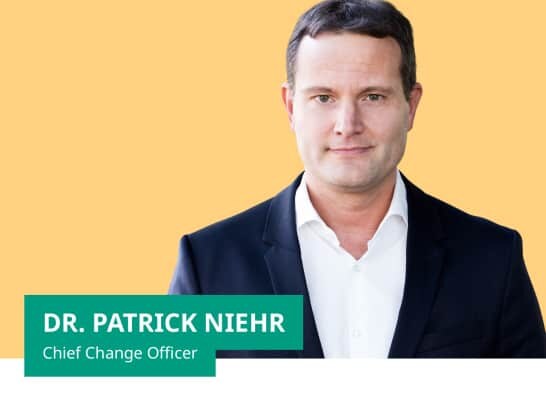 Dr. Patrick Niehr |
Chief Change Officer
"Making a global difference while exchanging ideas with interesting people from different countries, cultures and specialist areas: in my view, Wilo combines the advantages of a family-owned company with those of a successful global player."
My Wilo journey
I started 2010 at Wilo in Dortmund, Germany as a manager in the Human Resources department for the German-speaking (DACH) countries. Prior to that, I worked as an assistant to the managing director of a medium-sized company after passing my two state examinations in law. After various positions in the company's human resources department, I became the head of Human Resources, Legal & IT before joining Wilo. I became Senior Vice President for Human Resources in 2014 and have also been responsible for Legal Affairs since 2017. At the beginning of 2019, I was appointed chief representative of Wilo SE as Chief Change Officer. I was then nominated to the Executive Board at the end of 2019.
What makes my work special
In general, my working days are very varied. For that reason, it's difficult for me to describe my daily routine at Wilo. An important element, however, are the regular strategy meetings and coor-dinating with my departments. In addition to this, I am responsible for various global projects – all of which aim to ensure the sustainable success of our company. All in all, I interact with many different people on a day-to-day basis, which I find very enriching. At Wilo, I have the opportunity to exchange ideas with interesting people from different countries, cultures and specialist areas who are all confronted with unique challenges. It makes me proud to see our joint efforts making a difference worldwide – both where our solutions are concerned and with regard to the company as a whole. Our sustainable and innovative business models ensure that millions of people are supplied with water, as well as contributing to fighting climate change.
Teamwork at Wilo
My experience at Wilo is that everyone works towards one goal together – whether in individual teams or in cross-sector projects – and that we all support each other in achieving that goal. This friendly way of cooperating is essential for our success. And that's why we do our best to preserve that atmosphere.
On Wilo as an employer
It's fascinating how well the benefits of a family business are combined with those of a successful, globally active group. For our employees, this is reflected in the regional responsibilities and identity of the company, as well as in the international projects that enable us to position ourselves on the world market and take a forward-looking approach.
What "Pioneering for you" means to me
Being unconditionally customer-oriented and facing the challenges of the future! Trends such as digitalisation, urbanisation and globalisation are becoming increasingly relevant. Wilo wants to see these trends as opportunities – and make innovative, future-oriented solutions possible as a pioneer for our customers.
My personal highlight at Wilo
Wilo is constantly reinventing itself as a company. That's why it continuously offers its employees the opportunity to develop further. I considered participating in our international senior management programme in 2012 and 2013 particularly valuable for my personal development. There, I experienced how enriching intercultural cooperation is.