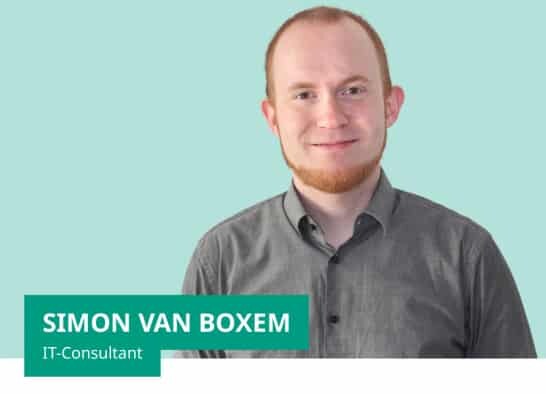 SIMON VAN BOXEM |
IT CONSULTANT
"The contact with different colleagues around the world is enriching for me. Working closely with them on a common software solution for internal use at all locations is always an exciting challenge".
My Wilo journey
I studied business information systems and completed my studies with a master's degree at the Dortmund University of Applied Sciences. I had my first contact with Wilo in 2015 during my bachelor's graduation ceremony. Sven Prochowski (SVP for Group Information Management) was a speaker and talked about his personal career at Wilo as a graduate of the same university. I thought the speech and Wilo as an employer were interesting and exciting, which is why I then applied to the company as a student worker. I have been a full-time employee since April 2017. I'm currently working in the Group Information Management – Requirements and Project Management department.
What makes my work special
I usually start every day by checking my email. If there are urgent issues, such as bugs in our software solutions, I try to resolve them as quickly as possible to ensure the good user experience of all our "internal customers". My other core tasks include the development and testing of new software components as well as the internal coordination of business support solutions for our colleagues worldwide. I enjoy being able to help my colleagues focus on their core tasks. What I like most is seeing the results of my work directly, even if they are only available to a test group of users. It provides me with direct feedback that helps me understand the different needs of our internal divisions better.
Teamwork at Wilo
Because I generally develop software to meet internal needs, I am in constant contact with many different colleagues with different skills within the Wilo Group. Collaborating with them and hearing their different views on a single project is an interesting part of my daily work. By working together this way we are able to achieve a group solution that best meets the needs of everyone involved.
On Wilo as an employer
Wilo gives me the opportunity to try out new technologies in order to evaluate their benefits to the company itself. In addition to this, my day-to-day business gives me the opportunity to work on very varied tasks with a range of different colleagues, so there is little or no monotonous work for me. As I am in contact with colleagues all around the world, I get to learn about and better understand different cultures. And of course, the employee achievements and the great work-life balance at Wilo are a big plus too.
What "Pioneering for you" means to me
For me, it's about the goal of being a "first mover" in new technologies such as blockchain or augmented reality. Working on these new trends can lead to significant improvements for Wilo. Information technology in particular is currently undergoing rapid change. As a result, we are gaining more and more opportunities to combine information from different systems into one intelligent software. These new solutions can help us make better decisions based on better data.
My personal highlight at Wilo
In 2018, two colleagues and I took part in an internal Wilo campaign with the aim of finding new busi-ness concepts for Wilo. Over a period of six months, we worked with an external agency to develop our personal business idea. During this time, we learned a lot about how to best implement a start-up project. We were later given the opportunity to present our enhanced business case to the Wilo digitisation team and then to the Wilo board. We are still working on this idea until today with the aim of finding a way to support Wilo's targets using our own business model.