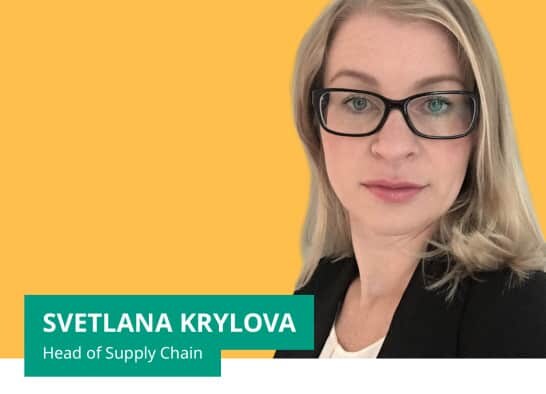 Svetlana Krylova |
Head of Supply Chain
"There are no typical working days for me. But the friendly working atmosphere at Wilo, our international engagement and the great chances to develop professionally are what inspire me again and again on a daily basis."
My Wilo journey
I am currently Head of Supply Chain in Noginsk, Russia, and am responsible for logistics and purchasing. I joined Wilo in 2013 after having held various positions in logistics & supply chain in the construction and automotive industries. As an Export Manager, my key task was to establish the export process from Russia. This was a significant challenge – it was a completely new function for which a new business process had to be set up. Following on from that, I was offered the opportunity to manage the Logistics division in Wilo Russia in 2016. That involved not just managing the plant, but also planning and equipping the new depot in Noginsk and introducing the Warehouse Management System (WMS).
What makes my work special
I would say that there is no "typical" daily routine for my job. That's why I try to plan every day in advance so that I can complete the most important and challenging tasks in the morning. However, I usually start by analysing the current situation, checking the project status and briefly talking to the team. After that, anything might be on my agenda – from meetings to numerical work to supporting my staff or giving presentations to senior executives. It's not just the constantly friendly working atmosphere that makes my work enjoyable every day, but also the great international engagement. We interact with many other Wilo subsidiaries around the world. But apart from that, what I appreciate the most is that every day offers me new possibilities to develop personally and professionally.
Teamwork at Wilo
Wilo has a strong culture of teamwork. There are a number of cross-functional teams that work together on various projects. The people in our company are always there to help and support one another. This approach helps us solve problems and overcome challenges.
On Wilo as an employer
I think it's wonderful that we are constantly faced with new challenges and do our best to master them together. The new customers, products and assignments that Wilo takes on are inspiring. On top of that, the family atmosphere and the friendly and cooperative work environment offer many opportunities for personal development.
What "Pioneering for you" means to me
In particular, I see it as doing things differently, thinking innovatively and effecting positive change. In addition to helping me perform better in my role, that attitude also supports me in developing my skills and capabilities. It's a mindset that also encourages you to consciously step outside of your own comfort zone and to keep yourself open to new interesting challenges.
My personal highlight at Wilo
The new factory and the new warehouse in Noginsk represent my personal Wilo highlight. I had the opportunity to be part of the project team and was responsible for planning and equipping the new warehouse, as well as for the implementation of the Warehouse Management System (WMS).