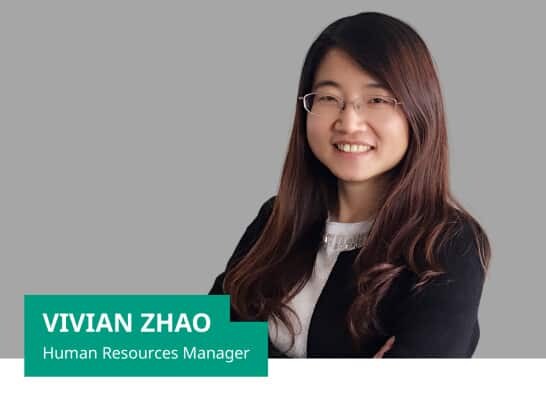 Vivian Zhao |
Human Resource Manager
"Time and time again, I am amazed not just at how open the culture at Wilo is, but also at how receptive it is to change and at the equal opportunities afforded to female employees."
My Wilo journey
My relationship with Wilo started with a call from a recruiter. As Wilo is a very well-known international company, I immediately agreed to be introduced there. After a number of successful job interviews, I joined WILO ELEC China Ltd. as a personnel manager at the Qinhuangdao location in China in August 2016.
What makes my work special
Multitasking is the top priority during my working day! I interview candidates by phone, Skype or in face-to-face conversations to find people who fit the company perfectly. Sometimes I need to carry out project work on staff development and motivation. After carrying out discussions and analyses with vendors and internal HR customers, we offer and implement suitable support programmes for our employees. I have to say that what I appreciate most about this work is that we recruit and develop a wide range of very different people for successful careers at Wilo. We also support the business development of the company through our human resources work. Doing successful work, team members who are also committed to our goals, and the harmonious working environment are all elements of my job that make me happy. That makes every working day interesting and worthwhile.
Teamwork at Wilo
The Wilo team is characterised by its diversity of personalities and nationalities. They are all united by the common aim of fighting for the company's success – regardless of which role they are in.
On Wilo as an employer
I am especially enthusiastic about the company culture, which is defined by integrity, fairness and passion. Another aspect of Wilo that I find very attractive are the equal opportunities for everyone – especially young people and women.
What "Pioneering for you" means to me
"Pioneering work" at Wilo doesn't just refer to our products, technologies, and so on, but also to all other areas within the company. For me personally, it means offering our internal customers and employees the best HR service possible. I act and think like a pioneer in my team and my organisation: leading by example and remaining flexible at all times.
My personal highlight at Wilo
Right from the start, I was impressed by the fact that Wilo offers its female employees absolutely equal opportunities and that the company is characterised by an open, multinational culture. As I became more deeply acquainted with the company, I found that Wilo is open to development and change. As a result, employees can achieve great work and develop quickly at Wilo. That's why I love working for such an amazing company.