14 Feb 2020
Press release
Borussia Dortmund and Wilo extend their partnership to 2024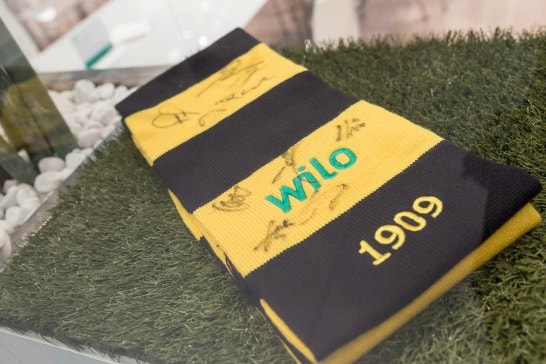 The technology specialist based in Dortmund will continue to be Borussia Dortmund's Champion Partner
The Bundesliga football team Borussia Dortmund and the technology specialist Wilo have extended their partnership, which has existed since 2011, by a further four years with effect from the upcoming season. "As partners who have been working together for a while now and have some joint plans for the future, we are united by our love for Dortmund. And as ambitious companies, we're united by our passion and our resolve to always become a little bit better in every area." Oliver Hermes, President and CEO of Wilo Group, and Hans-Joachim Watzke, CEO of Borussia Dortmund, are unanimous in providing the reasons for the partnership between the pump and pump system solutions manufacturer and the eight-time German football champions.
What's more, the partnership is perfectly represented by the football pitch in Germany's largest stadium: "Wilo supports Borussia Dortmund in the Signal Iduna Park. Amongst other things, our products and technical solutions ensure that the grass on the pitch is always lush and green", explains Oliver Hermes. Borussia Dortmund's Managing Director Carsten Cramer agrees. As he points out: "It's really good news for us to know that we'll have a great partner from our home town at our side for at least four more years – a partner we can trust and work well with, particularly in the increasingly important field of environmental protection." It is important for both companies to use forward-looking technologies that help to reduce CO2 emissions in the Signal Iduna Park as part of their partnership.
In terms of sporting achievements during the thus-far successful partnership between Borussia Dortmund and Wilo, the "Schwarzgelben" (referring to the players' black-and-yellow kit) have twice been the champions of the German Bundesliga, won the DFB-Pokal knockout football cup twice and been in the finals of the UEFA Champions League. "Our partnership with Borussia Dortmund gives Wilo a tremendous driving force and a strong appeal amongst our customers and partners. It's seen as a sign of warmth and authenticity, even internationally – for example, it goes down well in the Asian markets that are very important for us", Oliver Hermes explains.
As a technology specialist with an international presence and production sites and branches in over 60 countries, Wilo is proud of its roots in Dortmund: "The whole city lives and breathes football, and a considerable number of our employees are also Borussia Dortmund fans. We're united by the values that the Borussia Dortmund club traditionally represents – motivation, a down-to-earth attitude and a real sense of emotion", says Oliver Hermes.