Wilo signs MoU with Ministry of Investment in Saudi Arabia to expand footprints in the Kingdom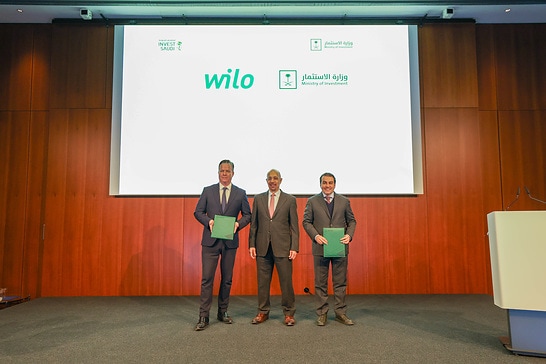 Oliver Hermes, President and CEO of Wilo Group, stated: "We are pleased to sign this MoU with the Ministry of Investment in Saudi Arabia to increase our investments in the country. Wilo Group is well equipped for a geopolitical and geo-economic turning point with 15 major production sites and over 80 production and sales companies globally. We are excited to collaborate with our partners in Saudi Arabia and aim to invest in the country to better serve the local market. By investing in the assembly facility and establishing our regional headquarters, we look forward to working closer with our customers and partners in the country to offer our state-of-the-art solutions and products. We would also like to provide expertise in improving the energy and water management systems as well as for carrying out urban infrastructure projects."
The MoU comes as part of the company's efforts to increase global presence as well as investments in local value chains, in line with its region-for-region approach that enables the company to meet local market requirements with locally produced goods.
As part of the agreement, Wilo aims to invest in an assembly facility which allows the company to assemble pumps & systems locally for the Saudi market, as well as grow its existing sales office into regional headquarters. The company's investment plan aims to grow its presence in regional markets and contribute to achieving the Saudi Vision 2030, which places a greater emphasis on localisation.
The new assembly facility in the country is anticipated to be operational this year and will construct end-suction pumps and booster systems. Furthermore, the company will shift to its new offices by May 2023.
With a long-standing history of investments in several local value chains, Wilo places a greater emphasis on the Middle East and Northern Africa (MENA) region. Wilo has been serving and transforming the pump industry in the MENA region through its host of pioneering solutions and products. By signing this MoU with the Saudi Ministry of Investment, the company aims to work even more closely with its partners in the country, as well as support the Saudi Vision 2030.