The Wilo Group is one of the world's leading premium providers of pumps and pump systems for the building services, water management and industrial sectors. In the past decade, we have developed from a hidden champion into a visible and connected champion. Today, Wilo has around 8,000 employees worldwide.
Our innovative solutions, smart products and individual services move water in an intelligent, efficient and climate-friendly manner. We are also making an important contribution to climate protection with our sustain ability strategy and in conjunction with our partners. We are systematically pressing ahead with the digital transformation of the Group. We are already the digital pioneer in the industry with our products and solutions, processes and business models.
From local specialist to global player
Founded in 1872 as Kupfer- und Messingwarenfabrik in Dortmund, Wilo has evolved from being a local specialist to a global player. As the majority shareholder with a stake of approximately 90 percent, the Wilo-Foundation ensures the company's continuity and independence. An uncompromising customer-driven mindset, immediate market proximity and, in particular, our culture of innovation have made us who we are; one of the worldwide leading manufacturers of high-tech pumps and pump systems.
Customer requirements as our aim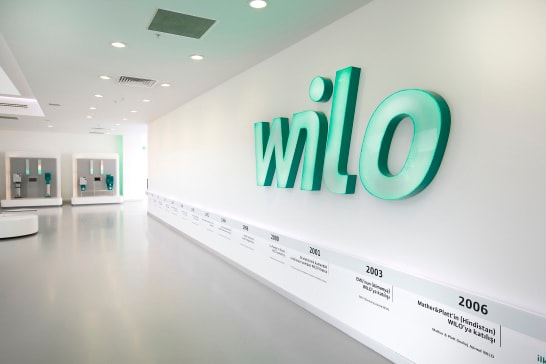 Wilo always strives to solve problems that have been identified and exceed the customers' requirements. A high standard, which provides a benchmark for us that we like to be measured by. We examine customer requirements early and from an all-round perspective.
Successful inventions are developed at Wilo using our sound knowledge and reliable sense for future technological and market requirements. When both converge, product benefits reach a new level of quality.
Intelligence. Inspiration. Innovation spirit. As a pioneer in the pump industry, we focus on anything that moves water. We have the most important prerequisites for continuously setting new standards with Wilo developments, products, systems and services: This includes our international team, comprising experienced and creative employees and cutting-edge technical facilities.
What Wilo does
Wilo is a premium supplier for the building services, water management and industrial sectors. Our leading position drives us to maintain our superiority. We make complex technologies user-friendly, simple to operate, energy-efficient and powerful for our customers. In the end, the main focus of everything we do is people. We offer them outstanding products, system solutions and services. Our brand promise stands for this: Pioneering for You. For maximum quality of life.
Market segments
The Wilo Group operates in the Building Services Residential,Building Services Commercial, OEM (Original Equipment Manufacturers), Water Management and Industry market segments. As part of the revision and enhancement of the corporate strategy to create Ambition 2025, the three existing market segments have been broken down further in order to reflect the growing importance of the individual business areas within the former Building Services market segment. The portfolio of products, system solutions and services is systematically tailored to the needs of customers in these five market segments. This even clearer focus, together with the Group's traditional innovative strength and proximity to customers thanks to a local presence, are key factors in its success. The Wilo Group is therefore able to identify different and changing requirements around the world at an early stage and to respond quickly and flexibly.
Building Services Residential & Commercial
Around the world, energy and resource efficiency is becoming markedly more important in all aspects of life due to ecological and, not least, economic reasons. Economic efficiency and sustainability are also a growing priority when it comes to building use. This makes it increasingly necessary to use innovative systems incorporating optimally coordinated components. Wilo offers the necessary energy-efficient concepts in the Building Services Residential and Building Services Commercial market segments. These relate to heating technology and air conditioning as well as water supply and wastewater disposal. Wilo's product and system solutions find applications in houses, apartment blocks, public buildings, industrial and office buildings, hospitals and hotels.
OEM
Wilo is a strong partner of leading OEMs and manufacturers of products including boilers, heat pumps and air conditioning systems. The Wilo Group's pumps and hydraulic systems offer the highest degree of reliability, flexibility and efficiency. OEM customers also benefit from Wilo's many years of experience, detailed knowledge of the market and application expertise. Taking into account current and future regulatory requirements, Wilo anticipates global market requirements at an early stage in order to develop and offer solutions that are ideally tailored to the specific needs of customers and the market. In this way, the Wilo Group satisfies the continuously changing market requirements with a broad range of established, tried-and-tested integrated products and intelligent, individually developed solutions.
Water Management
Thanks to urbanisation, climate change and environmental pollution, water as a raw material is growing ever scarcer around the world and is becoming a precious commodity in increasing numbers of regions. Providing the rapidly growing global population with enough clean drinking water is a fundamental problem. In addition, the demand for water from agriculture and industry is rising sharply around the world. The safe and sufficient purification and supply of water is therefore already a profound global challenge. Wilo offers professional solutions designed to meet the increasingly complex requirements involved in drinking water extraction, water pumping, and the transportation and processing of wastewater. Wilo's pumps and pump systems for water management set benchmarks around the world in terms of technical performance, efficiency and sustainability.
Industry
Wilo develops and manufactures pumps that guarantee the highest level of reliability, flexibility and efficiency. In industrial applications especially, these are vital factors for pumps and pump systems. The Wilo Group's strength in the Industry market segment lies in support applications for processes in various industries. Wilo pumps are used around the world for pumping cooling water in power plants or dewatering in the mining industry.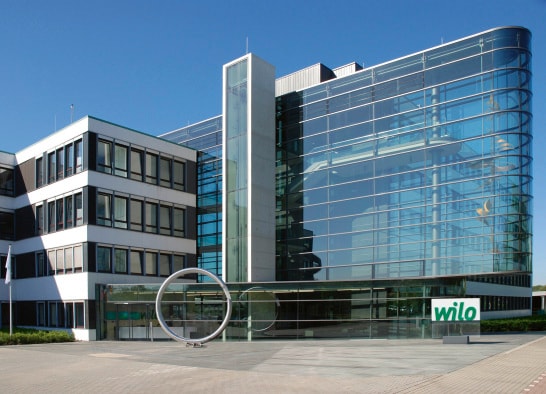 Dortmund as a location as a matter of conviction
Dortmund has established itself as Wilo's headquarters. Besides the marketing investments in Borussia Dortmund, Wilo is also now investing significantly in Dortmund as a location.
Here, where our success story started the WiloPark is now being built – currently Germany's largest industrial building project. However, it is not an emotional or ideal driving this, it is a tough business decision.
The argument for Dortmund is the market proximity to all of the production sites in Europe, the good infrastructure and the availability of well trained staff, so that the site is undisputed as a choice of location given its existing expertise.