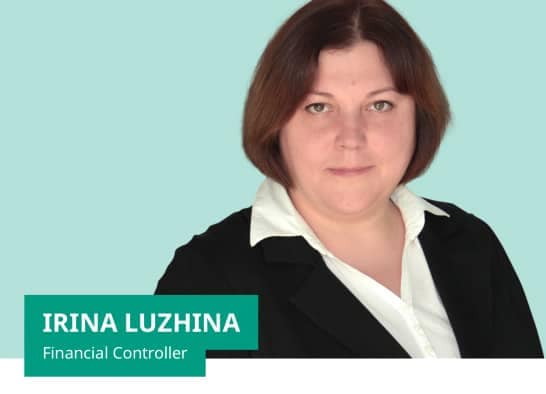 Irina Luzhina |
Financial Сontroller
"I think it's very exciting that I can experience every area of activity in a company as large as Wilo through its numbers. The friendly culture you experience throughout the company is also really lovely."
My Wilo journey
I have been employed with Wilo as a Financial Controller in the Noginsk plant in Russia since April 2018. Working in financial controlling gives me a wide range of different experiences. Before joining Wilo, I worked in various large international companies. During my studies at university I also had the opportunity to work in small companies where I was responsible for all figures – with the opportunity to screen all procedures in fine-tuning them and to generate numbers for my own reporting.
What makes my work special
Generally, I mentally prepare my daily schedule on the way to the office. Very often, I find that a large number of small tasks require my attention in the morning – but after they're done I can focus on more "global" matters that take all my concentration. I enjoy working with my colleagues; they're very professional and are always ready to discuss new challenges. I know that I can express my opinion freely and I am always certain that we will be able to find an appropriate solution to a problem together. Taken together, it's all of these elements that make me appreciate my work at Wilo so much.
Teamwork at Wilo
The team is made up of very competent professionals with different backgrounds and experiences. A major advantage is that the people around me are good at both listening and thinking about shared issues. As a result, a brainstorming session is sometimes all it takes to find the best solution.
On Wilo as an employer
I am impressed by the size of the company and its wide range of activities – from production to sales. As a financial controller, every area of activity is visible to me through the figures. And that's really exciting!
What "Pioneering for you" means to me
To me personally, the motto encompasses my aim and the company's aim to continuously develop and strive for perfection and better results.
My personal highlight at Wilo
The company culture is almost like being part of a family. That's very appealing to me and motivates me in everything I do at and for Wilo.