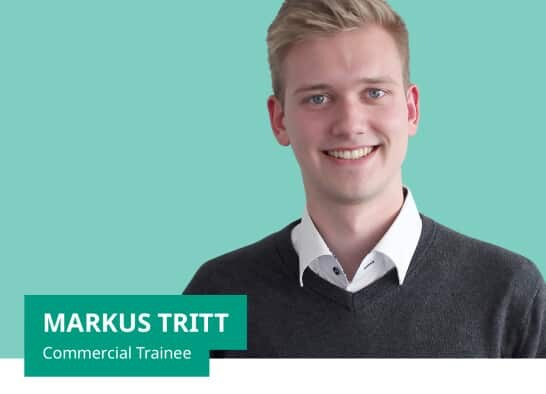 Markus Tritt |
Commercial Trainee
"It's an exciting time for me right now because everything is new and interesting. The variety and exciting work really inspire me all over again every day."
My Wilo journey
Before I started my apprenticeship at Wilo as an industrial clerk, I had started a university course. However, I quickly realised that I was missing out on the practical aspects. That made it clear to me that the kind of dual study usual in an apprenticeship would be a better fit. As a native of Dortmund, I've known about Wilo for a long time – just by going to the BVB soccer stadium on Saturdays! The company got me really excited during an open evening focused on training. There was no question that I would apply for a traineeship here. Following that, I started my training as a state-certified business economist alongside my work at Wilo.
What makes my work special
There's currently no standard daily routine in my work. At the moment I am still in my orientation period in my specialist department. I'm learning about a lot of new topics as well as about the tasks I'll be carrying out in future. I mainly deal with the technical side of products, but I also have a lot to do with service processes and their customer interfaces. The diverse and thrilling tasks at Wilo excite me over and over again every day.
Teamwork at Wilo
The atmosphere within the team is very familiar and relaxed. That creates a working environment in which you can achieve a lot by yourself. But new encounters within the company outside my team are also always enjoyable. You always get a good feeling from those meetings.
What "Pioneering for you" means to me
To me it represents the goal – and, simultaneously, the challenge – to never to stand still and to always be developing further.
On Wilo as an employer
Time and again, I am amazed and delighted to see how large and globally active the company is, as well as its scope in various different projects.
My personal highlight at Wilo
There have been a lot of special moments in my education – everything is still very new and exciting to me! The "Welcome Day" at the beginning of my training is at the very top of the list. For the first time, I got an impression of how big the world of Wilo is. I also remember the warm welcome I received that day.