31 May 2022
Press release
Breaking grounds for more green energy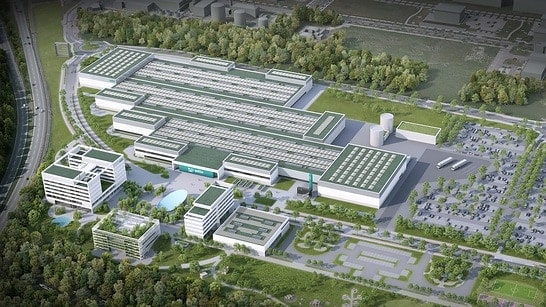 NRW Construction Ministry and City of Dortmund give go-ahead for Wilo's H2 Powerplant // Construction of the pilot plant is scheduled to begin in July.
Dortmund/Munich. With its own hydrogen plant, the Dortmund-based multinational technology group Wilo is breaking grounds for more green energy. The North Rhine-Westphalia Ministry for Regional Identity, Local Government, Building and Gender Equality (MHKBG) and the City of Dortmund have given the construction permit for the H2 Powerplant. Construction is scheduled to begin before the end of July.
Oliver Hermes, President and CEO of the Wilo Group, is pleased about the speedy approval: "Hydrogen will replace fossil fuels and enable Wilo and Germany as a business location to have an independent energy supply," says Hermes. "I am therefore pleased that politics and industry have worked together so quickly and purposefully to enable a technical solution to one of the most pressing issues of our time."
The modular H2 Powerplant essentially consists of four components: a renewable energy source, an electrolyser, a hydrogen storage unit and a fuel cell. In the electrolyser, the molecular bonds of water (H2O) are broken down by applying an electric current. Hydrogen (H2), oxygen (O) and heat are produced. "We can also use the waste heat directly on site in the compound system or convert it into cooling," explains Oliver Hermes. "In this way, we optimise the overall system efficiency and make another major contribution to efficient and climate-neutral production at Wilopark."
The green hydrogen produced in this way can store a large amount of energy, which is temporarily stored in the low-pressure storage tank. When needed, the hydrogen can be converted back into water with atmospheric oxygen in a fuel cell, again producing electricity and heat.
Wilo relies on its own photovoltaic system as the energy source for the H2 Powerplant. In this way, the modular system is expected to produce up to 10 tonnes of green hydrogen per year - entirely from renewable energies. This corresponds to a capacity of approximately 230 KW in the electrolysis and 76.6 KW in the integrated fuel cell. "As a pilot plant, the H2 Powerplant will initially serve as an emergency power supply or grid backup for the Wilopark," Hermes explains further. "However, the plant can be expanded to allow a self-sufficient energy supply for up to two days."
With the H2 Powerplant, Wilo is creating the basis for a self-sufficient, decentralised and regenerative energy supply network. "This is a strong piece of climate protection made in Dortmund," says the President and CEO of the Wilo Group. "Wilo shows how industrial companies can make an essential contribution to climate protection and supply security with forward-looking and technology-open solutions." In the long term, the system is to be transferred to all Wilo locations worldwide and also offered to partners and customers.
Already today, many of the technologies required for the hydrogen economy are Wilo's core business - from emission-free energy generation to the pumping and transport of water. "I also see enormous market opportunities, because pumps play a crucial role in the entire hydrogen value chain," says Oliver Hermes.