Wilo builds bridges to Southeast Asia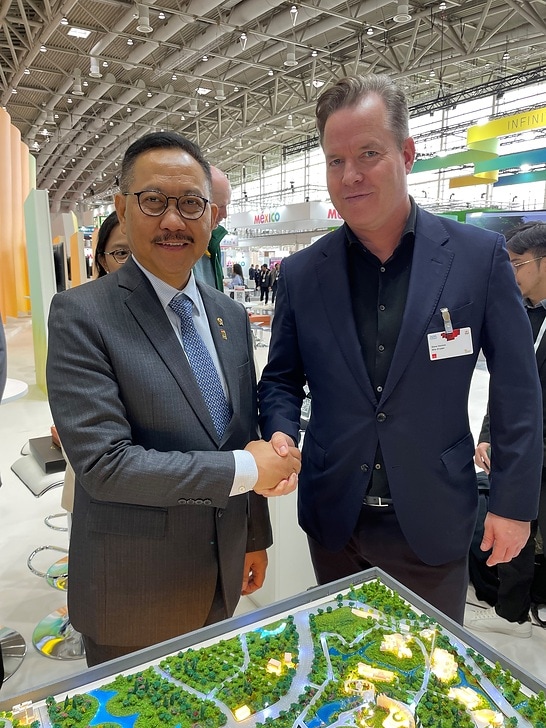 Oliver Hermes in an exchange with Dr Bambang Susantono at the Hannover Messe / Southeast Asia strategically important pillar for Wilo
Dortmund/Hannover. The multinational Wilo Group is strengthening its ties to Southeast Asia. At the Hannover Messe exhibition, Oliver Hermes, President & CEO of the Wilo Group, exchanged views with Dr Bambang Susantono, who as Chairman of the Nusantara National Capital Authority is responsible for the planning and construction of the new Indonesian capital in the east of the island of Borneo. During the discussion, the importance of Southeast Asia and the global megatrend of urbanisation became particularly clear.
"Massive urbanisation in conjunction with a continuously high population growth rate is giving rise to numerous environmental, economic and social challenges. This makes sustainable and smart urban development of the areas affected essential," explains Oliver Hermes. "Around the world, 'Smart Cities' and 'Smart Urban Areas' are being planned. Networked digital infrastructure is being built to make these cities efficient and more resource-friendly, whilst giving them a more community feel." Wilo's energy-efficient and reliable products and solutions make an important contribution to functional urban infrastructure.
Indonesia, the official partner country of Hannover Messe 2023, as well as Southeast Asia in general are of high importance to Wilo. "We see Southeast Asia – alongside Korea, China and India – as the fourth strategic pillar of our Asian activities," says Oliver Hermes. As recently as 2021, Wilo opened a plant in Kuala Lumpur (Malaysia) to meet customer demand in the region. In September, the Group also invites high-ranking guests to the industry conference in Singapore to discuss current global challenges.
More than 4,000 exhibitors from all around the world came to showcase their products and solutions at the Hannover Messe. Wilo exhibited the H2POWERPLANT at the world's leading industrial trade fair, which the technology group developed in cooperation with Schneider Electric in 2022. The hydrogen plant creates the basis for a regenerative, self-sufficient and decentralised energy supply. "We were able to convince numerous visitors of our solution over the five days of the exhibition," says Dr Patrick Niehr, Member of the Executive Board and CCO of the Wilo Group. It was mainly trade visitors from the logistics sector, data centres and medium-sized industrial companies who came to find out more about the H2POWERPLANT. "There is a great desire for energy security in these sectors in particular. The response was equally positive," Oliver Hermes sums up.