19 Jan 2023
Press release
Wilo sponsors Borussia Dortmund women's handball team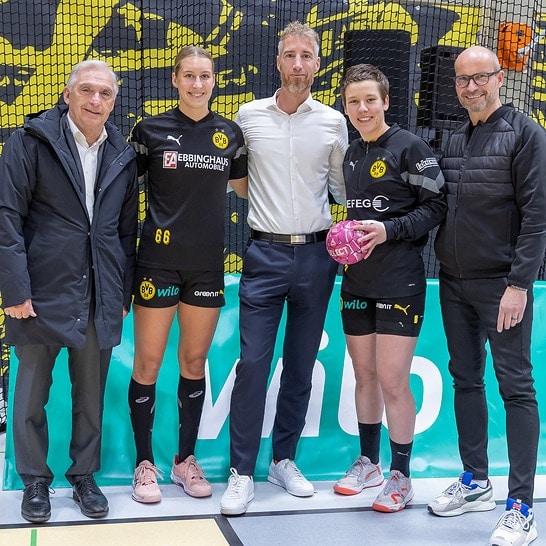 Strong team, strong partner: Wilo now also sponsors Borussia Dortmund women's handball team.
Dortmund. For more than a decade, the Dortmund-based technology company Wilo has stood by the side of Borussia Dortmund as a champion partner – and most recently also as sustainability partner. This close cooperation is now being further strengthened for the benefit of Dortmund as a sports location: Wilo is now also sponsoring the Borussia Dortmund women's handball team. "With this commitment, we're strengthening our successful partnership with Borussia Dortmund beyond the world of football", explains Marco Stapelmann, Head of Corporate Marketing at the Wilo Group.
Eventful weeks lie behind the Borussia Dortmund handball department. After allegations against former coach André Fuhr came to light, Borussia Dortmund almost completely rejigged its department: The former coach of the German national handball team, Henk Groener, took over as new head coach back in October. And Rupert Thiele has also since then been the acting head of the handball department.
Wilo supports Borussia Dortmund and its players on the women's handball team in this milestone of their sporting future. "We want to send a clear signal to promote accountability and transparency in sport at this difficult time", Stapelmann explains. As important as it is for the club to fully process events, "it's equally important that the players can look to the future with confidence and concentrate again on their passion for the sport".
On behalf of Borussia Dortmund, Managing Director Carsten Cramer thanks Wilo for the trust they have placed in the club: "It's a sign of Wilo being the strong partner we know from football that the company is standing by us at this stage in particular and is joining us in promoting important values in professional sport through their additional commitment to handball. It also goes to show that we have a truly all-round partnership with Wilo, from football to handball, not to mention issues of sustainability, and that both sides consider these areas to be very important in our shared home town of Dortmund."