Key figures - sustainable growth in turbulent times
Despite the difficult conditions due to the pandemic and the economic situation, the Wilo Group achieved net sales growth of 1.8 percent after adjustment for exchange rate effects in the 2020 financial year.
Facts, figures and performance overview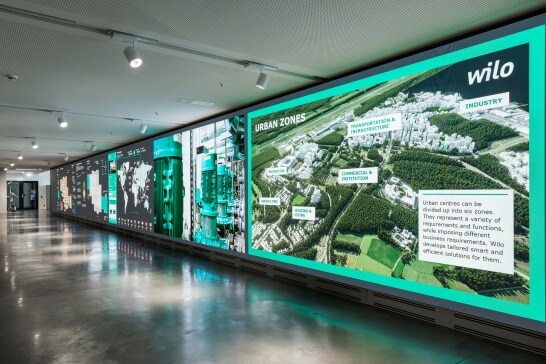 WILO SE
Legal status:
European Company (Societas Europaea)
Net Sales:
1,651.9 million EUR in 2021
Business segment
The Wilo Group is one of the world's leading premium providers of pumps and pump systems for the building services, water management and industrial sectors. In the past decade, we have developed from a hidden champion into a visible and connected champion. Today, Wilo has 8,200 employees employees worldwide.
Our innovative solutions, smart products and individual services move water in an intelligent, efficient and climate-friendly manner. We are also making an important contribution to climate protection with our sustainability strategy and in conjunction with our partners. We are systematically pressing ahead with the digital transformation of the Group. We are already the digital pioneer in the industry with our products and solutions, processes and business models.
Wilo's key financial figures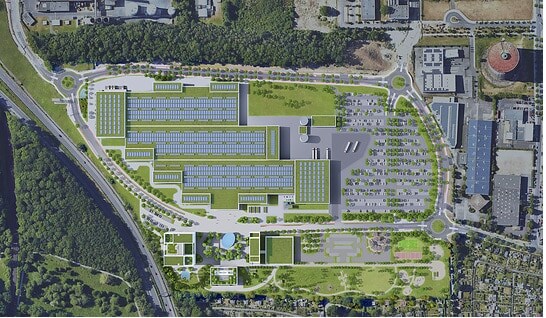 The Wilopark is divided by the company's own avenue, the street named "Wilopark", which is also open to pedestrians, cyclists and public bus traffic during the day. The central square "Focus" connects the northern and southern parts of the Wilopark in an intelligent way and ensures short distances. The public development, the new Nortkirchenstraße, will be on the northern edge of the company site. This will ensure a smooth transport of goods to the "Factory" and connect the Wilopark to the new innovation location Phönix West.
The large foyer of the factory is the starting point for visitor tours. Via the "Skywalk", a footbridge that connects the administrative units internally, visitors can gain an insight into the optimised production processes.
Figures

Sites

Certification
Figures
2021
2020
2019
2018
2017
2016
2015
2014
2013
Net sales
EUR million
1,651.9
1,451.5
1,477.8
1,463.5
1,424.8
1,327.1
1,317.1
1,234.7
1,230.8
Net sales growth
%
15.1*/13.8
1.8*/-1.8
1.0
2.7
7.4
0.8
6.7
0.3
3.7
EBITDA
EUR million
181.1
141.2
180.1
153.5
160.6
158.1
171.5
159.1
169.9
Cash flow from operating activities
EUR million
126.7
161.5
168.5
81.7
140.4
137.4
132.3
109.8
130.2
Cash EUR million
189.9
189.0
166.1
135.4
161.8
178.3
165.8
149.1
177.5
Capital expenditure**
EUR million
172.3
120.9
155.7
154.8
124.8
109.5
106.4
66.1
63.9
R&D costs***
EUR million
71.0
68.6
67.6
66.3
63.6
65.0
62.4
51.2
43.9
(as % of sales)
%
4.3
4.7
4.6
4.5
4.5
4.9
4.7
4.1
3.6
Equity
EUR million
836.8
764.9
792.4
738.4
707.0
653.6
560.9
477.1
476.9
Equity ratio
%
45.1
47.1
48.3
49.5
51.6
53.6
49.3
46.4
47.9
Employees (annual average)
Number
8,200
7,836
7,749
7,830
7.726
7.548
7.383
7.425
7.194
* Adjusted for exchange rate effects
** Investments in intangible assets, property, plant and equipment and company acquisitions
*** Including capitalised development costs