23 Mar 2023
Press release
Exchange with the Minister of Industry and Trade from Morocco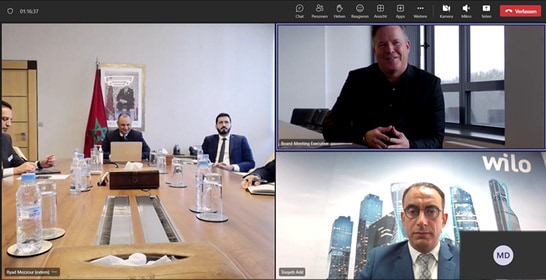 Dortmund. Together with President & CEO Oliver Hermes, Dr Mahmud Mustafa, Senior Vice President Group Operations, and Adil Touyeb, Managing Director Wilo Morocco, participated in a virtual exchange with the Moroccan Minister of Industry and Trade, His Excellency Ryad Mezzour. The focus of the dialogue with the Minister was the presentation of the Wilo Group and Wilo's local commitment as well as a discussion on the sustainable use of the scarce resource water within the framework of the National Water Plan in Morocco.
Wilo intensifies activities in the MENA region
The Wilo Group's "region-for-region" approach makes it possible to serve regional customer needs with regionally manufactured products. As part of an extensive localisation strategy, Wilo has always invested in strong and local value chains. "The MENA region has always played an important role in the strategic plans of the Wilo Group" explains Oliver Hermes right at the beginning of the meeting, referring to the numerous subsidiaries and sales offices in the region and the central hub in the United Arab Emirates. Wilo has been an established partner in the region for many years and now the technology group is planning to increase investments in the platform in Morocco for North Africa.
Numerous references for green solutions in Morocco are examples of Wilo's local commitment. Wilo equipped various football stadiums (including Fez, Marrakech, Rabat, Casablanca) and industrial applications (such as the Renault production plant in Tangier), but mostly water management applications such as the Waste Water Treatment Plant Boukhalef in Tangier.
Water Security ensures Food Security
For the state in northwest Africa, however, agriculture and the associated irrigation of farmland are of particular interest. Morocco's agricultural area totals approximately 8.7 million hectares. The export of food products such as grains, citrus fruits and tomatoes, especially to the EU, has been rising steadily for years. However, the strong solar radiation is increasingly challenging farmers. In 2021, Morocco experienced the most severe heat wave since weather records and has since suffered from extreme drought that threatens food production throughout the country.
"To enable continuous water distribution, especially to these arid regions, Wilo products have been installed in many irrigation plants in the country. Thus, we not only ensure an efficient water supply, but also enable a step towards food security" says Oliver Hermes. One of the largest new projects is the connection of the Sebou and Bouregreg Basins to ensure the drinking water supply of the Rabat-Casablanca axis. Wilo is supplying vertical turbine pumps to move gigantic quantities of water over a distance of almost 70km.
The project is on the agenda of the Moroccan King, His Highness King Mohammed VI, to be able to meet the regional water demand and is part of the "National Water Plan". This action plan was launched in 2020 and aims to restore water availability throughout the country. It targets an investment volume of almost 40 billion US dollars in the water sector.