Megatrend Energy Shortage
Topics on this page:
Rising energy demand requires increasingly efficient technologies
Energy shortages are increasing in all areas of society: Digital technologies, new mobility concepts, growing cities and huge production volumes in industry continue to increase the energy consumption of our modern societies. We must develop efficient solutions. Switching to sustainable, green technologies to fight energy shortage is no longer just an alternative option, but also a real competitive advantage.

How can we solve the energy crisis?
In the meantime, therefore, almost all countries of the world are presenting new packages of measures and green deals for the ecological restructuring of national economies and implementing them at various speeds. We are tackling energy shortages by focusing on the development of energy-efficient products, intelligent networks, and renewable energies. This also includes the development of new technological solutions such as green hydrogen.
Energy consumption increasing worldwide
Global per capita primary energy consumption increased from 12,966 kilowatt hours in 1965 to 20,993 kilowatt hours in 2021. This represents an increase of more than 60 per cent. As a reference point, an efficient fridge-freezer consumes around 150 kilowatt hours of electricity per year. More than 80 per cent of this global demand for energy is met by fossil fuels. In 2021, 31 per cent of the world's primary energy supply was from oil, 26.9 per cent from coal and 24 per cent from gas (13.5 per cent came from renewable energies and hydropower). In the energy industry, primary energy refers to energy before it is converted into forms of energy for final consumption. The resulting greenhouse gas emissions are responsible for the global rise in temperatures (also read "Five facts about climate change"). This constant reliance on environmentally damaging energy sources drives states, companies, and individuals further away from the United Nations' climate goals.
At the same time, rising energy prices are a drag on entire national economies. Only by developing innovative solutions can energy supply be secured in the long term whilst at the same time protecting the planet and creating a liveable future.
Green hydrogen as the energy source of the future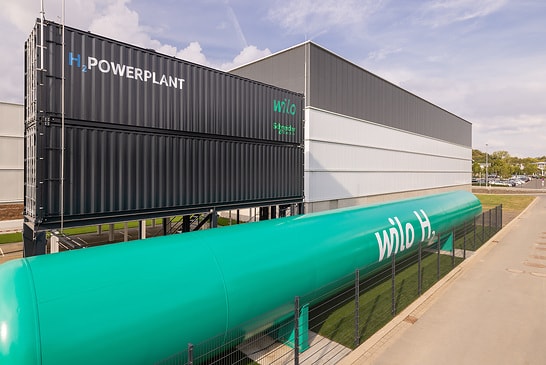 Natural energy sources reduce greenhouse gas emissions and thus help to solve the climate crisis in the long term. An important component of new energy strategies: green hydrogen produced with the help of wind, sun, or hydropower. Hydrogen can replace fossil fuels and secure an independent and reliable supply of energy. At Wilo in Dortmund, we produce carbon-neutral hydrogen in the H2POWERPLANTusing the photovoltaic installation on the roof of the Smart Factory. This allows the electricity generated with solar power to be stored over long periods.
Another solution is to replace old, inefficient pumps with highly efficient products that save electricity and energy. In addition, diverse recycling and upcycling processes ensure that precious resources are not wasted. Many electronic products (including pumps) contain rare earths. By recycling and processing raw materials that have already been mined, we make an active contribution to the circular economy.

Embracing the energy transition
We have an important mission: establishing green energy as our main energy source. To achieve this, we want our 15 main production sites worldwide to be carbon neutral by 2025. This is a significant milestone in how we embrace the energy transition. Wilo's main site in Dortmund has been supplied with carbon-neutral green electricity ever since 2020. The remaining emissions are offset with sustainable projects.
'The energy transition must be supplemented and accelerated by significantly increased energy efficiency measures.'
---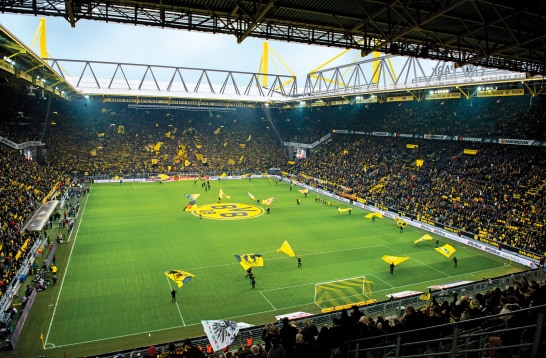 SIGNAL IDUNA PARK, Dortmund
The SIGNAL IDUNA PARK is an iconic part of the Dortmund skyline. The 81,365-seater stadium is Germany's biggest – and its legendary south stand is the largest all-standing terrace in Europe. The home of Borussia Dortmund has used energy-efficient, reliable, and effective products from Wilo for many years now. From the water supply to the VIP areas, to dressing room heating systems to underfloor heating: Wilo product solutions create an eco-friendly environment. Since 2019, new Wilo-Stratos MAXO models have been providing the supply for the south stand.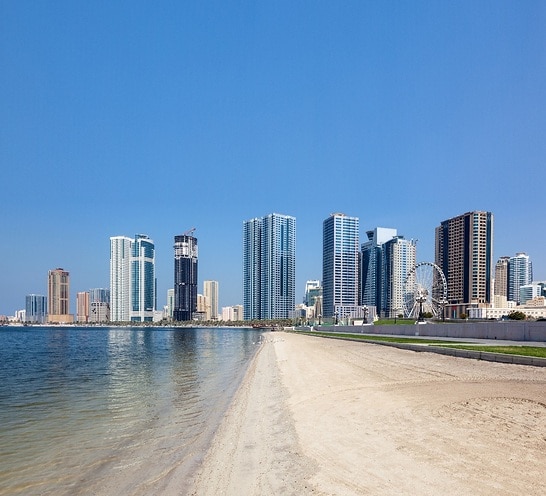 Sharjah, UAE
The Sharjah Electricity & Water Authority (SEWA) supplies residents of the Sharjah emirate with electricity, water, and natural gas. The Al Falaj pumping station is one of many projects aimed at improving energy efficiency. As a supplier of full-service solutions, Wilo ensures that customers' requirements are met on every level.