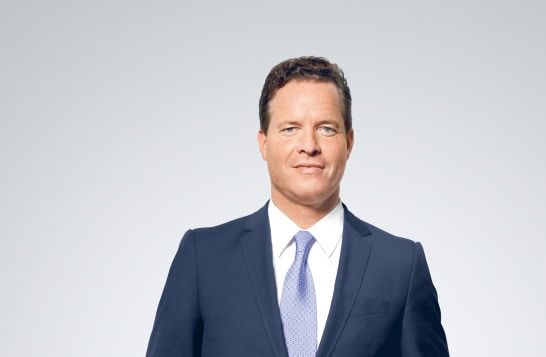 DEAR READERS,
Coronavirus has changed the world. Especially in times such as these, more than ever we look to role models in industry to take responsibility and play a crucial part in coping with the pandemic.
The Wilo Group uses innovative solutions, smart products and individual services to move the vital element – water. We use applications without which day-today life would be virtually impossible. Pumps and pump systems are an elementary component of critical infrastructures. They are indispensable in the running of residential and business properties, hospitals, residential homes, waterworks and sewage treatment plants. For example, a number of our products can be found among the equipment of the COVID-19 hospitals that were put up virtually overnight.
However, even during the pandemic, the importance of climate protection has not become secondary. Global warming, water shortages and extreme weather events are still questions to which answers must be found. The coronavirus crisis has merely made their urgency even plainer. It is gratifying that more and more nations around the world are defining ambitious climate targets and reiterating their commitment to the Paris Agreement. At the end of the year, Europe submitted higher climate targets to the United Nations, thereby committing itself to reducing greenhouse gas emissions by 55 percent by 2030.
Through its products, Wilo is making a significant contribution towards achieving these climate targets. Pumps account for around 10 percent of the world's electrical energy consumption. Many of them are outdated. Replacing them with efficient technologies dramatically reduces energy consumption and the associated emissions. As an innovation leader in the industry, Wilo always has been and still is an energy pioneer. Our goal is to contribute 50 million tonnes in CO2 savings towards emissions reductions by 2025.
Digitisation is a major lever for achieving this. Wilo was quick to recognise the opportunities of digitisation as a key factor, and has invested intensively in the four dimensions of business models, processes, products and human resources. New opportunities for efficiency enhancement are being tapped thanks to innovative communications interfaces, sensor technology and smart control elements.
But we also prize climate protection at our own production sites. All our sites worldwide will be climate-neutral by 2025. At our traditional home in Dortmund, last year we relocated to the new Wilopark. It is the biggest investment project in Wilo's history and sets benchmarks in energy efficiency. Manufacturing here is already climate-neutral today.
Amongst the immense turbulence of the past year, two awards have made us especially proud: The Wilo Group was selected to take part in the global "50 Sustainability & Climate Leaders" initiative for climate protection and sustainability.
One other particular highlight was winning the 2021 German Sustainability Award in the Climate category. This award is in recognition of our climate protection achievements to date and, above all, it honours our roughly 8,000 employees around the world. They are all climate protection pioneers at our company, which has had climate protection in its DNA since it was founded.
Global challenges such as climate change and now the coronavirus pandemic can be overcome only by working together and thinking globally. Alongside solidarity in healthcare matters, solidarity in economic matters is also the order of the day. As a political player, Wilo takes a clear stand on climate protection, energy and resource efficiency and digital transformation. Together with our international network partners, we promote future-oriented, climate-friendly solutions and proactively encourage dialogue with politics, NGOs, associations and relevant partner companies.
Wilo is intensively involved in international political networks. Accordingly, we have defined corporate political responsibility as another objective of our sustainability strategy.
This sustainability report documents our progress in achieving our goals. We invite you to join in the active discussion and to help move the needle on sustainability and climate protection across corporate and national borders.
Stay healthy, and best wishes,
Oliver Hermes Chairman of the Board & CEO, Wilo Group