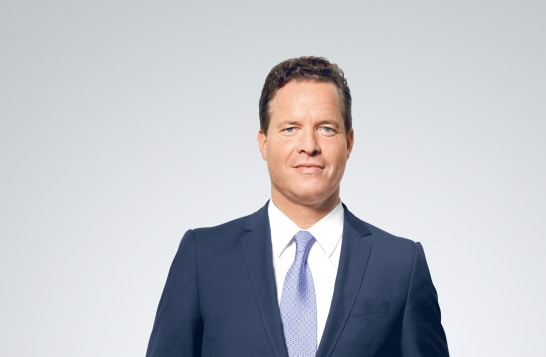 DEAR LADIES AND GENTLEMEN,
as a leading international technology company that moves water in the building services, water management and industry segments, the Wilo Group creates sustainable value added through energy-efficient products, systems and solutions.
As a matter of principle, working with the precious resources of water and energy requires sustainable thinking and action, and this fact is firmly enshrined in Wilo's corporate culture. The Wilo Group is contributing to positive overall development through its commitment to sustainable action. Based on our Ambition 2025, we have developed a holistic sustainability strategy that takes all stakeholder groups into account and that is being implemented throughout the world of Wilo.
Energy and resource efficiency are essential components of climate protection. According to realistic estimates, pumps are thought to account for around 10% of the world's electricity consumption. 90% of the pumps used are outdated and inefficient. Replacing the outdated technology could save up to 246 TWh in electricity for heating, cooling and air conditioning applications alone. This is equivalent to the capacity of around 80 medium-sized power plants that would no longer be required. Accordingly, the Wilo Group aims to significantly reduce energy consumption through the use of our system solutions.
Digitalisation is opening up new possibilities in this respect and giving us additional opportunities to realise energy savings. And the responsible use of water as a resource is more important now than ever before. The growing world population, global economic development and ongoing climate change are vastly increasing the pressure on the world water balance and its infrastructure. Our highly efficient technologies are contributing to the more conservative use of the resources of water and energy around the world. This is the aspiration we pursue not only with our system solutions, but also in our production and distribution processes.
Cooperation and dialogue in a spirit of partnership open up additional opportunities for sustainable action. We firmly believe that multilateralism and cross-border cooperation are essential elements of this process. Wilo seeks out and promotes cross-industry dialogue with business, politics and various NGOs and is involved in numerous international associations.
We are also represented at board level in organisations including the German Near and Middle East Association, the German Eastern Business Association and the German Engineering Federation (VDMA). Around the world, we also work with the likes of the European Water Association (EWA) and the development agency Gesellschaft für internationale Zusammenarbeit (GIZ) to support projects such as training centres in Argentina with the aim of establishing energy-efficient technologies. Wilo is a member of the UN Global Compact Network and is committed to the 17 Sustainable Development Goals (SDGs) of the United Nations.
I am proud of what we have already achieved at Wilo. Diversity, inclusivity and openness are qualities that shape our corporate culture. Wilo's innovative products, systems and solutions, with their highly efficient technology that creates sustainability wherever it is used, are making a valuable contribution in light of global challenges like climate change. But there is still a lot to be done. I would like to take this report as an opportunity to invite you to enter into a dialogue with us so that we can press ahead with the topic of sustainability together, both at Wilo and beyond.
Yours,
Oliver Hermes
President & Chief Executive Officer (CEO)
Wilo Group