Wilo-SiBoost Smart 1 Helix VE
Wilo-SiBoost Smart 1 Helix VE
Series description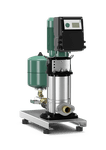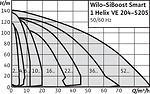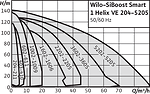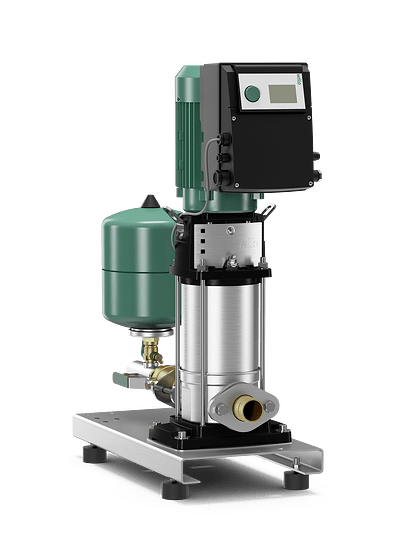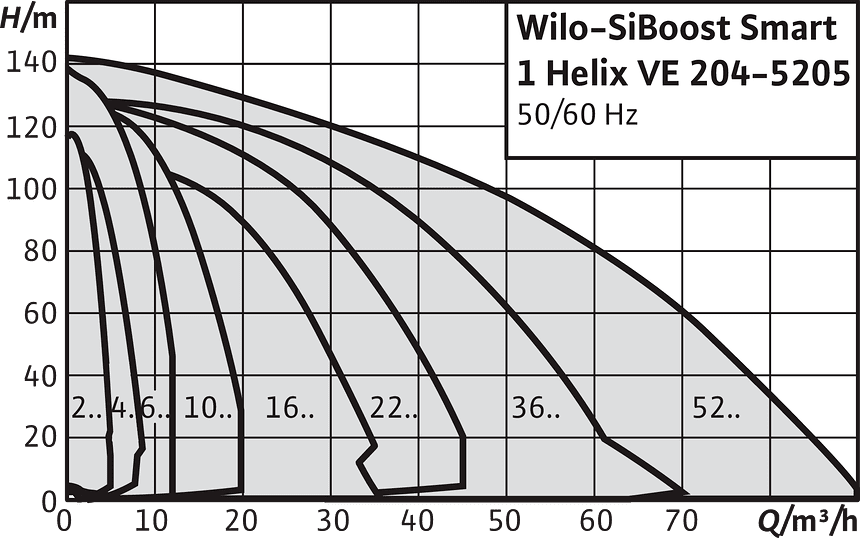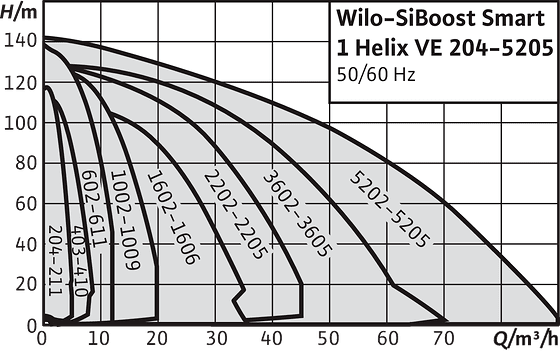 Special features/product advantages
Heavy-duty system with Helix VE series stainless-steel high-pressure multistage centrifugal pumps and air-cooled integrated frequency converter
High-efficiency pump hydraulics
Superproportionally large frequency converter control range from 25 Hz up to a maximum of 60 Hz (version dependent)
Integrated full motor protection via PTC
Design type
High-efficiency connection-ready water-supply unit (non self-priming) with one vertically arranged stainless steel high-pressure multi-stage centrifugal pump in glanded version of the Helix VE series.
Application
Fully automatic water supply and pressure boosting in residential, commercial and public buildings, hotels, hospitals, department stores and for industrial systems.
Pumping of drinking water and process water, cooling water, fire water (apart from fire-extinguishing systems in accordance with DIN 14462 and with the approval of the local fire safety authorities) or other types of industrial water that do not attack the materials either chemically or mechanically and do not contain abrasive or long-fibre constituents.
Equipment/function
1 pump of the Helix VE 2 to Helix VE 52 series, with IE4-equivalent standard motor and infinitely variable auto control with integrated frequency converter
Base frame made of galvanised steel, with height-adjustable vibration absorbers for insulation against structure-borne noise
Parts that come in contact with the fluid are corrosion-resistant
Stainless steel 1.4301
Shut-off valve, pressure side
Non-return valve, pressure side
Diaphragm pressure vessel 8 l, PN16, pressure side
Pressure gauge, pressure side
Optional low-water cut-out switchgear and pressure gauge, suction side
Scope of delivery
Factory-mounted, connection-ready pressure boosting system checked for functionality and impermeability
Packaging
Installation and operating instructions
Type key
| | |
| --- | --- |
| Example: | Wilo-SiBoost-Smart 1Helix VE 1004 |
| SiBoost Smart | Compact pressure boosting system with integrated speed control |
| 1 | Number of pumps |
| Helix VE | Pump series |
| 10 | Rated volume flow [m3/h] of the single pump |
| 04 | Number of single pump stages |
Technical data
Mains connection 3~400 V ± 10%, 50 Hz; 3~380/440 V ±10 %, 60 Hz
Max. fluid temperature +50 °C (+70 °C optional)
Ambient temperature max. 40 °C
Operating pressure 16 bar (25 bar optional)
Inlet pressure 10 bar
Nominal connection diameters on discharge side R 1¼" - R 1½"
Nominal connection diameters on inlet side Rp 1¼" - Rp 2"
Speed range 1500-3770 rpm
Protection class: IP 54
Fuse protection on mains side A, AC 3 according to motor power and EVU regulations
Approved fluids (other fluids on request):Note on fluids: Approved fluids are generally waters which do not attack the materials used, neither chemically nor mechanically, and do not contain any abrasive or long-fibre constituents.

Drinking water and domestic hot water
Cooling water
Fire water
Materials
Helix VE 2 to Helix VE 16
Impellers, guide vanes, stage housing made of stainless steel 1.4307
Pump housing of stainless steel 1.4301
Shaft of stainless steel 1.4057
1.4404 shaft protection sleeve
O-Ring gaskets made of EPDM (FKM gasket on request)
Pipework made of 1.4301 stainless steel
Helix VE 22 to Helix VE 52
Impellers, guide vanes, stage housing made of stainless steel 1.4307
Pump housing made of cataphoretically coated EN-GJL 250 grey cast iron
Shaft of stainless steel 1.4057
1.4404 shaft protection sleeve
O-Ring gaskets made of EPDM (FKM gasket on request)
Pipework made of 1.4301 stainless steel
Description/construction
Base frame: galvanised steel, with height-adjustable vibration absorbers for comprehensive insulation against structure-borne noise
Pipework: Complete pipework made of stainless steel, suitable for the connection of all conventional piping materials; the pipework is dimensioned according to the overall hydraulic performance of the pressure boosting system
Pumps: 1 pump of the series Helix VE 2 to Helix VE 52 is used. The air-cooled frequency converters mounted on the pump motor enable infinitely variable control between 25 Hz and a maximum of 60 Hz for all pumps of this series. All parts that come in contact with the fluid are made of stainless steel for the Helix VE 2 to Helix VE 16 series or of stainless steel/grey cast iron with cataphoretic coating for the Helix VE 22 to Helix VE 52 series; other versions on request. KTW/WRAS/ACS approval for all parts that come in contact with the fluid
Valves: The pump is fitted on the suction and pressure side with a standard shut-off device with DVGW approval mark and on the pressure side with a DVGW/KTW-approved non-return valve.
Diaphragm pressure vessel: 8 l/PN 16 arranged on the discharge side with a diaphragm made of butyl rubber, with DVGW/KTW approval, completely safe in accordance with food safety laws; for testing and inspection purposes, with a shut-off ball cock with drain and throughflow fitting with DVGW/KTW approval in accordance with DIN 4807
Pressure sensor: 4 to 20 mA, arranged on the discharge side, for control of the frequency converter
Downloads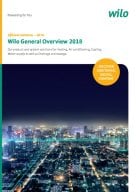 General overview 2018 International version
| | |
| --- | --- |
| Article Number | 2200591 |
| Edition | 2018 |
| Version number | 1 |
| Page format | 209.9 x 297.0 mm |
| Number of pages | 72 |