We are also taking targeted action to continuously expand our global businesses: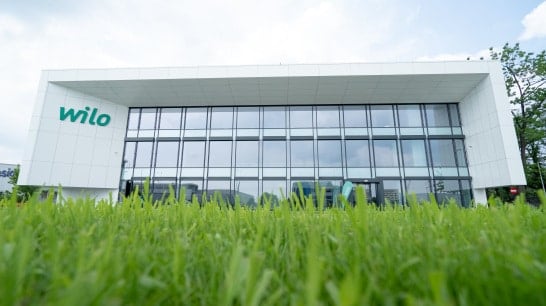 Romania
In Romania we finished the development of a new mixed-use building with offices, an industrial hall with service space, an assembly line for local products and underground technical spaces in July 2020. The building is located in Otopeni, about 15 km north of Bucharest. Our main focus within this project with a total built area of 6,559 square metres, was on building a sustainable environment through high-quality construction processes and advanced features.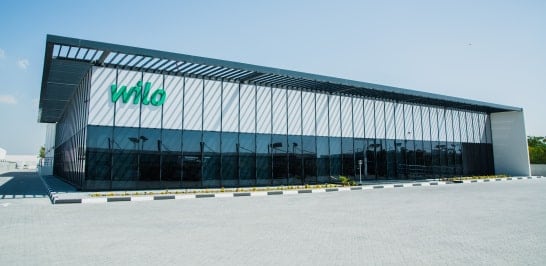 Dubai
In 2019 we strengthened our commitment in the Near and Middle East and opened a new representative office in Jafza (Jebel Ali Free Zone), Dubai. "With the opening of our first office in Dubai in 2008, we laid the cornerstone for successful developments in the Near and Middle East. This new building and its functional expansion accounts for the strategic significance of this central location within the region," says Oliver Hermes, President & CEO of Wilo Group.
"Since the founding of our first office about ten years ago, we have become a major supplier of pumps and pump system solutions in local markets," says Georg Weber, Chief Technology Officer of the Wilo Group, during his opening remarks. "In the future, we will be able to better and more efficiently serve the needs of our customers and partners in the region by fulfilling local market requirements with tailored products, solutions, and services," Georg Weber explains further.
The Dubai office serves as a regional platform for countries in the Near and Middle East as well as in North Africa. Oliver Hermes, who is also chairman of the German Near and Middle East Association (NUMOV), emphasises the significance of the Emirate of Dubai: "With this central hub, we can further expand our bilateral cooperation with partners from the United Arab Emirates and the Near and Middle East in line with our intensified globalisation strategy." Dubai is one of the world's leading digital hubs. As such, it offers the Wilo Group an excellent opportunity to strengthen its position as a digital pioneer in the pump industry and to promote the future use of digital products and solutions. In addition to office space, showrooms, and a logistics centre, the Wilo complex, which covers over 8,000 square metres, will also feature dedicated training rooms and its own assembly line. The new Wilo building is among the most energy-efficient buildings in its class in Dubai and was certified in accordance with LEED Gold.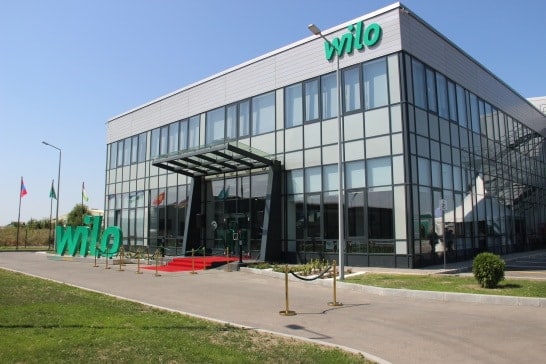 Kazakhstan
In 2018 we expanded our activities in the Region Central Asia by opening a new site in Almaty, Kazakhstan. As an international hub, Wilo Kazakhstan will offer direct support for customers and decision makers. Due to its strategic position, it can also support other countries in Central Asia: "Our investment in Wilo's new site in Kazakhstan is part of Wilo's intensified global localisation strategy. It will strengthen our competitive position not only in Kazakhstan but also in the entire Central Asian Region. Kazakhstan, as a leading hub, will serve as a platform for our business activities in this area", explains Oliver Hermes, President & CEO of the Wilo Group.
In the presence of Amandyk Gabbasovich Batalov, Governor of Almaty Region, and Erlan Khairov, Chairman of the Investment Committee of the Ministry of investment and development, Jens Dallendörfer, Group Vice President Sales Area Eurasia at Wilo received a LEED certificate for the green building. This was the first LEED Gold certificate ever granted in Kazakhstan. Dallendörfer used this opportunity to point out: "Our new subsidiary will allow us to be closer to our customers, to better address their challenges and improve our responsiveness, including services and trainings. We are happy and proud of the development in the recent years and looking forward to further expanding our business."
The Kazakh hub is a new connection between Asia and Europe, as Oliver Hermes explains: "Due to its strategically favourable location, Kazakhstan has a huge potential to build a cultural and economic bridge between Asia and Europe. Projects like 'One Belt, one Road' or the 'Common Economic Space from Vladivostok to Lisbon' initiative foster the economic development of Central Asia and the integration of the region into the global economy." Furthermore, there are also future projects such as Smart Urban Areas in the region, where urban infrastructure and different areas of life are digitally and intelligently connected with each other. The Kazakh capital Astana is the closest example of where the smart Wilo product portfolio can already solve the challenges of tomorrow, today.