2 May 2022
Responsibility
Flood Relief
The flood washed away our sense of detachment
The German states of Rhineland-Palatinate and North Rhine-Westphalia were hit particularly hard by the flooding disaster in the middle of July 2021: Entire town centres were flooded, hundreds of apartments destroyed and large parts of the local infrastructure devastated. An ideal chance for Wilo to provide quick, straightforward help with its "Wilo Flood Relief" task force.

Wilo quickly donated more than 50 pumps to the Dortmund Professional Fire Department (which had already been working continuously in the particularly hard-hit Rhein-Erft district) and three local fire brigades in order to provide straightforward, immediate assistance. The local association for people with physical and multiple handicaps (VKM), which was also damaged in the flood, was provided with several high-efficiency pumps. The newly created"Wilo Flood Relief" task force quickly and straightforwardly helped co-workers personally affected by the flooding as well.
'We owe a debt of thanks to all the flood volunteers for their tremendous efforts at ground level and the many helpers in the background who provided logistical support for the operations in the Ahr Valley.'
At ground level, victims of the flooding were assisted by qualified personnel dispatched by Wilo to two large-scale aid operations in the Ahr Valley. In cooperation with "Heating Engineers with a Heart", an initiative formed by sanitation, heating and air conditioning professionals that worked tirelessly for months to help the victims, "Wilo Flood Relief" set up a base camp in Bad Neuenahr-Ahrweiler.
From there, Wilo employees coordinated their operations to help rebuild the destroyed infrastructure at various locations. Following an initial aid campaign from the middle of October until the middle of November, at the start of December there was another ten-day operation to provide as many families as possible with heating and hot water before the holidays.
'Despite the different personalities and life experiences, we learned to work as a team in no time at all. On site, we were a small Wilo family that mastered every challenge together.'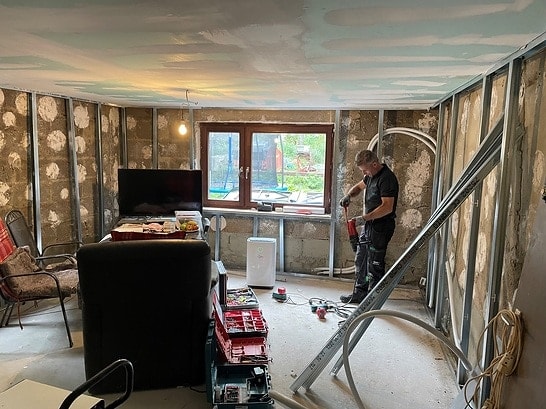 In conjunction with the flood relief operation, Wilo delivered 650 Wilo pumps on 16 pallets in total to the Ahr Valley. 25 Wilo Flood Relief helpers from all over Germany, assisted by ten trainees from the Dortmund location, spent 2,250 hours in total on site, working to help the people of the Ahr Valley. "There was an incredible sense of solidarity and cohesion among the people here," said Ralf Bosch, Wilo sales consultant. "They're not wrong when they say that the flood washed away our sense of detachment. You could feel it everywhere. Wilo staff from all over Germany felt this spirit as well working in the team and interacting with the victims and other flood relief initiatives."