Megatrend Climate change: solutions for a greener planet
Climate change: What are the solutions to better protect the climate?
Topics on this page:
In the face of climate change, our planet is at a critical juncture. There is an urgent need for the development of sustainable solutions for climate protection and mitigation to address the escalating challenge. This requires a strategic focus on mitigating and adapting to climate change and raising public awareness. But what exactly does this entail?
First and foremost, it is crucial that we recognise the negative impact that human activities are having on global warming and on our environment. As a result, proactive measures to protect against climate change are essential today. Secondly, we need to prepare for the expected future changes so that we can minimise the impacts and maximise the opportunities - a process known as 'climate change adaption'.

At Wilo, we're following the call of various organisations such as the Global Compact and have committed to defining science-based emissions targets.
How to increase climate change awareness?
Educational programmes, including climate change in curricula, and active engagement in media discussions have the potential to help raise awareness. These efforts can motivate people to take action, both individually and collectively. All over the world, a variety of governmental institutions and non-governmental organisations (NGOs) have launched campaigns to raise awareness of climate change and to promote concrete solutions. One exemplary initiative is the United Nations' "SDG Action Days". With the aim of making the Sustainable Development Goals (SDGs) more tangible, various activities have been planned around the world to motivate action and raise awareness. Overall, the SDG Action Days place particular emphasis on education and the importance of partnerships in achieving sustainable solutions globally. They also highlight the role played by communities and local stakeholders in implementing the SDGs. Through various events, workshops and interactive sessions, participants can share best practices, connect through workshops and co-create solutions. In addition, these gatherings serve as a platform for governments, NGOs, companies and individuals. International engagement is a prime example of collective responsibility. This kind of global cooperation for a sustainable future has great potential for the development of solutions to climate change that can be applied globally.
Living climate protection, taking responsibility
However, political action on its own is not enough. Businesses also have a key role to play, as they not only contribute significantly to global CO2 emissions, but also have the resources and innovative capacity to drive sustainable change. There is ample evidence of the environmental and economic benefits of climate-friendly business models. Genuine sustainability has become an economic factor that can give companies a competitive edge. Companies like Wilo are already involved in initiatives and projects in support of climate protection and the setting of industry standards. These include investing in renewable energy, developing sustainable products and reducing their own carbon footprint. By acting as role models and bridging the gap between consumers, politicians and other societal stakeholders, companies can use their reach and influence to establish collaborations and alliances with NGOs, educational institutions, and even other companies to raise awareness of climate protection. The involvement of business is essential for a comprehensive, cross-sectoral response to climate change.
The magnitude of climate change
The science is clear: human activity has contributed to significant changes in our climate, many of which may have irreversible consequences for our ecosystems, communities, and economies.
8 possible solutions for climate change protection and mitigation
Tackling climate change requires a multi-faceted approach:
Climate protection in businesses
Companies around the world are increasingly recognising their social responsibility in the fight against climate change. From overhauling their supply chains to introducing greener production methods, they are being forced to adopt sustainable business practices and make climate change commitments. But those who recognise the opportunities for innovative solutions in these obligations can secure a real competitive advantage in the long term. As one of the "50 Sustainability and Climate Leaders", Wilo is leading the way towards a greener, more sustainable future.
---
Wilopark, Dortmund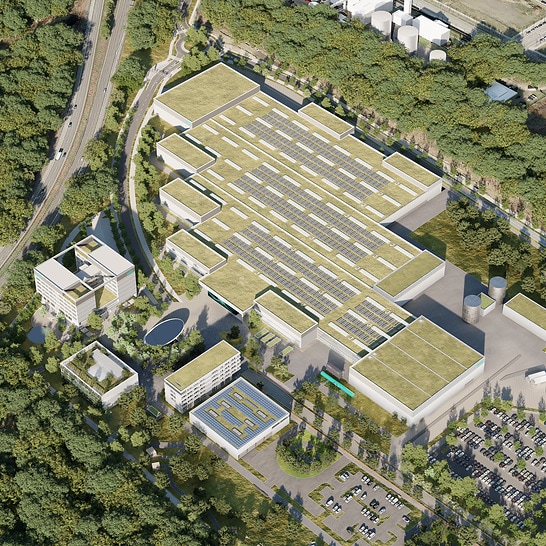 In Dortmund, Wilo has created a brand-new world of work spanning over 180,000 squar metres. At the head office, the Wilopark in the centre of Europe, a 'state of the art' workplace for around 2,000 employees from administration and production has been created after just five years of construction. The rating provider Ecovadis awarded the Wilo Group the platinum medal for sustainability in 2022 and 2023. Following silver (2019 and 2020) and gold (2021), the multinational technology group has received the rating agency's highest award. Only one per cent of the 90,000 companies assessed worldwide by Ecovadis obtain the platinum rating.
Central Bank Dublin, Ireland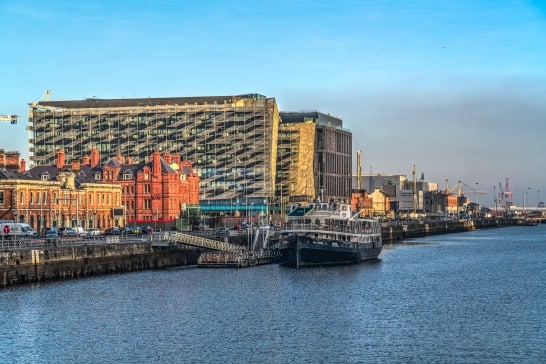 Green Wilo pumps contribute to the overall efficiency of the Central Bank's new HQ – from heating, cooling and cold-water supply to products for rainwater utilisation. The campus is an eco-friendly development certified in accordance with BREEAM, the world's leading method for assessing sustainability. The bank had set itself a series of objectives for the building's sustainability – one of the main requirements was the exclusive supply of high-efficiency pumps from efficiency class IE4 to comply with BREEAM criteria. The Central Bank had set itself a series of objectives for the building's design, such as guaranteeing environmental sustainability.