22 Mar 2023
Water & Ressources
UN 2023 Water Conference: International conference on the sustainable use of water
This year, the Wilo Group is once again emphasising the importance of our blue treasure on World Water Day (22 March). By participating in the UN 2023 Water Conference, the multinational technology group is setting an example for more sustainable use of this vital resource.

Wilo is part of a German delegation at the UN 2023 Water Conference
Under the patronage of the Netherlands and Tajikistan, the United Nations is organising the Water Conference in New York from 22 to 24 March. The internationally acclaimed conference with preeminent participants is dedicated to the sustainable use of water. Also on site: a German delegation led by the Federal Ministry for the Environment and Consumer Protection. Wilo is represented by Dr Dirk Wittenberg, Senior Vice President of the Strategic Business Unit for Water Treatment. Alongside participants from politics and civil society (NGOs), Wilo is the only industrial company invited to participate.
What is World Water Day?
Since 1992, the UN's World Water Day has been taking place on 22 March as an annual reminder of the essential importance of water. This year's motto, "Accelerating Change", calls for faster and more effective implementation of measures to achieve the 6th Sustainable Development Goal (SDG): "Water". Because more than two billion people worldwide still don't have regular access to clean water. However, according to the UN's plans, within the next seven years this should be a matter of course for all people. This is an ambitious goal that can only be achieved through international cooperation between politics, business and civil society in the face of an increasing number of water crises related to global climate change.
What does World Water Day mean for Wilo?
For many years now, the Dortmund-based technology group Wilo has been assuming "water stewardship", which means taking responsibility for its own impact on water as a resource. With its highly efficient product portfolio, water-saving production processes at all production sites worldwide and an extensive corporate commitment to water, the company makes the greatest contribution possible to achieving the UN's 6th SDG every day. In this way, Wilo will enable 100 million people to have access to clean water by 2025. Examples of this are projects such as the Toshka project in Egypt or the ImpactSite in Senegal. There, Wilo products supply rural regions in Africa with water and enable a sustainable, secure food supply. Wilo is also involved in international networks and initiatives to promote fair access to water for all.
---
Interview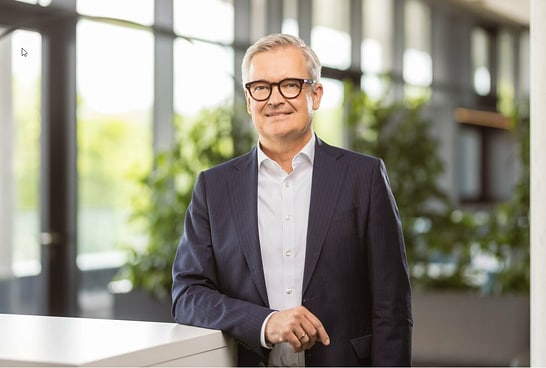 Four questions for Dr Dirk Wittenberg, Senior VP SBU Water Treatment, WILO SE
What makes working with the blue treasure so special?
Water is the origin of all life on Earth, making it the most precious resource we have on our planet. Most living things are made up of water to a large extent. In addition, the element acts as our climate's engine. But although our planet is three-quarters covered with water, our fresh water sources are limited. Water has always been scarce in countries of the Global South in particular, and climate change has exacerbated these inequalities. This makes a conscious and sustainable use of the resource all the more important. That's the reason why I decided to dedicate my career to the water cycle and the topics of water treatment and sustainability.

What impulse do you hope Wilo will gain from participating in the UN Water Conference?
Now that we've reached the halfway point of the 2030 Agenda, I'm hoping for specific measures and binding agreements from the international community at the UN Water Conference. The adoption of a so-called Water Action Agenda is in the pipeline. This will bring together all water-related commitments to accelerate progress on the Water Action Decade from 2018 to 2028 and the second half of the 2030 Agenda. The Water Action Agenda aims to encourage all member states and stakeholders from all sectors and industries to come together and contribute their own commitments to addressing global water challenges.
Why are conferences like this important?
In an interconnected world, one cannot solve global challenges on one's own. Instead, what's needed is cooperative collaboration between governments, businesses and civil society actors. Constructive dialogue is crucial here – and sometimes solution-oriented debate, too. An international stage, such as the UN, underlines the importance of the issues discussed there. However, at the same time, reporting on the annual international climate conference (COP) shows that society is increasingly critical of the results of such forums and expects more specific, tangible agreements.
How is Wilo already contributing to achieving the goals laid out at the conference?
All over the world, our efficient products are moving water in a climate-friendly and resource-saving way. In this regard, using water responsibly is part of our corporate DNA. But we also feel committed to our blue treasure beyond that. Water plays an important role in our global sustainability strategy. But in other areas too, we're supporting projects and initiatives that promote the protection of or access to water. And last but not least, our participation in the UN Water Conference sets an example showing that we are also politically committed to issues related to the element of water in international partnerships and networks.
Dr Dirk Wittenberg has been Senior Vice President of the Strategic Business Unit for Water Treatment at Wilo since 2021. Before joining Wilo, he worked as Head of Business Development and M&A at Remondis, one of the world's leading industrial companies in water and wastewater management as well as recycling. He has in-depth knowledge of post-merger integrations in water management and has managed several companies in India, Turkey, Spain and France. Dr Wittenberg has a degree in civil engineering and a doctorate in water management, hydrology and hydraulic engineering.