24 May 2023
Water & Ressources
Dr Lisa Broß: "We're facing big challenges when it comes to water"
Dr Lisa Broß develops new concepts for future-proof water management at the Kompetenzzentrum Wasser Berlin. In an interview, she talks about strategies to combat water shortages, the importance of data for security of supply and current approaches to water management in cities and in agriculture.
This text is part of Wilo's annual report 2022. Learn more at Annual Report 2022.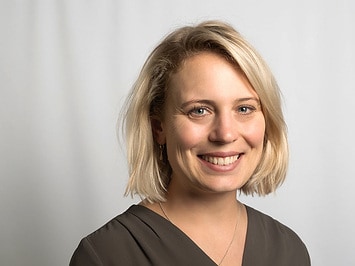 "Water is a human right and a common development denominator for shaping a better future. But water is in deep trouble." This is how António Guterres, Secretary-General of the United Nations, opened the World Water Conference in March this year. Is the situation really that bad?
Dr Lisa Broß: The conference has once again highlighted the issue of water in society as a whole. The United Nations considers water in all its facets in its Sustainable Development Goals – as drinking water, as sewage, in the water cycle. A lot of work is still needed to achieve these goals. And the same is true of Germany, where the availability of water has deteriorated in recent years. Climate change has also long since caught up with us here, bringing with it consequences for water supply.
The federal government has now responded to this and in March, it adopted a National Water Strategy with the aim of ensuring that high-quality and affordable drinking water will continue to be available everywhere and at all times in the future. How do you feel about this strategy?
There is a huge investment backlog in Germany when it comes to renovating and expanding drinking water and sewage networks. If we continue to delay investment, we will become less secure in terms of supply and disposal. At the same time, many restoration measures have not yet been implemented. But all of this remains necessary so that we can continue to rely on healthy and sufficient water resources in the future. The National Water Strategy takes a holistic approach to this issue. It aims to restore a good balance to the entire water cycle.
What challenges can now be addressed with the new strategy?
This varies greatly depending on the city and region. From my point of view, the main thing at the moment is not just to upgrade the infrastructure. It also has to cope with the changes in water availability. Beyond that, I see two big issues. One is the management of rainwater; there are more and more approaches to keeping as much water as possible in cities, for example by greening facades and roofs or localised seepage. The other is the reuse of water: in agriculture, industrial water with a specific nutrient content can also be used. To irrigate potatoes in the field, water doesn't have to be treated to achieve drinking water quality – it's enough to filter out unwanted components such as drug residues and chemicals. The technical and legal possibilities for achieving this have changed significantly in recent years, making this issue increasingly important.
Such concepts didn't seem necessary in the past: in Germany, water was for years considered a raw material available in abundance. Should it have been apparent sooner that this was not the case?
In theory, yes. However, the challenges facing the water sector as a result of climate change have long been underestimated. This is because a lot of data was unavailable and there was therefore a lack of system knowledge. Today, we have a much better overview of how much water is available and where, as well as how much of it is being extracted. At the same time, improved analytical methods give us a better view of substances that contaminate water, something that was not even detectable a few years ago.
"To offset our current water deficit, it would actually have to rain continuously for nine to twelve months. Instead, if we continue to have dry and hot summers, this will exacerbate the consequences of those water shortages that are already apparent."
If data is the starting point, does that mean that digitalisation is the key to solving the water problem?
We have a huge wealth of data at our disposal today. However, this only helps us if we work with it effectively. For this, we first and foremost need people who know how to manage it. Digitalisation and artificial intelligence can facilitate and improve their work. However, water is an essential resource and a key component of public services. That's why we should continue to focus today and in the future on training people to make decisions so that we're not dependent on artificial intelligence.
In view of climate change, will we continue to have enough good-quality water in the future?
To offset our current water deficit, it would actually have to rain continuously for nine to twelve months. Instead, if we continue to have dry and hot summers, this will exacerbate the consequences of those water shortages that are already apparent: groundwater and surface water levels will continue to decline, more forests will die, cities will become drier and hotter and biodiversity will continue to dwindle. There are also economic consequences: industry will have to cut back production because water extraction, for example for cooling, is regulated. However, such a scenario is precisely what inspires me with confidence. Because when faced with difficult situations we can achieve a lot very quickly. This was borne out by the gas shortage last year, and it is also evident in the case of water. I'm convinced that a national water strategy wouldn't have been politically workable five years ago. That's why I'm confident about the future. We're facing big challenges. But we also have great opportunities to rethink the issue of water and to do things differently from before. We should seize these opportunities.
About Lisa Broß:
"Water is my passion." – Lisa Broß' motto is also reflected in her CV: After completing her doctorate on the topic of "Water supply in emergency situations – procedures for assessing the resilience of water supply systems, taking into account replacement and emergency water supply", she took over the management of the research and development department at Wasserversorgung Rheinhessen-Pfalz. She currently heads the Research & Business Development group at the Kompetenzzentrum Wasser Berlin, and in October she will move to the National Executive Board of the German Association for Water Management, Wastewater and Waste (DWA). Lisa Broß is also a member of various national and international expert committees.