28 Mar 2023
Water & Ressources
Water unites the world: This was the UN 2023 Water Conference
The United Nations 2023 Water Conference came to an end on 24 March. A determined global community came together to make a difference not only for the future of water, but also for the future of the world.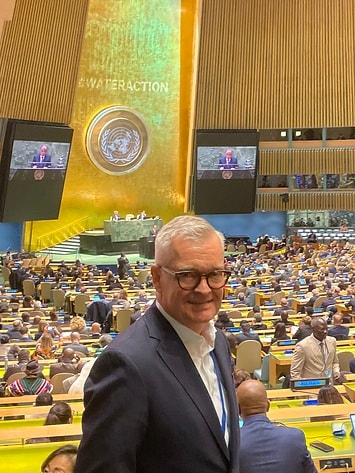 A German delegation led by the Federal Ministry for the Environment and Consumer Protection attended the conference. Wilo was represented by Dr Dirk Wittenberg, Senior Vice President of the Strategic Business Unit for Water Treatment. Alongside participants from politics and civil society (NGOs), Wilo was the only industrial company invited to participate.
The Water Action Agenda, one of the main outcomes of the conference, included over 700 commitments by Friday evening. They all aim to promote change towards a water secure world without a global water crisis, with several pledges of millions and in some cases billions of dollars for water action.
Determined, coordinated, results-driven
The agenda reflects the courageous resolve of the global community to address water issues with a more coordinated and results-driven approach. One example of this is the "Urban Water Catalyst Initiative" signed by the German and Dutch governments on Thursday afternoon at the UN-Water Summit.
At the heart of the problem is the reality that only a small fraction of the capital available for investment in water is ever used because there are not enough "bankable" utility companies that can be invested in. The agreement will provide technical assistance together with capital investment in the early phase to help underperforming utility companies so that banks gain the confidence to lend larger amounts for big investment projects.
Water at the heart of the global political agenda
The closing session of the conference featured summaries from the five interactive dialogues that not only got to the heart of what water is, but also what it can be: an engine of equality, a solution to the climate crisis, a facilitator of peace and much more. Secretary-General Antonio Guterres made a closing speech in front of a full house and thanked everyone for their commitment to #WaterAction. He noted: "The commitments at this Conference will propel humanity towards the water-secure future every person on the planet needs." He emphasised the importance of water for health, freedom and sustainable development, which is why water should be at the heart of the global political agenda.
In his speech to the closing plenary, the President of the United Nations General Assembly, Csaba Kőrösi, emphasised some of the groundbreaking factors such as an integrated water and climate policy, a global water information system, early warnings for everyone, including transnational water agreements and more. He praised the efforts which highlighted that the water cycle is a common good – an approach that will affect the way water is managed. He also emphasised the importance of meaningful stakeholder involvement: "Civil society and the private sector are at the heart of this transformation."