24 Apr 2023
Water & Ressources
Pottangow: safe and climate-friendly heat generation
The availability of coal and gas is both limited and finite. To reduce dependency on fossil fuels, countries around the world are looking to implement renewable solutions without endangering the security of supply. The municipality of Potęgowo in Poland has already found its response to this global challenge.

Having modernised the majority of its energy infrastructure, electricity for the region is now supplied by a biogas plant in the village of Darżyno instead of by coal-fired power plants. Wilo products transport the resulting waste heat – a positive side-effect of the process – to a district heating network in the form of water. By generating energy regionally and using dependable technology, the municipality has increased its security and independence.
Modernised energy and district heating grid
Potęgowo is located in Pomerania province in northern Poland. Comprising 24 villages and around 7,000 inhabitants, the municipality is just a short drive from the Baltic Sea. In addition to constructing the biogas plant, Potęgowo has modernised sections of its energy and district heating network. The upgraded infrastructure means the supply of energy and heat to residents is not only more secure, but also more climate-friendly. This is because the project involved shutting down several coal-fired boiler houses – thereby significantly reducing environmentally harmful emissions.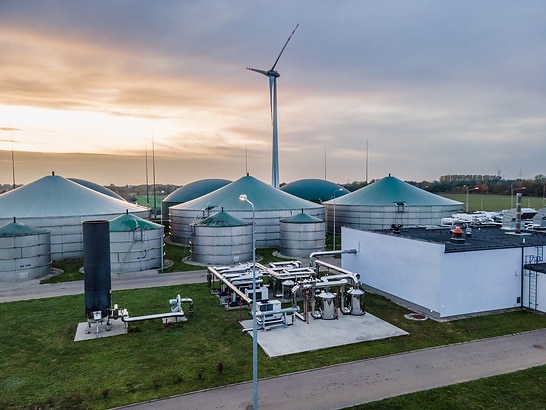 Organic waste is fermented at the biogas plant in Darżyno, including silage, maize and agricultural waste. The gases released by this biomass are converted to electricity in a power plant. This electricity is then fed into the grid. As a side-effect, this generates heat that is stored in the form of water.
Three Wilo CronoLine IL-E pumps and three Wilo Vero-Line IP-E pumps are used in this process. The highly efficient glanded pumps transport the hot water from the power plant at the biogas plant to the district heating network, where it is distributed to household and industrial consumers – reliably and dependably.