Back to overview
02.10.2019
Leadership change at the top of the largest regional initiative of the German economy
Stuttgart. Oliver Hermes (48) is taking on leadership of the German Eastern Business Association (OAOEV) with immediate effect. The CEO of the Dortmund-based Wilo Group was unanimously voted into the association's Executive Board in Stuttgart, Germany on 23 September. Following this, he was immediately named Wolfgang Büchele's successor by the OAOEV steering committee.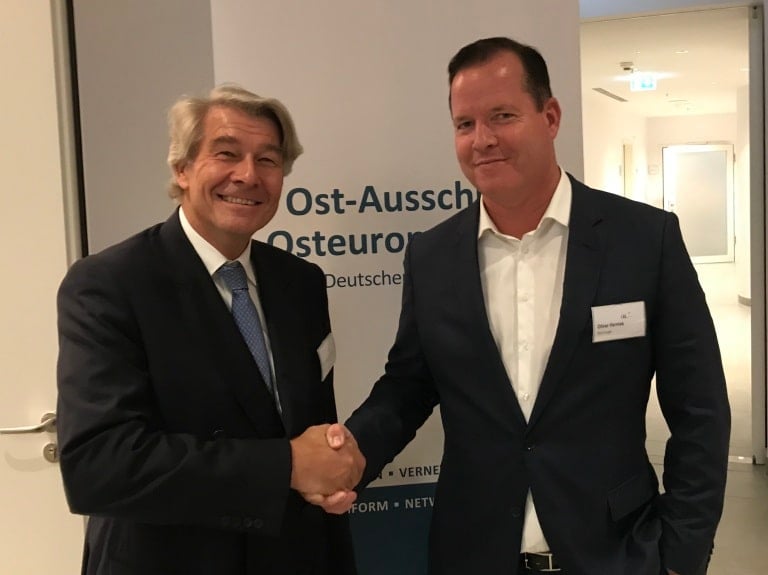 "Having the opportunity to carry forward a 70-year tradition and follow in the footsteps of outstanding chairs such as Otto Wolff von Amerongen and Klaus Mangold is both a duty and an incentive", said Hermes on being appointed. "The OAOEV is the German economy's most important bridge to 29 countries in Central and Eastern Europe. My company, Wilo, has hugely benefited from these networks – which are the envy of many in Europe.
"Hermes said that the aim of his work with the organisation would be to maintain and expand the existing network while simultaneously representing the interests of the member companies in political dialogues. "We live in politically and economically turbulent times. More and more people are allowing themselves to be seduced by nationalism, protectionism, and populism. By contrast, those of us in business demonstrate how important international cooperation is to everyone's success on a daily basis. We need to take a stronger stance for a multilateral world order", Hermes pointed out. "For this reason, it is also important to work towards the creation of a common economic area between Lisbon and Vladivostok and to dismantle existing hurdles – in the form of visa and customs barriers and different standards – within Europe.
"Furthermore, Hermes will place an emphasis on spreading the Industry 4.0 concept. His company Wilo currently has around 8,000 employees and a turnover of over € 1.46 billion. With an investment of € 300 million, it is carrying out the biggest site development project in the history of the company in Dortmund, Germany. This simultaneously represents the largest industrial building project in North Rhine-Westphalia. At the heart of this site – referred to as "WiloPark" – is the Smart Factory. Pumps and pump systems for building services, water management and industrial applications will be produced here in future. Wilo has also strongly invested in Poland and Kazakhstan, and opened a modern production site in Noginsk near Moscow in 2016. "Germany is a pioneer when it comes to Industry 4.0, but we urgently need uniform standards for cross-border data traffic throughout Europe in order to avoid falling behind the US and China in this regard," said Hermes. For years, his company Wilo has financially supported the "SME contact point" ("Kontaktstelle Mittelstand") in the OAOEV, which helps small- and medium-sized enterprises to make the jump into Eastern European markets.
Hermes thanked his predecessor Wolfgang Büchele for his "highly committed and successful work". In particular, he said, Büchele had managed to keep communication channels with Russia open during difficult times. "We all owe him great thanks", said Hermes. He went on to say that the organisation was well-positioned thanks to the 2018 merger of the Eastern Committee and the Eastern Europe Business Association of Germany under Büchele – which made it the largest and most powerful regional initiative in German business. Due to increased work arising from the strong growth of his company Exyte, Büchele is no longer able to continue acting as chair of the OAOEV. However, he will continue to work with the association as a member of the steering committee.