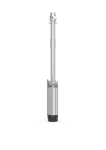 Fully submersible, multistage submersible pump as a progressive cavity pump with integrated non-return valve for pumping process water.
A corrosion-free, encapsulated permanent magnet motor with water-glycol filling and integrated frequency converter is used as the drive. The permanent magnet motor is hermetically sealed with enamel-insulated windings, resin-impregnated and with self-lubricating bearings.
The integrated frequency converter allows operation using a direct current source. The OPTI-QS pump is thus especially suitable for solar power operation. In applications with solar modules, the integrated software algorithm MPPT ("Maximum Power Point Tracking") allows the available power to be matched in order to maximise the pumped volume flow (dynamic MPPT).
The unit can be installed in a vertical or horizontal position. The motor is cooled by the pumped fluid. Therefore, the unit must always be operated immersed. The limit values for maximum fluid temperature, minimum flow velocity and voltage ranges must be adhered to.
Vertical installation is possible, depending on the design with or without cooling shroud. In cases of horizontal installation, a cooling shroud must always be provided.
Scope of delivery
Submersible pump with connection cable
Casting resin cable connector with integrated water level sensor
Installation and operating instructions
Hydraulics for self-assembly
Operating data
Fluid media
Unit
Pipe connection on the discharge side DNd
Maximum operating pressure p
Max. sand content
Protection class motor
Max. immersion depth
Min. fluid temperature Tmin
Max. fluid temperature Tmax
Net weight, approx. m
Motor data
Rated power P2
Rated speed n
Rated current IN
Activation type
Motor diameter DM
Cable
Connection cable length
Cable cross-section
Materials
Pump housing
Motor housing
Shaft
Impeller
Ordering information
Net weight, approx. m
Brand
Product description
Article number
Installation and operating instructions
Wilo-Actun OPTI-QS...
| | |
| --- | --- |
| Article Number | 6084880 |
| Edition | 2019-02 |
| Page format | 148.2 x 209.9 mm |
| Number of pages | 364 |
PDF (6 MB)
---
Certification booklet
Wilo-Actun OPTI-MS, Wilo-Actun OPTI-QS
| | |
| --- | --- |
| Article Number | 6089479 |
| Edition | 2020-09 |
| Page format | 209.9 x 297.0 mm |
| Number of pages | 12 |
PDF (2 MB)
---
Certificate REACH (Documents)