27 Mar 2023
Tradition & Innovation
Quality management at Wilo: 'Quality is a must, not an option'
Technology providers are faced with specific challenges to ensure the quality of their complex products and solutions. Holger Herchenhein is familiar with these challenges. In an interview, the Senior Vice President Quality & Qualification at the pump and pump system manufacturer Wilo discusses the appeal of understanding processes, solving problems and ensuring product quality in the long run.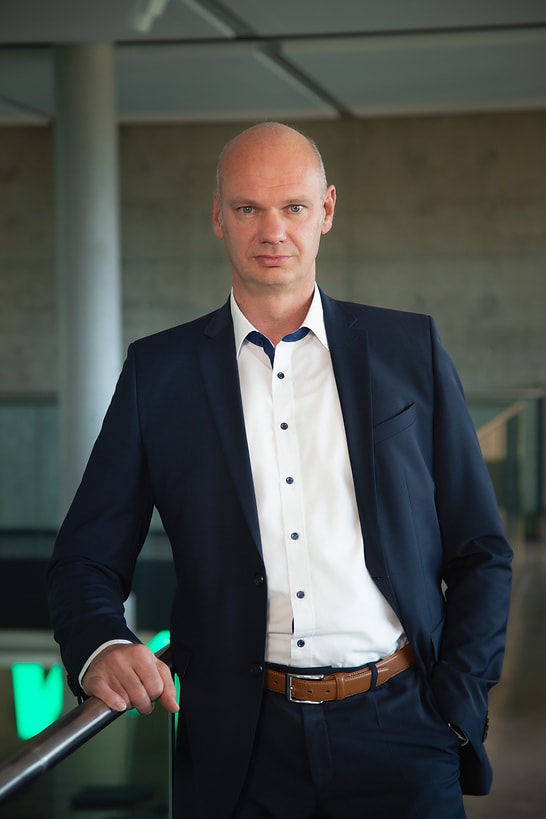 Mr Herchenhein, does quality management mean you're just dealing with problems and faults all day long?
Holger Herchenhein (laughs): Yes and no. Our job is to fix very specific quality issues and solve problems. Wilo is a premium supplier. And as a premium supplier, we have very, very high quality standards. When product issues are brought to our attention, we're under huge pressure to find and rectify the fault as quickly as possible. That's what makes quality management so appealing. It's a great feeling to find a solution to a real and pressing problem. Any quality manager will tell you the same thing.
But isn't quality management more than that?
Yes. Quality management's not just a question of responding to problems. That used to be the case: Quality management compared the target situation with the actual situation and looked for the error. Today we think holistically. We develop reliable processes, procure long-lasting materials and ensure end products that are manufactured in accordance with applicable standards. We therefore look at the whole value chain from development and procurement to manufacturing, logistics, operation and recycling. Quality management is a permanent feature of the product, from start to finish.
So you no longer just respond to errors, you prevent them too?
Correct. But in the meantime, we've gone one step further. Today, we don't just talk about preventative, but also reliability management.
What is "reliability management"?
Preventative quality management is product-focussed. It aims to eliminate potential errors and sources of errors by assessing known problems. But today we start earlier than with the finished product. We try to ensure product quality through process quality. We do this by checking processes to see if they provide the right conditions for their desired end results. More specifically, at the end of process X, product Y should have defined dimensions, strengths and functions. Can the process even manage that? And if not, what adjustments have to be made to make it work without jeopardising process reliability?
A much more complex approach.
The approach is more complex from a technical point of view. Ideally, we are familiar with the processes behind all steps of a product's value chain. We're no longer just looking for the fault, but need to understand cause-and-effect mechanisms in processes. Our objective is therefore to make all processes in the value chain so secure and reliable that tests become obsolete.
So you put a lot of effort into quality management and its further development. Does it pay off?
The numbers certainly back us up. We've been able to reduce the total number of customer complaints about our products by more than half in the last ten years – to name just one of our 18 key figures. And this is despite the fact that our products are getting ever more complex from a technical standpoint. But I don't want to give the wrong impression: Quality is a given, especially for a premium supplier like Wilo. Our President & CEO, Oliver Hermes, talks about a 'hygiene factor'. And I agree: Quality is a must, not an option.
'That's what makes quality management so appealing. It's a great feeling to find a solution to a real and pressing problem. Any quality manager will tell you the same thing.'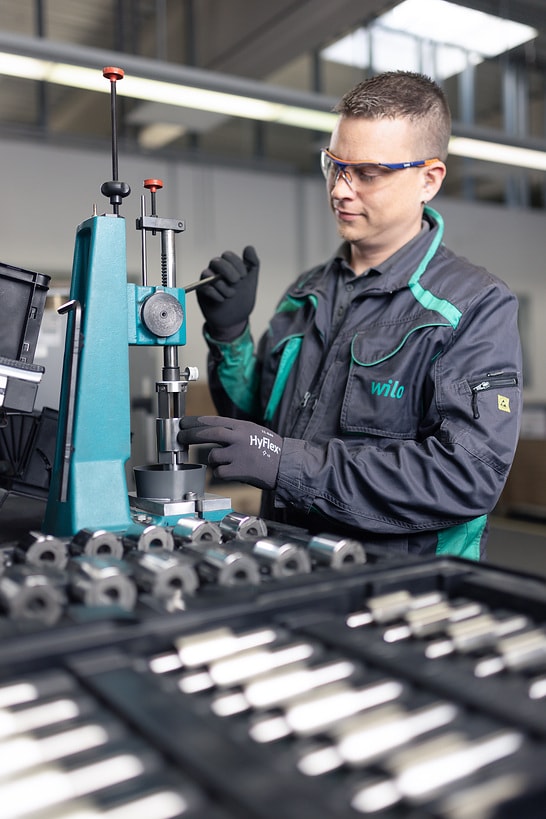 Just like sustainability. Wilo's Sustainability Management is also your responsibility. What has sustainability got to do with quality management?
Sustainability and quality management only works holistically. In both, we look at the product from development through to recycling. While our sustainability strategy goes far beyond the product, there is nevertheless a key similarity here. One example of the merging of the two departments is our product analysis, repair and recycling team. Colleagues receive end-of-life products, determine the cause of their demise and document the results for product development. They then check whether they can use the components for repairs or new products. We thus re-use over 30,000 components a year.
Which ones?
For example, rare-earth magnets, which can be found in the permanent magnet motors of high-efficiency pumps. Rare earths refer to a total of 17 metals that are among the most sought-after raw materials in the world mined almost exclusively in China. Even today, it is apparent that new mining of these metals will not meet future demand. To keep them in the raw material cycle, we have set up a pump return process. We collect the old pumps from our customers, remove the magnets and recycle them.
Does that not jeopardise the quality?
Absolutely not. Although we re-use some of the removed magnets directly for new products, they have to meet a set of quality criteria. We process all the others with our recycling partners into powder, which is then used to make new magnets. One thing's for sure: Every new Wilo high-efficiency pump only contains components that are in mint condition. After all, we give the same guarantee on all products.
Wilo sees itself as a digital pioneer in the industry. What influence does digitalisation have on your work?
We can't fully predict the possibilities of digitalisation yet. However, it's already clear that the data our products record in the field will play an increasingly important role in quality management. We're currently making initial attempts to evaluate it using artificial intelligence and automatically draw conclusions from it. This will no doubt once again mean a paradigm shift for quality management.
Mr Herchenhein, let's take a look into the crystal ball. What will quality management be like in the future?
Quality management in the future will be a fully networked process that influences production and all upstream and downstream processes in real-time and largely automatically. But connectivity is also needed geographically. We're currently seeing major decoupling tendencies. Global value chains are becoming more and more decoupled. This makes it all the more important for production sites of multinational corporations like Wilo to come even closer together virtually and form quality networks.