Messe Frankfurt

Frankfurt Trade Fair has been in business for over 800 years. Today, it's amongst the world's biggest trade fair, congress and event organisers with own grounds. In 2018 another outstanding events space has been created with the inauguration of Hall 12. Messe Frankfurt is using highly efficient Wilo products for modern heating, air-conditioning and cooling technology in the hall. So the Dortmund-based company's innovative solutions are not just being showcased at ISH 2019 – they're already being used to ensure trade fairs run smoothly.
Hall 12, to the south of the Frankfurt trade fair site, covers a floor space equivalent to five football pitches. The building, shaped like an asymmetrical pyramid, opens to the east, west and north and encompasses the glazed, sheltered system of pathways – the 2.9 kilometre long "Via Mobile". As well as connecting to the covered walkway system, the hall can be used flexibly since it can be divided in different ways.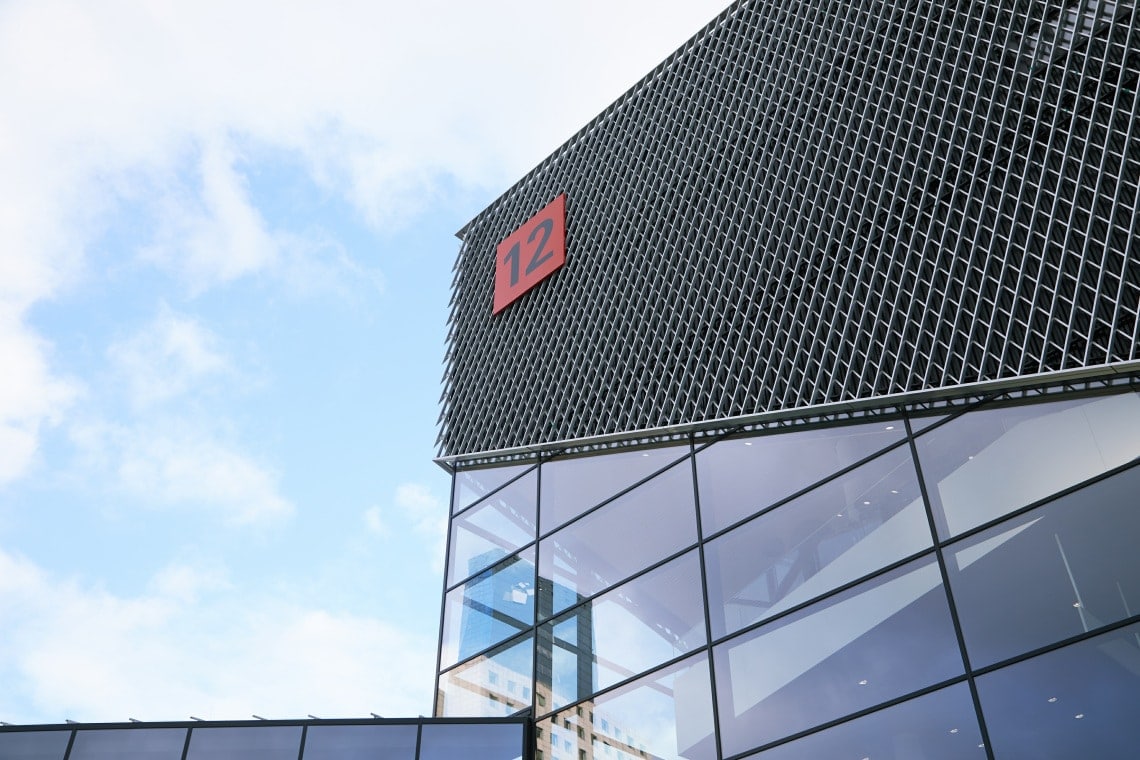 Well-thought-out functionality
With a ceiling height of ten metres, the hall complex offers events spaces over two levels. After three years of planning and a two-year construction phase, it celebrated its opening in October 2018. As one of the key players in the industry, Messe Frankfurt is also aware of its responsibility to the environment: the company focuses on protecting resources, for instance by using renewable energies to make trade fair attendance sustainable.
On the roof of Hall 12, a photovoltaic system with 5,300 solar panels over a surface area of 9,000 square metres produces energy equivalent to the average annual consumption of 241 four-person households. In the hall, different solutions from the comprehensive, highly efficient Wilo product portfolio ensure energy-saving operation.
Energy efficiency and reliability
Over the 33,600 square metres of the ultra-modern hall there are a total of 46 ventilation systems, 50,000 square metres of ventilation ducts, six refrigerating machines, 34 kilometres of pipes for cooling and heating, 160 radiators, 25,000 sprinklers und more than 11 kilometres of stainless steel drinking water pipes.
Accordingly, the pumps and pump system solutions used in sanitation, heating and air-conditioning applications are subject to the highest efficiency and operation standards. Around 2,400 exhibitors attend the ISH, including all overseas market and technology leaders. In 2017, over 78,000 people visited the fair. Smooth operation of supply systems is absolutely crucial. Over 70 Wilo pumps are in use on the Frankfurt trade fair site.
The tried and tested Wilo-Stratos and Wilo-Stratos GIGA high-efficiency pumps ensure optimum heating in Hall 12. The Wilo-Stratos GIGA saves up to 70 percent energy compared to conventional uncontrolled pumps. That's the equivalent of up to eight tons of CO2 per pump per year. Single-stage low pressure centrifugal pumps can be found in refrigerating applications. In conjunction with a Wilo control device (e.g. VR-HVAC, CC-HVAC), the power of the pumps can be continuously controlled. This allows optimisation of the pump output for the demands of the installation and economically efficient pump operation.
Operating under the highest requirements
Submersible pumps and lifting units regulate sanitation in the hall. The Wilo-RexaLift FIT L sewage lifting unit is easy and flexible to install with a choice of inlets. It guarantees reliable operation thanks to trustworthy filling level monitoring and integrated thermal motor protection. This helps the RexaLift guarantee maximum operational reliability even under huge demand in everyday trade fair operations. Hall 12 is another pillar of the master plan Messe Frankfurt has pursued since 1997 with full renovation and expansion of the trade fair site. This ambitious programme is planned for completion in 2023.